Paranoid about your 'ums' and 'uhs'? Worried that people notice your 'vocal fry'? What if these features of our speech weren't a sign of cultural and linguistic degeneration, but rather, some of the most dynamic and revolutionary tools at our disposal?
In her book "Like, Literally, Dude: Arguing for the Good in Bad English," Valerie Fridland, professor of linguistics for over 20 years at the University of Nevada, Reno, shows how our linguistic quirks are fundamental to our social, professional, and romantic success.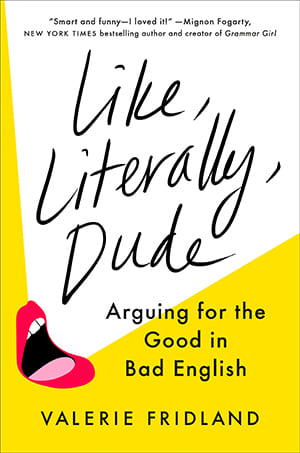 "As a linguist, I really don't tend to get hung up on grammar because I look at language from a descriptive rather than prescriptive point-of-view, trying to understand what is cognitively possible and impossible in language," Fridland said. "But my students often bring to me their pet peeves or the things other people call out in their speech, including 'like' use, vocal fry, using 'literally' non-literally and saying 'dude' a lot. I think what surprises people the most when they read my book is that these features are not mistakes but actually have a long history in English and arose to fulfill very specific functions."
In her book, Fridland teaches us that language is both function and fashion, and that though we often blame the young, the female and the uneducated for its downfall, we should actually thank them for their linguistic ingenuity.
"My favorite part of being a professor is being able to share the amazing things that linguistic science has discovered," Fridland said. "I get to do that every term with my students, and I love watching the lightbulb go off as students start to realize how so many things they came into the class believing about language are more patterned and linguistically important than they thought. When I have the opportunity to do this outside the classroom and connect with people over language peeves we might all identify with, I jump at the chance!"
On April 13, 2023, Fridland will talk about the speech habits people love to hate in the last Great Conversations of the 2022-2023 season. Now in its 17th year, Great Conversations has brought the scholarship of accomplished faculty in the College of Liberal Arts to the community through presentations and discussions around topics across the humanities, social sciences and visual and performing arts.
"Among other fascinating topics, we will explore why women, children and lower-class speakers are the secret sauce behind linguistic evolution, how there have been some major – and very unexpected – plot twists along the way to how we speak now, and, most of all, why 'bad' features can often actually do some very good things," Fridland said.
"Since 1996, Great Conversations events have been a highlight in the College of Liberal Arts calendar, bringing together a community of engaged learners who receive unique access to faculty and their disciplines," Cassie Isabelli, interim dean of the College of Liberal Arts, said. "The event is hosted by the College in conjunction with its Advisory Board. Each evening event is held in a private home where guests enjoy a night of drinks and hors d'oeuvres, socializing and participating in engaging conversations about topics of current interest moderated by members of distinguished liberal arts faculty."
Fridland's Great Conversations event on April 13 is sold out, but season passes are on sale now for the 2023-2024 season. The College of Liberal Arts has multiple Great Conversations speakers planned for the upcoming season, including:
Sept. 7, 2023 – Darrell Lockhart

Nov. 2, 2023 – Eric Rasmussun

Feb. 8, 2024 – Carolyn L. White

Apr. 11, 2024 – Meredith Oda
In addition to Great Conversations, there will be a book launch event at 5 p.m. Tuesday, May 2, 2023, at the University of Nevada, Reno. Fridland will also speak at a virtual launch event featuring laughs, stories and conversation at 5 p.m. Thursday, April 20 to celebrate "Like, Literally, Dude." This virtual event is free and open to the public. Please register for the virtual book launch event in advance here.