President Brian Sandoval's 2023 State of the University Address on Tuesday, Oct. 17, took a look back at the institution's near 150-year history while also looking ahead to what he termed a "bright" future for the University.
"I firmly believe that 150 years of making history isn't a final destination," Sandoval told an audience of about 200 in the Glick Ballroom of the Joe Crowley Student Union. "It is an inspiring preamble to what we do today … and what great things we will do in the future.
"We are a University where the expectation is to always make history. And our future, thanks to the accomplishments of the past year and what lies ahead, is bright."
For Sandoval, who took office as the University's 17th president in October 2020, it was his third State of the University address. His 48-minute speech touched on the University's gains in enrolling what is the most diverse student body in University history including a 7 percent increase in the total number of enrolled students who are students of color this year – "We are a reflection of our state's growing and diverse population" – as well as the need for the University to continue to grow enrollment in order to continue to meet all aspects of the institution's mission.
Sandoval cited what he said was "long overdue recognition" of the hard work of faculty and staff with cost of living adjustments (COLAs) that were passed by the Nevada State Legislature last spring that also, since some of the COLA's were not fully funded by the legislature, put unexpected budget pressure on the University.
"We want our University to be a career destination," he said. "The welcomed home where work is always seen and appreciated. While these COLAs were timely and deserved, they were not fully funded by the Legislature. The Legislature only funded a portion of the COLA for state-funded positions, appropriating only 61 percent of the COLA to the University.
"For self-supporting budgets like Research, Student Life and Parking, the University will have to fund 100 percent of the COLA. We had to find ways to fund the balance of the COLA that the Legislature did not cover."
The University was able to fund the difference, Sandoval said, "mainly through salary savings associated with freezing around 100 vacant positions on campus, along with 5 percent budget reductions for each department on campus."
Sandoval added that in the near future, the Nevada System of Higher Education Board of Regents will consider adding another COLA of up to 11 percent. A subcommittee created by the Regents that includes faculty, students, staff, budget officers and administrators is currently working on what Sandoval said is the "most equitable" budget solution for all NSHE institutions to fund the COLAs.
"These are difficult decisions," Sandoval said. "The good news is that there will be an additional significant COLA. The question will be its amount. Our task is to find additional campus funding while balancing the needs of faculty, staff, students and the academic enterprise for the University.
"Growing enrollment, as I mentioned earlier, is a critical part of this conversation."
Fall 2023 census numbers for the University are promising in the effort grow enrollment and thereby find increased revenue for the University, Sandoval said.
"This is part of our first goal in our Strategic Plan, 'Wolf Pack Rising,' which calls for growing University enrollment, diversifying our student body and becoming a Hispanic Serving Institution," he said.
For fall 2023, enrollment figures indicate:
Freshman class of 4,034 students, up 3.5 percent (including the largest-ever group from Washoe County) compared to fall 2022;
Total number of students identifying as students of color is 9,841, up 7.1 percent from fall 2022;
The largest Hispanic/Latinx class in school history of approximately 24 percent of all students, "on the cusp of reaching the 25 percent threshold of being eligible to apply to become a Hispanic Serving Institution," Sandoval said;
Additionally, approximately 154 Native American students have enrolled and are receiving the Nevada Native American Fee Waiver, up from 93 students last year (the fee waiver was approved by the Nevada State Legislature during its past two legislative sessions);
Total enrollment, which stood at 20,945 in 2022, is at 21,778 this fall, up 4 percent.
"These are numbers that speak to how this land-grant institution created in 1874 is actually becoming a 'Land-Grant 2.0,'" Sandoval said, noting that diversity, opportunity and accessibility are key areas of priority for today's University.
He noted, too, that the University is actively creating a pipeline for higher education throughout the state with the University's Collegiate Academies program. The effort, which through the cooperation of the Clark County and Washoe County School Districts as well as several rural Nevada school districts, has allowed Nevada high school students at partner high schools to earn college credits through concurrent enrollment.
"We have established Collegiate Academies in 28 diverse high schools throughout Nevada, including 17 public and two charter schools in Clark County, six high schools in Washoe County and five high schools in rural settings," Sandoval said. "Just as important, 11 of these schools are Title 1 high schools.
"By combining the vast teaching expertise of our faculty with the talent and expert teachers at each high school, the program has given thousands of students access to higher education where no previous opportunities existed. It's a partnership that is giving high school students the opportunity to learn what it means to experience and succeed at the college level.
"Again, this is part of our role as a Land-Grant 2.0 – access and opportunity for higher education."
Sandoval received one his loudest ovations during the speech when he introduced two special guests in the audience on Tuesday, Collegiate Academy parents Terrence Love and Linda Johnson, whose son, Immanuel, had benefitted from the program in finding is way to college at Wake Forest. Terrence Love at one of last May's special graduation events honoring Collegiate Academy school graduates had spoken movingly about his son's journey, noting, "I always say, I'm an ordinary parent with an extraordinary child. I'm sure a lot of the parents in here feel the same exact way. … From the (Collegiate Academy) program counselors, to the framework that's been set up from the college level all the way down to the high school – it's helped us to be able to get our kids on the path they need to be on. It has given us direction."
Added Sandoval: "Our Collegiate Academies stress a broad goal – college is for you. We tell these students: 'You can do this.' And you know what? They are."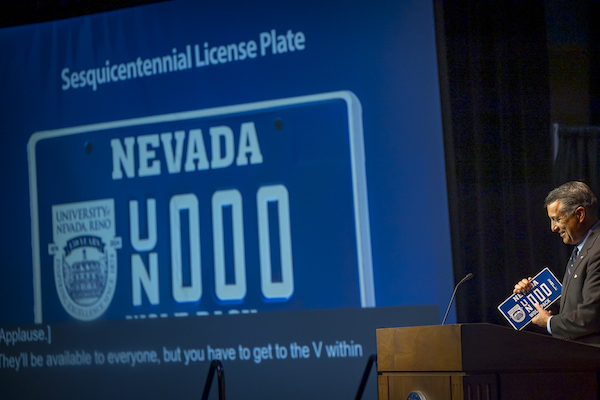 Sandoval also noted in his address the upward trajectory the University has seen in recent national rankings, citing the University's 68-place improvement (to No. 195) over the last year in the U.S. News and World Report Best Colleges Rankings, a No. 48 ranking in The New York Times' College-Access Index Ranking that is a reflection of an institution's access and diversity, as well as an academic ranking, "Webometrics," which listed the University as No. 128 out of more than 3,000 universities in the United States in terms of the use of citations and web presence that is a national and worldwide reflection of a faculty's contribution to the overall knowledge in their various disciplines.

"In other words, the work of our faculty is truly having a global impact," Sandoval said, also reporting later in the speech that University research expenditures of $180 million in 2023 was a record.
In other words, the work of our faculty is truly having a global impact
Sandoval also stressed the growing reach of the University's engagement with the communities it is serving. The new University of Nevada, Reno at Lake Tahoe, he said, was enhancing the student experience while also growing the University's research presence at Lake Tahoe and the University's ties to the North Lake Tahoe community.
For the first time, he reported, Tahoe researchers such as Dr. Sudeep Chandra of the University's Global Water Center, would have their own research vessel to use while conducting their research at Lake Tahoe. The 38-foot-long, 14-person research and education vessel, made possible thanks to a recent gift form the E. L. Wiegand Foundation, will help "the silver and blue to keep Tahoe blue," Sandoval said with a smile.
Throughout his speech, Sandoval made reference to the University's 149-year history and a planned year-long celebration to mark the University's 150th anniversary next Oct. 12.
He said the recent groundbreaking ceremony for the new Business Building, held on Oct. 12 in the University Mathewson Gateway, was an excellent example of the University's long history and why the institution's educational and societal mission has been so important.
During the groundbreaking, students held a protest on the same site as the groundbreaking ceremony in the wake of allegations made about the University's compliance with Title IX.
"For me, the groundbreaking on Oct. 12, 2023 was one of those incredibly memorable moments in our history," he said. "It showed the passion of student protestors who were demonstrating about an issue they feel strongly about. And it showed the pride of this community as we celebrated the groundbreaking of what is going to be a transformational building for our University and the community.
"Everyone shared the same ground. It was a force multiplier of the greatness of our University. A juxtaposition of how a college campus remains an example of democracy in action, along with the groundbreaking for the next great building where our faculty and students will achieve even greater success."
Sandoval addressed the Title IX concerns, noting that "over the past several months, there has been news of concerns regarding compliance with Title IX. I am fully aware and understanding the concerns regarding these issues."
He said in response, the University has been "very intentional regarding our Title IX office by substantially increasing resources to enhance the visibility, awareness and effectiveness of this office."
He noted the hiring of a new director of the office over the summer, Zeva Edmondson, as well as the hiring of outside entity specializing in Title IX to review the operations of the office "to make recommendations to ensure it is using best practices."
"We are removing any barriers to reporting and responsiveness to cases filed with the Title IX office," he said, adding that Title IX will be producing an annual report and a public-facing dashboard to share data and information.
"And I have made a commitment that we will continue to engage in thoughtful dialogue with our campus community about Title IX, now and in the future," Sandoval said.
Sandoval concluded his remarks by visiting the figure he introduced at the beginning of them – the University's first faculty member after it had moved from Elko to Reno in 1885, Hannah Clapp, who served as the University's first librarian and was also a respected and influential instructor on campus.
Clapp spoke at the University's 30-year anniversary in 1904, saying in part, "I am part of this magnificent University. I am proud of its triumphs and history. I rejoice in your pride, and pray earnestly that when you look about you and see how much you have, you may feel the inspiration of humble beginnings, remembering that faithful service and worthy work make those humble beginnings the foundation of greatness, as they are the foundation of the great institution that you have today."
"She saw us for what we could still become," Sandoval said of Clapp. "The greatest idea that the State of Nevada could ever have, an idea that would profoundly affect the trajectory of more than 125,000 graduates and the direction of a state that is today still filled with boundless pioneer spirit and potential.
"149 years in, her words remain true and our best times, our best story, our best history, are still yet to come."