Long wait times, difficulty seeing specialists and rising expenses are just some of the issues that Nevadans face when trying to get medical care, and all of them can be traced back to one diagnosis: a statewide shortage of medical professionals.
To remedy this affliction, the state must foster a robust, sustainable and locally sourced workforce through education, attraction and retention efforts, according to a discussion between U.S. Sen. Jacky Rosen, D-Nev., and leaders from the University of Nevada, Reno School of Medicine and Renown Health held Wednesday, Oct. 11, 2023.
"What I hear most is that we just don't have enough access to care in Nevada, whether it's physicians, nurses or other healthcare professionals," Sen. Rosen said at the University's Harlan O. & Barbara R. Hall Recital Hall.
She added that Nevada families deserve access to reliable, quality medical care, reiterating her commitment to increasing the number of healthcare professionals and ensuring that more Nevadans can get the care they need.
During the conversation, Sen. Rosen, UNR Med Dean and Renown Chief Academic Officer Dr. Paul Hauptman, and Renown Health President and CEO Dr. Brian Erling discussed key action areas necessary to improve healthcare.
Sen. Rosen, the junior senator for Nevada who is up for re-election in 2024, visited several higher education institutions in the state in the past week, including Roseman University in Henderson on Oct. 10, where she met with seniors about the impact of reducing drug prices. Just before the conversation in Reno, she appeared at Truckee Meadows Community College, which received $2 million to support expanding its nursing program as part of the Community Project Funding she requested with Sen. Catherine Cortez Masto, D-Nev.
While introducing the panelists and the event, University President Brian Sandoval '86 (English), who also sits on the board of Renown Health, recognized Sen. Rosen's commitment to building a healthier Nevada.
"We've obviously felt this crunch for providers in our state for a very long time, but Sen. Rosen is determined to do something about it," President Sandoval said. "If you look at the bills that she has introduced, which usually garner strong bipartisan support, they address the shortage of doctors across the country and in Nevada."
Moderated by ‌Adam Kramer, ‌chair of the Renown Health Board and ‌CEO of nZero, the 30-minute dialogue covered a variety of ways to improve healthcare in Nevada and address significant shortages in the state.
"Together, we have more than 300 years of history in healthcare and education," Dr. Erling said, adding that the University, UNR Med and Renown have a unique opportunity as anchor institutions to improve the community's health.
Drs. Hauptman and Erling represented the state's first integrated health system, established through a landmark, 50-year agreement signed in 2021 between UNR Med, Nevada's first medical school, and Renown, northern Nevada's largest health system.
"There's no question that our vision of a healthy Nevada brings us to work every day and gets us out of bed in the morning," Dr. Hauptman said. "We are committed to increasing access to care in the state's urban and rural communities."
About two-thirds of the state's population lives in federally designated primary Health Professional Shortage Areas, according to the 2022 Physician Workforce in Nevada Chartbook, published by UNR Med's Nevada Health Workforce Research Center in the Office of Statewide Initiatives. There are fewer than 220 active physicians per every 100,000 people in Nevada, well below the national average of 272 physicians.
To reach the national per capita average, Nevada would need almost 1,600 more physicians, at least 800 more nurse practitioners, more than 4,200 additional registered nurses and 5,700 new nursing assistants, close to 15,200 home health and personal care aides, and about 670 radiologic technologists and technicians.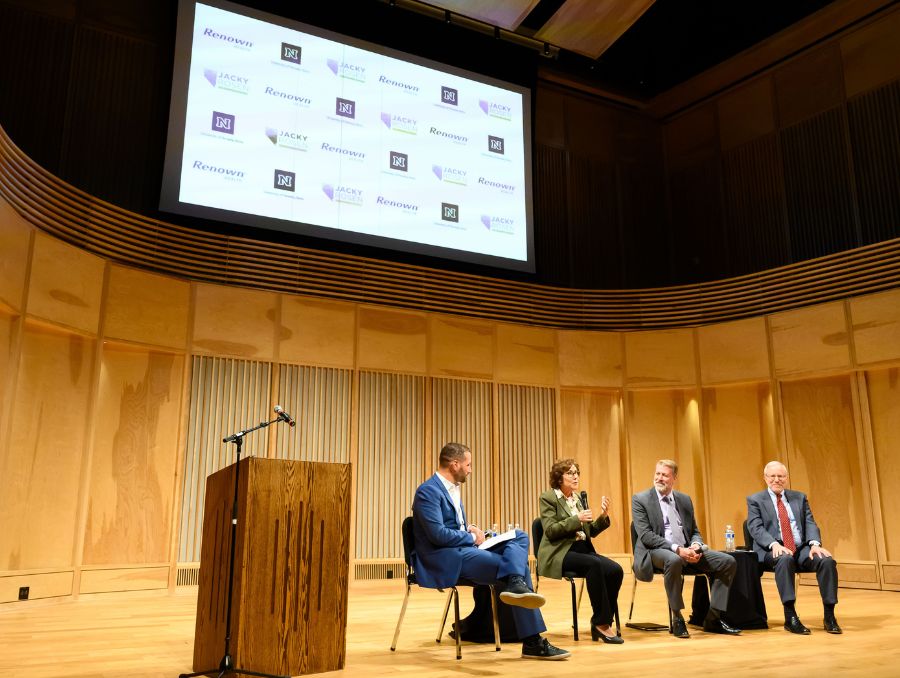 Healing Nevada's healthcare woes
Unfortunately, no magic cure can instantly raise the number of healthcare providers for Nevadans. The panelists agreed that a multifaceted, cooperative approach would be required from medical experts, educators and policymakers to improve healthcare in the state.
"It's a multi-pronged approach on the UNR campus to do this, but it's going to require more than just UNR to fix the problem in the state," Dr. Hauptman said.
While a healthcare provider shortage is a national problem, Nevada needs a local solution to create a sustainable future, Dr. Erling said. The state can lessen its reliance on other areas and build a reliable, local network by training and educating nurses, physicians and technicians.
"No surgeon goes into the (operating room) without a complement of people there to support him or her," Sen. Rosen said. "Really, it does take a village. And while we must do it all, we don't have to do it alone. Whether it's with the federal government, the state government, these public-private partnerships, the universities, Renown or our community colleges, we can partner and continue together because that's the Nevada way."
During the conversation, Sen. Rosen and Drs. Hauptman and Erling highlighted key organizational commitments and advancements in critical areas to address clinical workforce shortages, including expanding clinical and residency programs, advancing undergraduate and graduate medical education, expanding opportunities and programs to train specialists, and addressing student debt.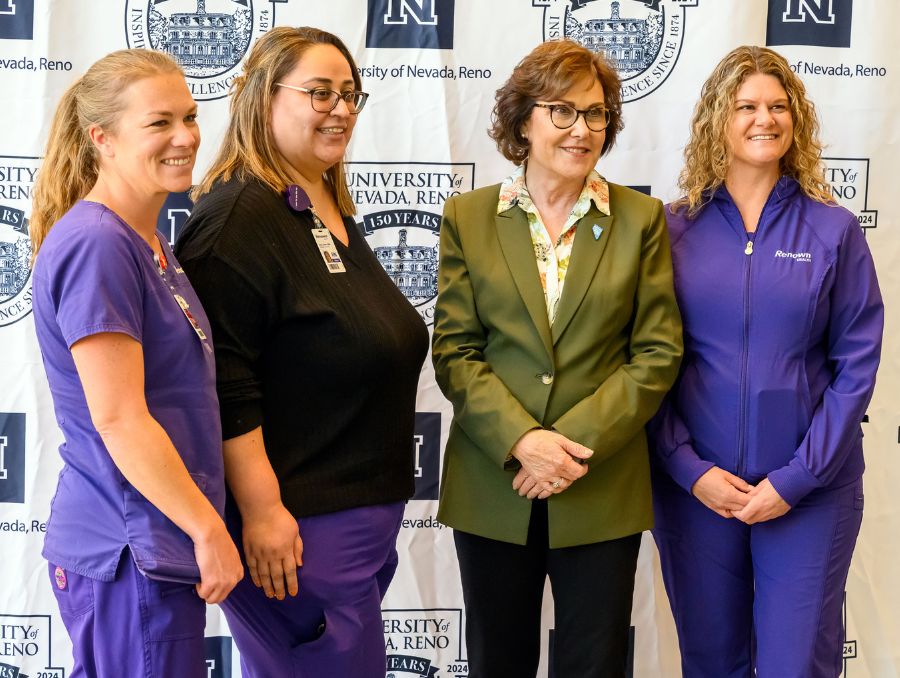 Nursing the solution
Adding more nurses to the state will require training new practitioners and attracting trained individuals from other states.
Sen. Rosen introduced the bipartisan Train More Nurses Act in September to address the nationwide nursing shortage. The bill directs the Secretary of Health and Human Services and Secretary of Labor to review nursing grant programs and increase faculty at nursing schools, especially in underserved areas.
"You can't have more healthcare professionals without the faculty to teach them," Rosen said.
During its 82nd session in 2023, the Nevada Legislature passed two key bills targeting the nursing shortage, including Assembly Bill 401, which doubles the number of nursing students a faculty member can educate to 12, and Senate Bill 375, which provides $20 million in funding over the next two years to pay and support faculty to train more nurses.
To help more students pursue a nursing education, the University's Orvis School of Nursing and Renown Health announced a new partnership and scholarship fund in May of this year. The Gerald "Jerry" Smith Academic-Practice Partnership will award up to 24 scholarships each year to nursing students and create eight additional openings in the school's bachelor of science in nursing program.
"Renown Health and the Orvis School of Nursing is a model for the future," Dr. Hauptman said. "They not only train nurses, they train nurses of great and high quality."
In addition, Renown has created several new programs to recruit new nurses to the state.
"In a state with this much of a shortage, we can't train enough (fast enough)," Dr. Erling said. "We have to recruit nurses into our community. Period."
On Valentine's Day 2023, Renown launched a new initiative and benefit package to retain more nurses and health professionals and bring 500 new clinicians to northern Nevada. The healthcare system has already achieved that goal by hiring 228 experienced registered nurses in the past 10 months.
"We had a thermometer sitting in the lobby that went up to 500," Dr. Erling said. "Now, we have to make it go up to 1,000."
Rural remedies
The state's healthcare workforce shortage is exacerbated in its more rural and frontier communities, where people often live 100 miles away from the nearest hospital that can provide specialized care and close to 50 miles from the nearest incorporated town, according to the Nevada Rural and Frontier Health Data Book published by UNR Med's Office of Statewide Initiatives.
Rosen said it can be challenging for Nevadans in rural areas to get the medical care they need. She highlighted how the Maximizing Outcomes Through Better Investments in Lifesaving Equipment for (MOBILE) Health Care Act, signed into law in December, can help. The law Sen. Rosen sponsored expands the use of Community Health Centers funds to establish mobile health clinics that can bring medical care directly to communities in need.
Renown has prioritized creating the capacity to care for those rural patients who need to be transferred to a higher level of care, Dr. Erling said. The Regional Transfer & Operations Center, a cutting-edge 6,000-square-foot facility with an integrated workforce, ensures smooth treatment and transfers for patients and providers in 27 counties throughout Nevada, Lake Tahoe and northeast California.
"Our goal is always to keep care local when we can," Dr. Erling said. "We're adding a lot of new service lines and advancing the acuity of patients that we can take care of locally, so people don't need to travel. We want to enable all those local providers, whether it's a physician assistant, a nurse practitioner or a primary care provider, to be able to keep care local."
UNR Med's Physician Assistant Studies Program, which began instruction in 2018 and received Accreditation-Continued status from the Accreditation Review Commission on Education for the Physician Assistant in June 2023, can also be a boon to rural care, Dr. Hauptman said.
"The majority of those graduates go into the rural communities and provide care," he said.
The Nevada Health Service Corps can also attract more health practitioners to rural and frontier areas of Nevada via a loan repayment program, Dr. Hauptman added. Another bipartisan legislation co-sponsored by Sen. Rosen, the Specialty Physicians Advancing Rural Care (SPARC) Act, also aims to address the shortage of physicians in rural communities by creating a student loan repayment program for specialist physicians practicing in rural areas.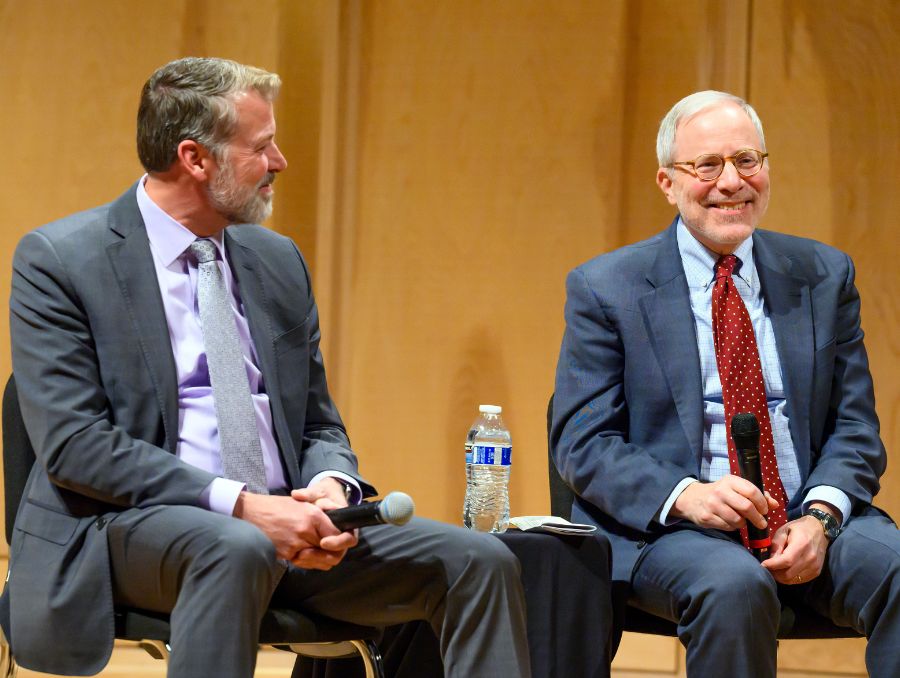 Boosting Graduate Medical Education
The panelists agreed that creating more opportunities for Graduate Medical Education is vital to training more potential healthcare professionals in the state.
Medical school graduates train in hospitals and health systems through GME, which includes internships, residency, subspecialty and fellowship programs. Medicare began funding part of GME based on per-patient hospital reimbursement in 1965, and in 1997, the Balanced Budget Act reduced Medicare coverage of residents. This cap increased the mismatch between U.S. medical school graduates, available residency positions, population health needs and popular physician specialties.
In 2021, Sen. Rosen requested the Government Accountability Office examine GME programs and medical provider shortages in the U.S. The resulting report found that 70% of hospitals trained more residents than Medicare-funded, showing they can train more physicians now than before the limitations. In December 2020, bipartisan congressional leaders added 1,000 Medicare GME posts to address the physician shortfall but Nevada and many other states still need more to increase the number of practicing doctors.
"I have a 40-80 rule," Dr. Hauptman said. "If a student graduates from one of the medical schools in Nevada, there's a 40% chance that they'll practice in the state. If they graduate from and do their residency in Nevada, it goes to 80%. So, it's very clear what we have to do. But, it's all about the funding at this point."
It's difficult to overstate the importance of increasing the number of GME spots available in Nevada, Dr. Erling said.
"To put in perspective, we need to double our GME slots at Renown essentially," he said. "We have a wish list that includes basic programs, surgery, OB-GYN, cardiology, oncology and addiction medicine. If we want to get the medical school and the healthcare in this community where we need it, we have to do it."
Adding 75 spots to Renown alone would require at least an additional $12 million annually in funding, Dr. Erling estimated.
During the 2021-22 legislative session, Sen. Rosen co-sponsored the Rural Physician Workforce Production Act and Resident Physician Shortage Reduction. In 2023, the Senate and House will again consider bills addressing GME funding.
"I'm working hard to get these GME slots to add more and to reallocate, redistribute to places that are now growing," Sen. Rosen said.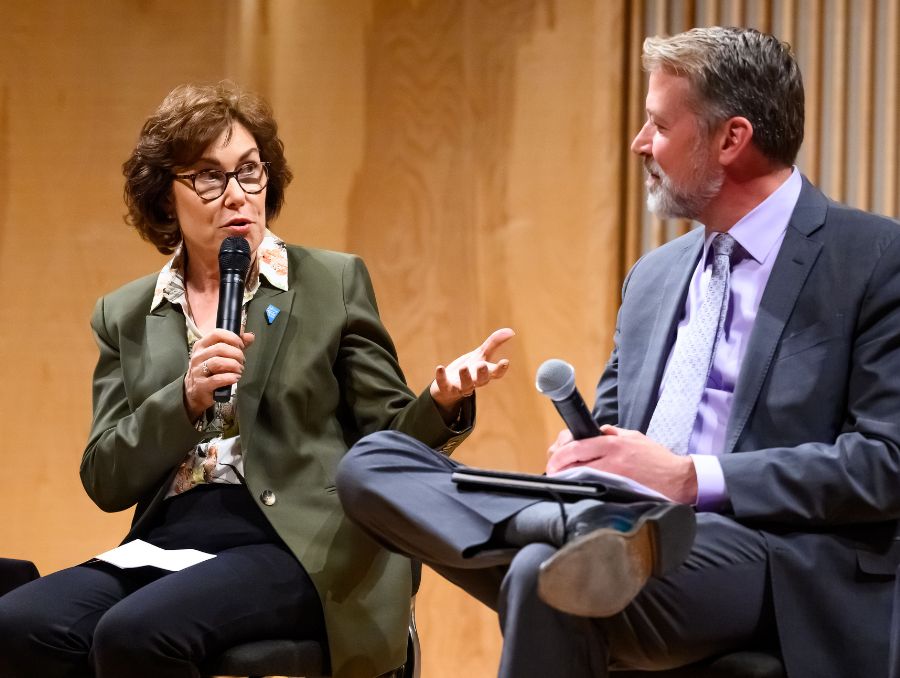 Medical school debt Rx
Addressing medical student loan debt can also help increase the number of physicians in Nevada and encourage students to pursue unrepresented specialties in rural areas.
According to the Association of American Medical Colleges, the average medical student graduates with more than $200,000 in debt, according to the Association of American Medical Colleges. The high cost of medical school can deter students from minority groups or low-income families from pursuing a career in medicine, which has a domino effect of increasing healthcare disparities that disproportionately affect the availability of primary care physicians in underserved areas, according to the American Medical Association.
To help relieve some medical student debt, Sen. Rosen also introduced the Resident Education Deferred Interest (REDI) Act with Senator John Boozman, R-AR, this year. This bill would pause student loan interest accrual and principal loan repayment for medical and dental students while serving in their residencies or internships.
"A residency is a critical time and an intense experience," Rosen said. "You need to be focused on what you're doing and learning. For all of you working in this space, I want to ensure you can do that."
Dr. Erling expressed gratitude to Sen. Rosen for her efforts to improve the conditions for people entering the medical profession and his hope that the deferral of loan payments will encourage more people to attend medical school, residency and train as physicians. Dr. Hauptman also expressed his connection to the concern and support for the senator's efforts while encouraging philanthropic support from individuals and foundations.
"I was someone who was deeply in debt for many years and paid it off," he said. "The loan repayment programs offer opportunity and a way forward. Ultimately, it would be great to get more generous donors to give money for scholarships so that it wouldn't put our students in this position."