The ArchitectECA2030 Consortium, a scientific and collaborative forum, took place at the University of Nevada, Reno in May 2023. The event featured 20 participating organizations, including the Central European Institute of Technologies, Virtual Vehicle Research GmbH (based in Austria), and AVL, a leading, international mobility technology company. Participating countries included the United States, Norway, France, Germany, Netherlands, Czechia, Austria and Lithuania. The University's Nevada Center for Applied Research (NCAR) was the only non-EU participant in the forum.
"The event was successful and will lead to future collaboration opportunities in the European Union," Richard Kelley, senior engineer with NCAR, said.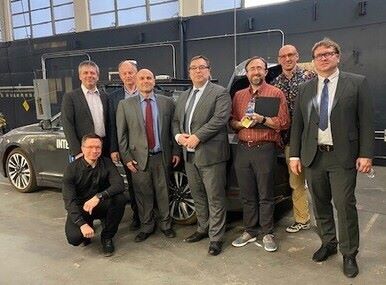 Participants at the international consortium discussed the future of artificial intelligence for mobility, with one of the topics focusing on the ArchitectECA2030 project. Launched in January 2020 and coordinated by Infineon Technologies Germany AG, this project aims to address failures and misbehaviors in electronic control assembly (ECA) vehicles, with the ultimate goal of creating reliable and safe ECA vehicles.
Additionally, the guests were introduced to NCAR's corporate partners and research from NCAR, the University's College of Engineering and the College of Science.
"Artificial intelligence is revolutionizing mobility worldwide," Kelley said. "The success of NCAR's collaborative forum in intelligent mobility will open doors to exciting opportunities for University scientists to work closely with peers in the European Union and extend the impact of our institution's research across the Atlantic."
Nevada is renowned as a leading hub for innovative vehicle and transportation technologies, actively studying and advancing intelligent mobility to contribute to future communities. The University's team includes various stakeholders such as the Nevada Department of Motor Vehicles (DMV), the City of Reno, Proterra, DELL EMC and others.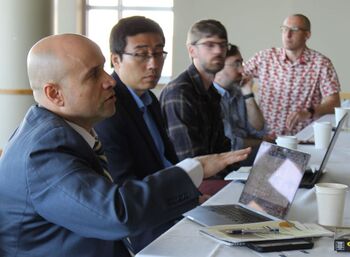 "Ideas, citizens and researchers have come together to develop cleaner, safer and more efficient forms of transportation," Kelley said. "A prime example of the University's intelligent mobility initiative is the creation of Nevada Living Labs. These labs examine how vehicles sense their surroundings and communicate with other vehicles, infrastructure, and people. Researchers collect data, develop systems, and refine them to reduce fuel consumption, emissions, and enhance safety in transportation."

The meeting in Reno primarily focused on discussing research directions, possibilities for automated car testing in the United States and avenues for future collaboration. The next joint meeting is scheduled to take place in Europe this summer.

"We were delighted to host our partners, and we eagerly anticipate new and meaningful collaborations," Carlos Cardillo, executive director of NCAR, said.