What if the electric, public buses of the Regional Transportation Commission of Washoe County (RTC) – as they travel the streets of Reno – could monitor and report issues such as a damaged traffic sign, bus stop or traffic signal, or even potholes?
A new technology developed by a University of Nevada, Reno research group is making this idea reality, and it's being tested in partnership with the RTC in the real-world "Living Lab" in downtown Reno.
An RTC bus traveling the Virginia Street corridor has been installed with advanced sensors and artificial intelligence (AI). These sensors allow the bus to monitor the traffic infrastructure around it and use AI to detect problems. If a problem or damage is detected, an automatic notification is sent to the RTC's maintenance team. RTC has highlighted this new technology and its collaboration with the University in a recent segment of their Road Ahead series.
"This technology allows problems to be detected, reported and fixed more quickly," said Richard Kelley, senior engineer with the University's Nevada Center for Applied Research, who developed and leads the project. "This use of artificial intelligence is designed to support maintenance and other personnel, and not replace them."
It's called the Digital Twin project because the sensors and AI on the bus build a virtual copy of the city streets, and identify maintenance needs by comparing new sensor data against that stored "digital twin" of the transit infrastructure.
The project is supported by the Federal Transit Administration, part of the U.S. Department of Transportation. Along with Kelley, it involves Hao Xu, an associate professor in the College of Engineering's Department of Civil & Environmental Engineering, and Eric Wang, a graduate student in civil engineering, and Gaetano Evangelista, a Ph.D. student and research assistant.
The Digital Twin project is part of Intelligent Mobility, a multidisciplinary research initiative coordinated through the Nevada Center for Applied Research (NCAR). As Carlos Cardillo, University executive director of corporate partnerships, describes it, "NCAR's Intelligent Mobility initiative brings together researchers, collaborators, ideas, project and resources to work toward transportation solutions."
RTC Executive Director Bill Thomas expressed how this Digital Twin partnership and other efforts with the University complement the goals of increasing transportation safety and efficiency. "The RTC always pursues innovative technology that will enhance the safety of the traveling public," he said. "Working with the University puts the RTC in a unique position to safely test new technology in a real-world environment that can lead to tangible safety improvements on our community's roadways."
Exploring mobility solutions in "Living Labs"
Nevada's Living Labs are real-world environments, in both urban and rural settings, where transportation- and mobility-related tests are conducted. This ability to test and refine technologies in these varied settings is fundamental to Intelligent Mobility.
"The Living Laboratory concept was originally developed jointly by GOED and the University," said Karsten Heise, director of strategic programs for the Governor's Office of Economic Development which provides funding support to NCAR. "It comprises the creation of a user-centered, open-innovation laboratory offering a real-world environment to develop and test new mobility technologies, pilot new concepts and discover engineering limitations, and has received continuous funding support by the GOED-administered Nevada Knowledge Fund since its inception in 2016."
Many of the Living Lab tests in the Reno area involve NCAR's hybrid autonomous vehicle, which serves as a platform for research and development of new technologies. NCAR's autonomous vehicle always operates with a driver onboard and ready to take over the controls. The Digital Twin technology was tested on the autonomous car before moving forward to the current public-transportation test.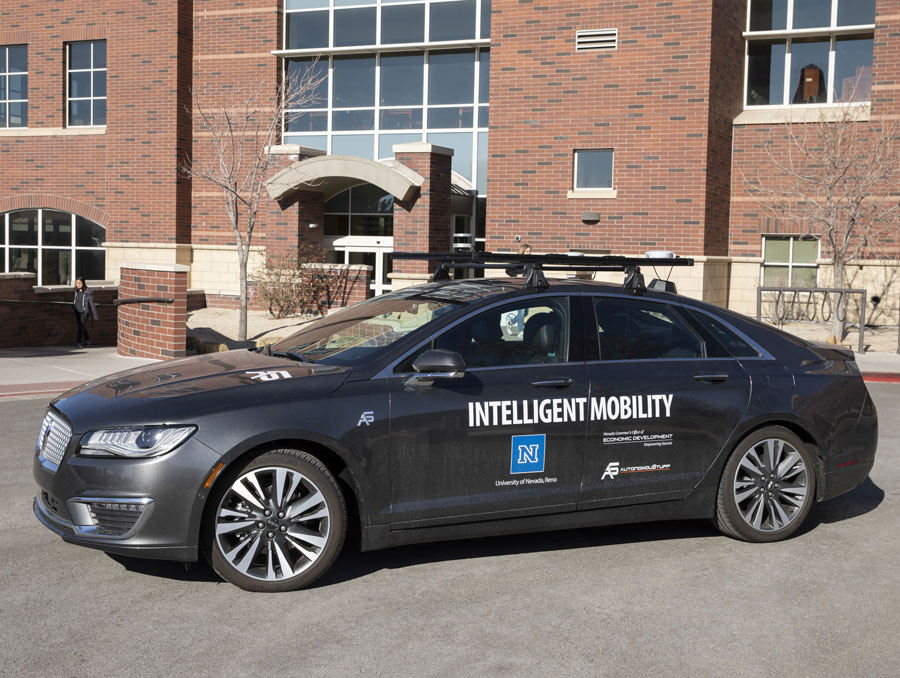 An additional project happening through Intelligent Mobility involves the mass-transit infrastructure and NCAR's autonomous vehicle. Led by the Department of Civil & Environmental Engineering's Hao Xu, the project uses interconnected LiDAR, dedicated short-range communications sensors and traffic signals to detect and track pedestrians, cyclists and traffic, and communicate with connected and autonomous vehicles operating within the Living Labs. Xu also has tested these technologies with the Nevada Department of Transportation to track animals near or crossing roadways in non-urban areas.
Also part of Intelligent Mobility is an assessment of the judicial and socioeconomic impacts of autonomous vehicles. Under the guidance of The National Judicial College and University faculty with the School of Social Research and Justice Studies, the project involves the expertise of judges and legal scholars to examine the legal implications of using autonomous and connected vehicles.
The Living Labs not only draw the interest of agencies, businesses and entrepreneurs to Nevada, but also contribute to the workforce development of University students.
"Over time, the Living Labs will attract an increasing number of technology companies conducting cutting-edge research and development work in the mobility field," Heise said. "It puts the University at the forefront of technologies and concepts that will lead the 21st century such as robotics, autonomous vehicles, software development for autonomous systems, and expertise on the legal implication of how to deal with this new traffic environment containing autonomous and connected vehicles. Furthermore, as research and development are supported by the University's students, its graduates will be equipped with hands-on experience of relevant equipment and technologies, which is highly valuable to employers."