In honor of Asian American and Pacific Islander (AAPI) Heritage Month the University of Nevada, Reno Multicultural Center's Asian Pacific Islander (API) Program held a mural unveiling in the Multicultural Center. This event took place on April 28, 2023, and the mural was painted by University alumnus Joshua Chang in spring 2023. During the event, Chang spoke about his inspiration behind the mural and now Chang speaks in-depth about this mural as well as others he has painted on the University campus.
Chang's first few pieces on campus were for the artist stairwell in the Church Fine Arts building. The University had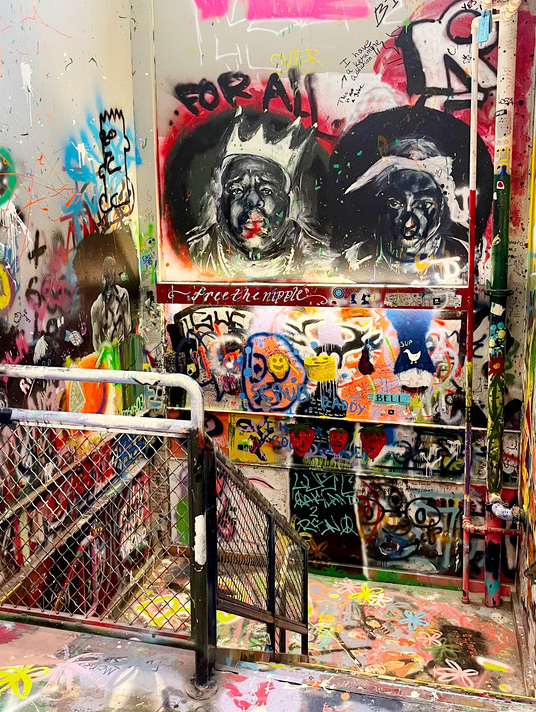 called for volunteers to help paint over hateful symbols painted without consent from the University. His first mural that he created was in the University Markerspace at the Innevation Center. While Chang's mural honoring AAPI Heritage wasn't the first that he painted for the Multicultural Center (the Center), he continues to experience doubt when he creates a new piece.
"Every artist I know says to 'trust the process'; and it's because the doubts and hesitation are always present... Those nerves are always there but they quiet down when you learn to trust yourself. I'll be honest, I didn't think I was confident in my piece until 80% in and finally thought 'huh, this isn't half bad'," Chang said.
Chang has a brother who is also an artist and he gained a lot of experience painting on a larger scale while working with his brother. While the nerves when painting murals are still there, the experience that he gained working with his brother prepared him for creating on his own, giving him confidence. Chang emphasized that you will make mistakes, no matter how much you prepare and that it's going to look different from what you imagine in your head, but just fix the mistakes as you go and it's going to look good.
Chang's inspiration for his mural honoring AAPI Heritage Month came from his recent connection and interest in his own heritage and culture. The Center as well as the mural allowed Chang to express himself and his vision. The mural was influenced by other artists in his life.
"The people on the mural are artists who I shared a gallery with that showcased Asian artists in the Reno area. Being able to witness their art, their process and inspiration from their culture motivated me to look at what I am composed of. It's the first piece in a while I've been able to stay true to myself."
Chang is taking a break from painting murals for now. While this is one outlet through which he can express himself in a creative way, big projects like murals are very tiring. It's important to rest in-between projects and Chang is doing just that. He is excited to start commissions and some more personal art pieces. Check out Chang's Instagram to see more of his work.