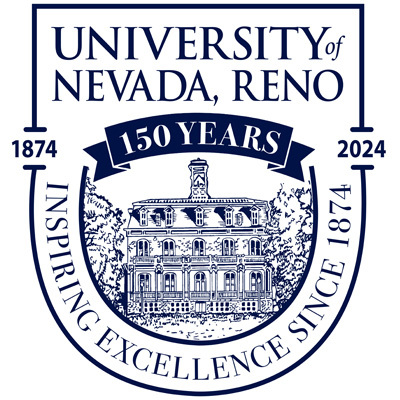 The day World War I ended has always carried a certain poetic rhythm. On the eleventh hour of the eleventh day of the eleventh month of the year – 11 a.m. on Nov. 11, 1918 – the war officially ended following the signing of an armistice (an agreement that under international law ends fighting between at least two belligerents) that had been reached a few hours earlier by British, French and German leaders.
It was the end to more than four years of what was termed "the war to end all war," although as it would turn out, military personnel on the warfront would continue to die well beyond the eleventh hour of the eleventh day of the eleventh month of 1918. It is estimated that American forces on the Western Front of the war would see more than 3,500 casualties throughout the day of Nov. 11.
Two days after the armistice was signed, on Nov. 13, 1918, Lt. John Stephen O'Dowda was killed in airplane crash in France. O'Dowda was 22 years old.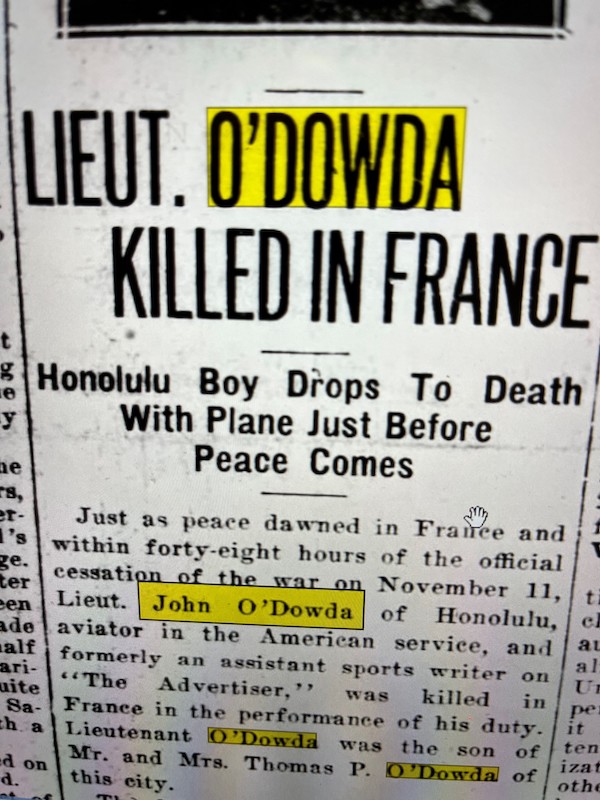 O'Dowda's death rocked Nevada as well as Hawaii. He was born and raised in Hawaii, where he excelled at Punahou School in Honolulu as an athlete and as a student. He came to Nevada to attend the University of Nevada, where he played end on Nevada's football team during fall 1916 and fell in love with a young Reno woman, Ruth Wheeler, while the two were students at Nevada. The two became engaged, and then like thousands of other young men once the United States officially joined World War I in 1917, John O'Dowda joined the military and saw action in France as part of the country's aviation service.

In 2024, we know Nov. 11 as Veterans Day – a day to remember those in military service who have served and those who made the ultimate sacrifice. John O'Dowda's death more than 100 years later is a reminder of the sacrifices young people make during times of war – and a reminder that even when war ends, it never truly does end, often leading to even greater loss.
JOHN "JOHNNY" O'DOWDA was known throughout Hawaii for his exploits on the tennis courts, as well as excelling as an oarsman and as a track, football and baseball athlete. He was an excellent public speaker and earned awards in rhetoric. He was also a top junior tennis player, and at one time was the singles champion of the Hawaiian Islands. He would often during matches wear a green tie and a white shirt with a shamrock on it, his sartorial splendor in an era in tennis when top men's players wore sweaters, long sleeve shirts and trousers. A Feb. 18, 1916 article in the Honolulu Advertiser noted John's "brilliancy in handling his racquet."
John's tennis clothing style was a nod to his father's Irish ancestry. His father, Thomas P. O'Dowda, who had arrived on the island of Oahu from Ireland, was a longtime fixture at the Ewa mill, working as the head sugar boiler there from 1894-1915. John's mother, Lulu, had come to Oahu from Portugal in 1884 at age 8. John was born at Ewa on Nov. 28, 1896.
John attended St. Louis High School and graduated from Punahou Academy in 1914. For a time he worked as an assistant sports writer for the Honolulu Advertiser. He came to Reno in 1916, enrolled in the University and was a starting end on the Nevada football team. It was during this time he met Ruth Wheeler, the daughter Samuel and Maude Wheeler, whose Reno family was among the community's most prominent, with extensive sheep and land holdings throughout the Truckee Meadows, including parts of one of the prime water sources to arid Reno's agricultural areas, the Steamboat Ditch. Ruth was considered "one of the leaders of the younger set" in Reno, according to a July 18, 1918 article in the Reno Evening Gazette. She was musically gifted, with what the newspaper described as "possessor of a voice of … remarkable lyric range." At the University, Ruth was a member of a sorority and was involved with numerous clubs on campus.
Once the United States entered World War I in 1917, John traveled to Berkeley, California and enlisted on Aug. 10, 1917 in the aviation service. He received training in Berkeley, Garden City, N.Y., and honed his flying experience at Lake Charles, La. John and Ruth were married while John was temporarily stationed in Dallas, Texas, on July 17, 1918. A few months later, after earning his second lieutenant's commission, John shipped overseas to France.
John was killed while serving in France on Nov. 13, 1918.
It wasn't until Dec. 14 that Ruth received the word that her husband had died. The Reno Evening Gazette reported that day that Ruth, who was at the home of her parents in Reno, got the news "… in a letter containing a clipping from a Honolulu paper quoting a dispatch from the war office to the young man's parents who reside in Honolulu. His wife has never received any official information from the war department …" The Reno newspaper wrote of O'Dowda, "While a student at the university, he took a very prominent part in athletics playing end on the football team and taking an active part in other student affairs. His death marks the tenth among students or graduates of the university in the service and the fourth to be killed overseas."
In Hawaii, the news had reached O'Dowda's family earlier. The Honolulu Star Bulletin had a page one story published on Dec. 5, 1918, with the headline, "POPULAR ISLAND AVIATOR MEETS DEATH IN ACCIDENT; Believed That Explosion of Bombs Was Cause; Was With Bombing Squadron." The Star Bulletin wrote that, "Lieut. John S. O'Dowda, athlete, aviator, and one of the most popular boys who donned the khaki when the call came, was killed in France on November 13 in the performance of his duty. The news has just been received by his parents, Mr. and Mrs. T. P. O'Dowda of Honolulu." The newspaper called O'Dowda "Another Hawaiian Hero."
The Honolulu Advertiser reported on John O'Dowda's death with an article that appeared on Dec. 6, 1918. The front-page headline read: "LIEUT. O'DOWDA KILLED IN FRANCE." The front-page treatment also noted, "Lieutenant John O'Dowda, aviator from Honolulu, was killed in France just as peace dawned." The article quoted a message to John O'Dowda's parents Adjutant General Harris of the United States Army in Washington, D.C.: "Regret to inform you that it is officially reported that Second Lieutenant John S. O'Dowda, air service, died November 13 as a result of airplane accident." Earlier that fall, in October, the Advertiser wrote, it had published a photo of O'Dowda "… in his machine, announcing he had arrived in France and was ready for service."
A day after his death, on Nov. 14, 1918, John O'Dowda was buried in France with full military honors. The Reno Evening Gazette reported on Dec. 17, 1918 that, "His closest friend, Lieut. Herbert C. Drescher, flew over the grave, dropping flowers upon it, according to a letter received Saturday by Mrs. O'Dowda from Lieut. Drescher. … Six of the closest friends of Lieut. O'Dowda acted as pallbearers."
Thomas O'Dowda would write a January 1919 letter to a committee considering what type of memorial should be erected in Honolulu honoring those from Hawaiian Islands who had died during World War I. The committee needed to determine whether the memorial would be a monument, a memorial hall, or, as the Jan. 22, 1919 Honolulu Advertiser reported, "both." The newspaper reported O'Dowda's letter as follows: "As one of those who lost a dear boy in the terrible war just finished I wish to thank you for the stand you have taken in the form of a memorial to be erected here in the memory of those that lost their lives. Like you, I think a hall in time would degenerate into a dancing place or a moving picture house. In my opinion, a monument erected in some conspicuous place would be the proper kind of memorial, something to which you lift your hat as you pass by and say: 'That monument was erected by the people of these Islands in memory of those boys who lost their lives so that we could continue to live in happiness."
Eventually, a War Memorial, which included a natatorium, was built and completed in Waikiki in 1927. A plaque, "The Roll of Honor" with the inscription, "Dulce Et Decorum Est Pro Patria Mori" (a line from the Roman poet Horace, "It is sweet and proper to die for one's country") listing those from Hawaii who died in service to the United States and British forces (Hawaii wasn't a state during World War I) was later added to the park in Waikiki. Among those listed on the Roll of Honor is John S. O'Dowda.
John's body was returned to Hawaii in 1921. The Honolulu Star Bulletin wrote on Aug. 5, 1921, that, "John O'Dowda Comes Home Three Years After Death on Aviation Field," and, "Covered with a large American flag, the colors of the country for which he gave his life, the body of John Stephen O'Dowda, Honolulu boy who was killed in an airplane accident on November 13, 1918, two days after the armistice was signed, arrived in Honolulu this morning on the army transport Buford from San Francisco."
The newspaper noted that O'Dowda's body was taken to the H.H. Williams mortuary, with a funeral scheduled two days later, on Aug. 7, at the Catholic cathedral in Honolulu, with internment to follow at the Nuuanu Cemetery.
The services were attended by representatives from the American Legion, Veterans of Foreign Wars, British war veterans, and the St. Louis College Alumni Association. Immediate family still living in Oahu were an uncle, Peter Ohrt, and a cousin, Honolulu City Engineer Frederick Ohrt. By 1921, mother Lulu and his brother and sister were living in Oakland, California. O'Dowda's father, Thomas, passed away on July 21, 1920 at age 59 following a long illness. Lulu would return to Oahu, and she passed away on Sept. 8, 1959 at age 83.
In January 1920, Ruth O'Dowda, John's widow, married Roy Turner of Colusa County, California. She would eventually move to Honolulu during the 1930s, raised a son and a daughter and at the time of her death on Jan. 12, 1985, at the age of 87, also had four grandchildren and had five great-grandchildren.
JOHN O'DOWDA's grave in Hawaii remains in Nuuanu Cemetery in Honolulu. In a 2004 dissertation submitted to the Graduate Division of the University Hawaii by Brian Ireland entitled "Sugar-Coated Fortress: Representations of the U.S. Military in Hawaii," Ireland describes the final resting place of John O'Dowda, the young soldier whose death two days after the fighting had ended in World War I rocked Nevada and Hawaii.
Ireland writes, "Although buried by the military, O'Dowda's headstone is not military issue (History of Government Furnished Headstones and Markers). It is placed flat to the ground, and sits on a rough stone base. … Its inscription reads,
O'DOWDA
LIEUT. JOHN S 1896-1918
THOMAS P 1861-1920
LULU 1875-1959"
While he was still a cadet in flying school in Louisiana in March 1918, John wrote a letter to the Honolulu Star Bulletin. In his March 23, 1918 letter, the young aviator wrote that "… as some of the boys at home might be thinking of going into aviation, I thought I would tell them of the flying schools." He said that while training at the Gerstner flying field near Lake Charles, Louisiana, "… one meets every type of American. That is Western, Eastern, Middle Western and Southern, all are represented, as every school in the states sends some of its cadets here and they certainly are a fine, big healthy body of men."
John wrote that early flights where inexperience was natural and even with the help of an instructor still could feel awfully daunting: "Well, you can say what you want, but you can rest assured, after your first ride, you are not any too sure you are ever going to be able to run that plane, and yes, you are a little afraid, too." He noted that he had accumulated, after preliminary instruction, about 12 hours of solo flying and "soon will be ready for my cross country flights" as well as continued "stunt" practice flying in one-seat training airplanes at 4,000 to 5,000 feet altitude.
O'Dowda seemed to be well aware of the risk involved in flying airplanes during wartime. He wrote, "As the wind is pretty strong here, we break up quite a few planes, but it is remarkable that so many cadets get off with only some bruises. Still, we have been kind of unlucky, having had ten people killed in eight weeks here." The risk, O'Dowda believed, was certainly worth it. He was part of an expeditionary force that was involved in the war to end all wars. It was clear he loved flying, and had found in his young life a worthy pursuit that he was extremely passionate about.
"It is the greatest game in the world," he wrote, "and I have written this with all the facts so that the boys at home who are thinking about going into it may know a little bit about our life. … So here's wishing you in Hawaii intending to get into this game all the luck in the world and hoping this will give you a little insight on life at the flying schools.
"Aloha."