Angelica Perez is a first-generation Latina who graduated from the University of Nevada, Reno twice already, and has come back for another degree. She currently works as a mine engineer for Nevada Gold Mines, and this fall, Perez started school again to earn her Executive MBA.
Her educational journey
Growing up in Winnemucca, Perez had been surrounded by mining her entire life. But when she graduated from high school, Perez pursued the medical route.
"I was good at anatomy, chemistry and biology in high school," Perez said. "I knew right away that I was going to the University of Nevada, Reno due to its proximity to home."
Being close to home was important to Perez, and the University was a two-hour drive away from her parents and sisters. Plus, she had a full ride scholarship, though she also worked full-time to pay for other expenses and to continue helping her family back home.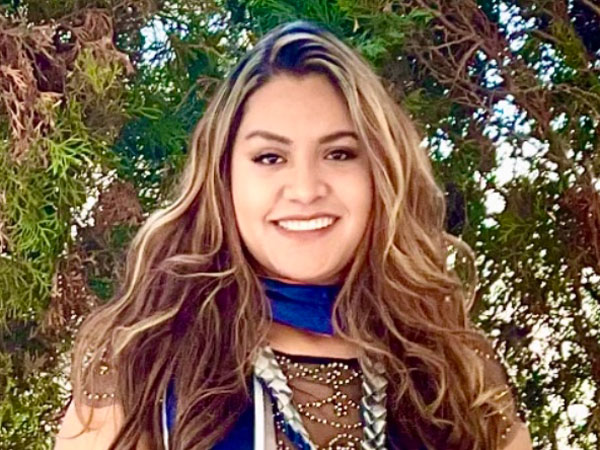 Perez first graduated with a neuroscience degree with minors in math, chemistry, and French. She was interviewing for medical schools but had a change in heart. Staying close to home was still a priority for Perez. Knowing she wanted to stay in Winnemucca or go to Elko, Perez took a course in mining engineering. Perez did well in the course and decided to pursue a mining engineering degree.

"I have to give big shoutouts to the mining engineering department," Perez said. "They were a great part of my success within Mackay, and I am proud to be a Mackay alum."

The second time around, Perez graduated with degrees in engineering. She said that now, people often ask her if she regrets getting her neuroscience degree.
"If it wasn't for neuroscience and all the skills I gained from those years, I don't think I would be as agile in the industry as I am now," Perez said. "I acquired so many skills that I use every day."
On top of a busy academic schedule and work, Perez worked in research labs and participated in a lot of clubs as a student. She was part of the Neuroscience Honors Society, the Tri Beta Honors Society, Women's Rugby Team, John Mackay Club, and she took the mining department to Phase II of the Society for Mining, Metallurgy and Exploration mine design competition as the team leader.
Despite being a first-generation high school and college student, Perez didn't feel the need seek out resources from the TRIO Scholars Program or similar first-generation student-focused programs on campus.
"That's how supportive the Mackay School is," Perez said. "I felt like I had all the support there and I knew there were other resources, but the department and my classmates kept me going. My classmates were the sail of the boat because they were there on the stormiest of days."
Just a semester after starting her mining engineering degree, Perez landed an internship with Newmont Goldcorp Corporation. She credits having gotten the internship with networking, not just by introducing herself but by following up with people she met, asking about the status of specific mine sites, and other questions that showed her genuine interest in the company.
Being a good role model for her sisters
Perez's two younger sisters are incredibly important to her. She took care of them growing up and continues to take care of them today. The older of the two is currently studying at the Orvis School of Nursing at the University, and Perez is paying for her education. Her youngest sister is in middle school.
"I saw my parents struggle a lot growing up and being the eldest, I saw my parents go through a lot of it," Perez said. "I remember being a little girl saying, 'I know I can be that change for my family.'"
She said that her number one priority was setting a positive example for her sisters. Once she was able to ensure her sisters had everything they needed, Perez turned her attention to the mining community and began to give back there.
Humble, hungry, and competent
As an engineer, Perez finds it important to thoroughly understand all parts of the mining cycle. Her job mostly lies within an office, working at a computer. But Perez takes the extra step to make sure that everyone she works with feels like they can come to her with their concerns. She said that her goal is to take the department groups at the mine that typically don't interact and turn them into teams to work together as a unit for organizational effectiveness.
"I do try to make it a habit to go underground twice a week. If your operators have that open communication and can come through your office," Perez said. "That is my number one goal, that the operators can come in here and can speak on their concerns. Safety is a huge component. If they don't see something's right, speak up about it. Make sure you're telling someone so we can fix it."
"The people you truly learn from are the miners. They're the ones making this mine work every single day," Perez said. "I love going down with the operators. And, you know, I believe that a true mining engineer makes sure that they're seeing the things that they're designing."
Being a woman in mining
She was the only female mining engineering student in her class and through her work ethic gained their respect.
"I have been very fortunate to always have had the support of all the men in the industry that I've encountered," Perez said. "That's something I feel very fortunate about because I know not every female has that experience."
Perez said she's still had to prove herself more than her male colleagues have had to. When she graduated, Perez had an opportunity to go directly into an engineering position, but she decided to run equipment to understand exactly what was going on underground first.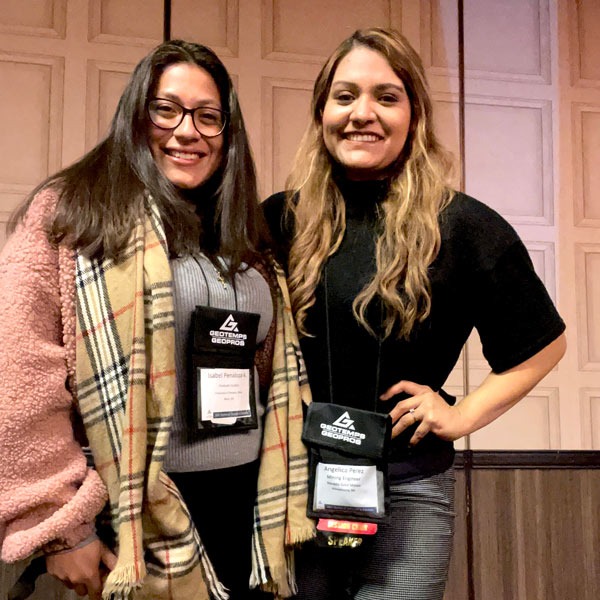 "That's something that, to this day, I recommend to every engineer," Perez said. "Know what the workers are going through. That way, when you're setting up a plan, when you're doing a design, a budget report, you know exactly what it's going to take to get the plan done, get the job done."

That served to earn her colleagues' respect, and to help her break the barrier between engineers and frontline miners.

To promote female participation in the mining industry, Perez participates in the Elko chapter of Women in Mining, which provides networking and educational opportunities to all those in the industry.
University ties
Perez is eager to connect and maintain relationships with everyone around her and support those people too. She wants her colleagues to be able to call her for support and serve as a mentor.
Perez attends the Mackay Banquets, which are held annually. As a student, she received the Outstanding Student Award which is given to students who have the highest GPA and are high performers in the classroom and outside the classroom. She makes a point to connect with the students who win awards at the Mackay Banquet since she was a recipient.
"That first year [after graduation] is such a shock, because you're no longer a student, you are a professional," Perez said. "And it's important to know that I can call up my friend and be like, 'Hey have you ever experienced anything like this?' The Mackay School of Mines, we were all about helping each other out."
Now, as she returns for an advanced degree, Perez has set her sights on bringing a new perspective on executive leadership and financial marketing to the mining industry.
"I strive to cultivate a safety culture and bring new methodologies to the mining industry while mentoring future mining engineers," Perez said. "My ultimate goal is to positively contribute to the mining communities, to make them well-respected places to live and work. I always say, you don't build a business, you build people, and then the people build the business."
The EMBA program is entirely online, so she will continue to work full-time at Nevada Gold Mines while studying.
"Home means Nevada, and when it comes to pursuing my higher education, the University of Nevada, Reno is a great investment. I truly believe the University finds, develops, and owns the best assets with the best people to give back to the community and the state."