Accidental drug overdose deaths among Nevadans increased by 55% from 2019 to 2020, an unfortunate symptom of the ongoing opioid crisis in Nevada. Researching and implementing effective, evidence-based legislation and drug treatment options continues to be critical in mitigating this public health concern. Karla Wagner, associate professor in the University of Nevada, Reno's School of Public Health, works in conjunction with her research group, state legislators and community partners to help prevent opioid overdose-related deaths and HIV transmission. This cooperation has resulted in the advancement of important legislation related to drug policies, including expanded access to opioid overdose-reversal drugs.
"Dr. Wagner's research has played a critical role in promoting our role in the community and making a difference in these critical times," said Muge Akpinar-Elci, dean of the School of Public Health which is newly accredited by the Council on Education for Public Health. "Her research undoubtedly contributes to our mission."
A notable example of research making significant influences on policy was in 2015, when then-Governor Brian Sandoval signed the "Good Samaritan Drug Overdose Act." This act expanded access to naloxone, an opioid overdose reversal drug, and provided protection to those who administer naloxone and/or call 9-1-1 after witnessing an overdose. Shortly after joining the University in 2014, Wagner had the opportunity to apply her background and expertise to the creation of this revised statute, along with the contributions of other researchers and health professionals in the field. This collaboration resulted in the law's successful passage, and at the time, was considered one of the most comprehensive laws to pass all at once, compared to other states' version of the legislation.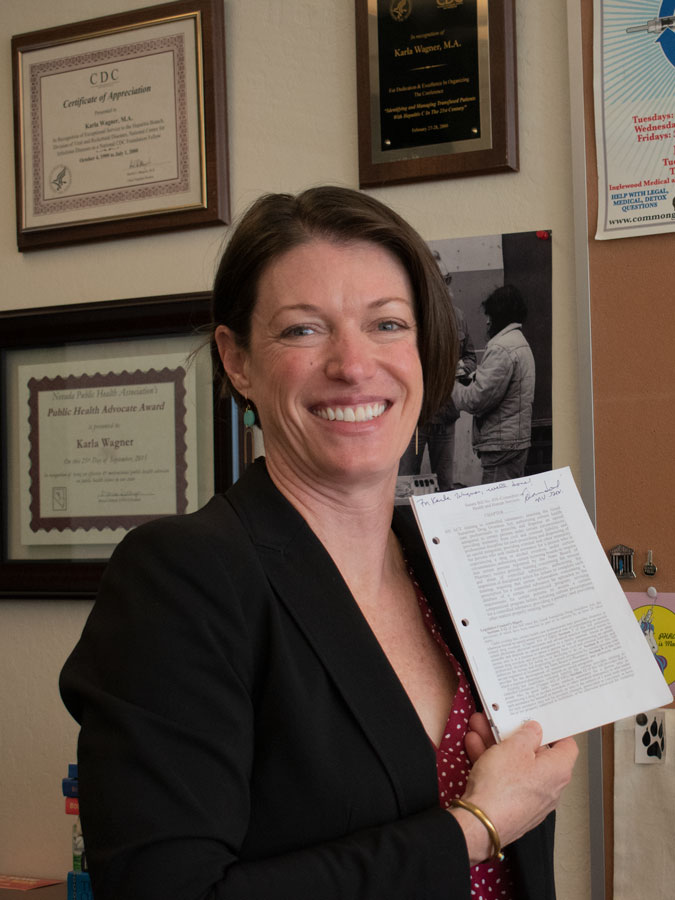 Wagner describes this cooperation between researchers, the community, local and regional partners, and legislators as a "positive feedback loop." Data and research findings inform policies, these policies change what is practiced in the field and those new practices allow for new research opportunities. This means the field is constantly evolving.

"Something very special about being at the University and in Nevada is there are so many opportunities for researchers like me to be involved in a very collaborative way with community partners," Wagner said. "I've seen the ability of my research to inform legislation, and I have had opportunities to do very innovative and important research studies because of the work that people in the community are doing. That's not the case everywhere."
Since the law passed, Wagner said there's been a cultural shift in the acceptance of naloxone. As the drug has become more available through pharmacies and free distribution programs across the state, it has inspired more open and empathetic conversations about overdose. These conversations are one way in which the stigma associated with drug use can be reduced, she explained.
Wagner also spoke fondly of her partnership with the University's Center for the Application of Substance Abuse Technologies (CASAT). CASAT has overseen and funded a huge share of Nevada's naloxone distribution since 2015 and she said, "it's been great to work in partnership with [CASAT] as they expand and roll it out."
Recently, Wagner's research group has had to shift their focus slightly to investigate different drugs, namely methamphetamine and fentanyl. When doing community outreach, Wagner said many community members asked what was being done to address methamphetamine, a drug responsible for a large share of the state's drug-related harms. Currently there are no medicines like naloxone for methamphetamine overdoses or medications that can treat methamphetamine-dependence. This has fueled the team to participate in studies examining methamphetamine use, including a multi-site study in Nevada and New Mexico funded by the Centers for Disease Control and Prevention (CDC). Through these studies and continued research, they hope to soon provide prevention and intervention methods to those using methamphetamine.
Wagner and other faculty in the School of Public Health are in the early stages of considering a "research center focused on drug use and drug-related harms." Their hope is that with a research center they can further build capacity among faculty, students, and trainees to participate in more important research, further expanding upon their present capabilities.
"Our School of Public Health is committed to providing high-quality education and research opportunities to public health students. The COVID-19 pandemic has transformed our world and shown the importance of investing in public health as well as our role in creating a more equitable and inclusive world," Akpinar-Elci said.
While there will always be work to do on this topic, Wagner emphasized that she and her research group hold true to their research philosophy: listening to the community.
"My research group is very committed to doing work that centers the voices of people who use drugs and prioritizes the concerns of people that are affected by overdose. It's not enough for us to stay in an ivory tower and publish papers. We work closely with the community, including people who use drugs, people who are in recovery, to make sure our work is relevant to their concerns," she said.
If you or someone you know wants to learn more about Nevada's opioid response and find out where to get naloxone, visit the Nevada State Opioid Response website.