After a two-year hiatus due to COVID-19 restrictions, the University of Nevada, Reno's Nevada Global Business program is back in full swing.
The program allows business students at the University and the University of Nevada, Las Vegas, to embark on a week-long trip to one of nine exciting destinations as a conclusion to a four-week online class. This summer's options included Toronto, New York and London, but more trips have been planned for the 2022-2023 school year. Each destination provides its own unique experiences and learning opportunities.
Dean of the College of Business, Gregory Mosier, who established the program during his time at the University, encourages students to participate in Nevada Global business, as it is a valuable career and network building opportunity.
"Our Nevada Global Business programs provide an amazing educational opportunity for our students," Mosier said. "In addition to studying about other countries and cultures, active learning while engaging with companies and organizations in those other countries, often with Nevada ties, provides students an understanding of what is possible in their career."
Jim McClenahan, the Executive Director of Outreach and Engagement for the College of Business, teaches students how businesses operate internationally and how to act as business professionals through the program. He hopes the program will inspire students to pursue careers with organizations that operate internationally.
"Nevada Global Business allows students to not just study business but to also experience it," McClenahan said. "We offer practical classes that let the students use the location as a canvas."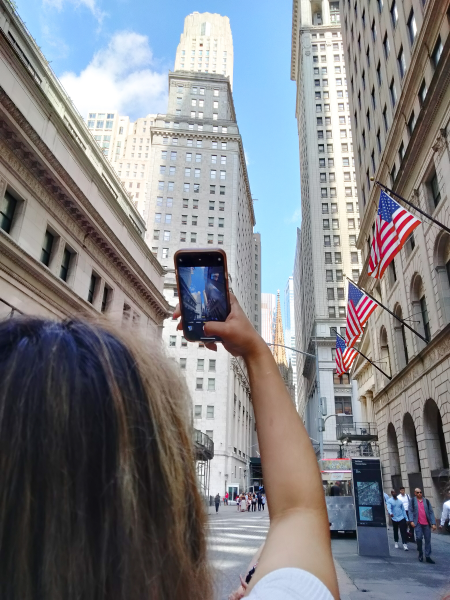 This June, 18 students traveled to Toronto, 17 students to London and 16 students had the opportunity to travel to New York City where they applied concepts of design thinking to business management. While in New York City, students had the opportunity to visit museums, including MOMA, the Metropolitan Museum of Art and the National Design Museum. Students also got the chance to visit a news studio at CBS Broadcast Center, led by news anchor and alumnus of the University, Nate Burleson.

"Nate is a great example of someone who reinvents himself from one career to another," McClenahan said. "His preparation and perseverance allow him to move seamlessly from careers as a professional athlete, to sports commentator, news anchor, clothing designer and rapper."
McClenahan hopes the experience provided a different perspective for students and let them explore the international business world and make connections with global business professionals.
Christie Chaump and Paige Zolldan, two of the students who went to New York, believe the skills they learned during the course will help them become stronger leaders in the business world. They both chose to take the course to learn a new approach to leadership, as many business courses are not humanities-based.
"I went on the trip because I knew it would push me out of my comfort zone," Chaump said. "It was a very introspective experience that helped me become more open-minded."
The trip to New York City taught students about the humanities and approaching the business world from a liberal arts perspective. During the final week of the course, students developed a creative project that was a culmination of all they learned online and the experiences they had while in New York.
"Some of the projects people did were super creative," Zolldan said. "People wrote songs, did paintings and wrote plays. One person even did artwork on a leather belt."
While the trip to New York focused heavily on visits to museums and attending plays, every trip has something unique to offer. In London, students had the opportunity to visit the CEO of Radley, a handbag company, and attend a presentation on promoting stoicism in the workplace.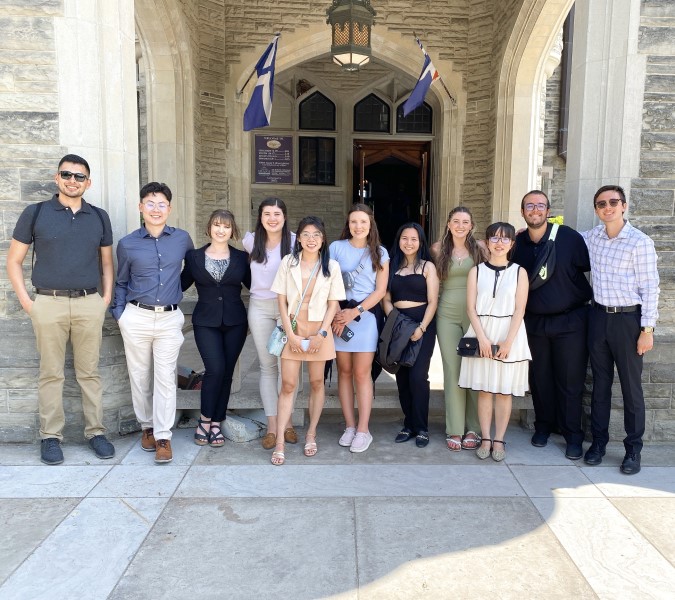 Students on the Toronto trip visited the offices of Spin Master, a children's entertainment company, responsible for popular global projects including PAW Patrol and a variety of popular toys such as Hatchimals, Air Hogs, and Rubik's Cube. Tim Sullivan, who graduated from the University in 1979 and serves as the SVP of Global Quality/Compliance at Spin Master, meets with the class each year.

On each trip, students were provided the opportunity to talk with business leaders, ask questions and make connections. These visits open the door for future careers or mentorship opportunities and allow students to begin building a professional network.
"People are attracted to careers by leaders and the people they work with, not salaries or job perks" McClenahan said. "These conversations help students make better career decisions."
While the trips for this summer are over, there are still many upcoming opportunities for interested students. Students can look forward to visiting Singapore this winter or traveling to Sydney, Australia, during spring break 2023. Other future destinations include San Jose, Costa Rica, Buenos Aires, Argentina, and various locations in Poland. New locations may be added in the future as well based on interest.
For more information and how to apply, visit the Nevada Global Business program's website.