The University Libraries mourns the passing of Senator Harry Reid. Few people in Nevada's history can match his career as a public servant, advocate, and historian. His impact on both Nevada and the nation is difficult to miss. Senator Reid was passionate about issues his constituents faced such as water rights, clean energy, a better climate, and healthcare. Both a literal and figurative boxer, he fought tirelessly for what he believed in.

Harry Reid's relationship with the University Libraries was also transformational.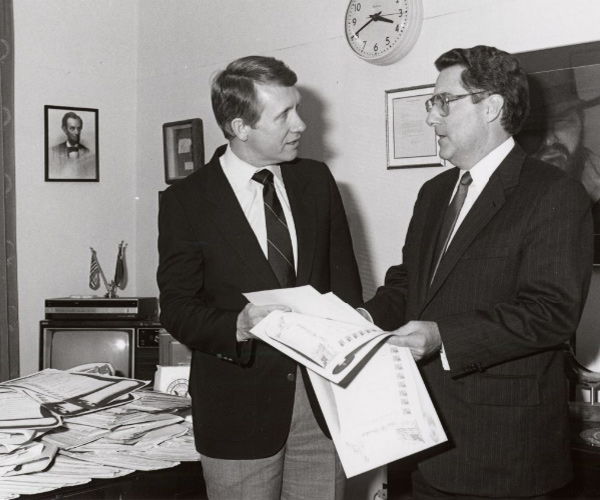 A published historian in his own right, Reid's commitment to education and history precipitated several meaningful changes.

The addition of Senator Reid's papers to the University Libraries Special Collections and University Archives Department in 2016 set the libraries on a path allowing the team to meaningfully manage digital collections of increasing size and complexity. Reid's commitment to education also allowed for additional learning opportunities with the creation of the Senator Harry Reid Graduate Fellowship.
While the Senator's papers are not yet open to the public, Special Collections does have publicly available materials documenting his life. Much of this can be found through the libraries' online digital collections webpage which include speech transcripts, photographs, and campaign advertisements.
In the time libraries faculty and staff spent with Senator Reid, he consistently showed how deeply he cared about Nevada, its people, and its place on the national stage.
From Searchlight to the Statehouse, to the Senate Chamber, Senator Reid's lived experience matched the trajectory of a rapidly changing state and lived a life that was inarguably American.
The libraries extend their deepest sympathies to Reid's family and friends for their loss during this challenging and sorrowful time.
For more information on the Senator's papers or for other inquiries, please contact Kim Anderson, Head of Special Collections and University Archives at the University Libraries, via email at kda@unr.edu or by phone – 775-682-5614.
About the University Libraries
The University Libraries embrace intellectual inquiry and innovation, nurture the production of new knowledge, and foster excellence in learning, teaching and research. During each academic year, the Libraries welcomes more than 1.2 million visitors across its network of three libraries: the Mathewson-IGT Knowledge Center, the DeLaMare Science and Engineering Library and the Savitt Medical Library. Visitors checked-out more than 80,000 items and completed more than two million database searches.