For many years, U.S. Sen. Harry Reid of Nevada has known the final destination for his personal papers, which span more than a half-century of the state's and the nation's political history.
"I've always felt this attachment to the University," Reid said Tuesday in the Glick Ballrooms of the Joe Crowley Student Union. "I always knew in my heart what I was going to do."
What he did was donate his papers to the University, which will find a home in the Special Collections and University Archives in the Mathewson-IGT Knowledge Center.
The event on Tuesday, which was attended by a who's who of University and state political figures, celebrated Reid's decision, and paid tribute to one of the most influential figures in Nevada history.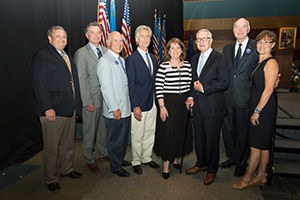 As he wraps up a 30-year career in the U.S. Senate (Reid has announced he will be retiring following the November 2016 election), Reid can point to many milestones in his career that have enhanced the state's profile on the national stage and modernized Nevada's economy and quality of life. This includes his time as Senate Majority Leader (he is still the Democratic Leader in the Senate), as well as his leadership in the passage of landmark clean and renewable energy legislation that has led to thousands of Nevada jobs, as well as the creation of Nevada's national park, Great Basin, and his instrumental role in bringing unprecedented attention and funding to save Lake Tahoe.
University President Marc Johnson called Reid "... a man who has seen Nevada's greatness and has spent his entire life working for all of us to realize our greatness." He pointed to Reid's instrumental role in saving Lake Tahoe (while championing the work of the University's scientists in helping to reverse the decline in the lake's legendary clarity) and in bringing national attention and needed grant and federal funding to the institution's Earthquake Engineering Laboratory, which is considered to be the world's most versatile and effective facilities of its kind.
Johnson said Reid's papers will enhance the University's reputation in another key research area: that of the Liberal Arts, particularly in the areas of history, political science and public policy.
"An anthropology professor once told me that Special Collections is the equivalent of a biotechnology lab for a science professor," Johnson said. "It's very important that this will be an active collection." The addition of Reid's papers will fortify the already formidable collection of political papers that are already housed in Special Collections. The Nevada Political Archive includes papers from Nevada U.S. Sens. Alan Bible, Paul Laxalt and Richard Bryan.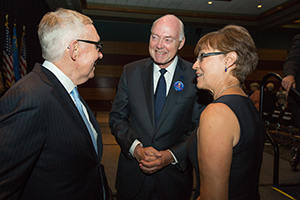 Keith Lee, a University graduate and master of ceremonies for Tuesday's event and a longtime political consultant in the state whose career spans the time from Bible - considered the godfather of many of the state's political figures over the past 40 years - to today, said the goal is to make the Nevada Political Archive, "the go-to place" for scholars, historians and the public.
"The addition of Senator Reid's papers will increase the scope and prestige of the collection," Lee said.
Added Johnson: "Senator Reid's papers will become the cornerstone for future public and academic programs including lectures, exhibits, symposia and publications. It will become a catalyst for new and important discussions and understanding of our political process, public policy and citizenship at the local, state and international levels."
To that end, Johnson announced two new initiatives that will be associated with the addition of Reid's papers.
Johnson said the University would now be home to the Harry Reid Public Engagement Lecture Series. In honor of Senator Reid's many contributions to the University and the state, this will be a bi-annual, University-wide lecture series organized jointly by the Office of the President, the Department of History and the Core Humanities Program. Reid lecturers will be high-profile individuals whose careers in government, public service, or community activism demonstrate the contribution of humanities disciplines to public life, Johnson said.
Second, the University will be home to the Senator Harry Reid Doctoral Fellowship. This doctoral fellowship in Nevada and western history will be established in the Department of History. It will be awarded competitively, through a national search, to a Ph.D. student intending to study western American or environmental history. It is envisioned as a public history fellowship, with an assignment involving work with the Reid Papers rather than teaching. The Reid Fellow will assist in bringing topics from the Senator's papers to a broader audience by means of exhibits, oral histories, or other public forms of presentation.
Reid said he was appreciative of the work the University had done on behalf of the citizens of Nevada. Personally, he said one of the most important moments of his life occurred at a University event - the Foundation Banquet in 1991, when the best-selling author of "Roots," Alex Haley, was the featured speaker.
Reid said hearing Haley at the Foundation Banquet "changed my life ... The speaker was Alex Haley, and he said, 'Don't be afraid of your roots.'"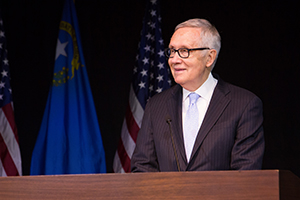 Hearing Haley's words convinced Reid that he needed to embrace, and not avoid, his upbringing in his hometown of Searchlight, Nev. Searchlight, a hardscrabble little mining town located about an hour from Las Vegas, at one time had 13 brothels, Reid said.
"We didn't have much," Reid said of his upbringing in Searchlight. And, as a young man embarked on one of Nevada's most notable political careers, he added, "I tended to stay away from it."
Since the Haley talk, Reid has embraced Searchlight. He's written a well-received history of Searchlight, and is no longer afraid to let people know that it is hometown.
He said lectures and special events like the long-ago Haley talk are opportunities for enrichment and personal transformation.
"I hope one of the lectures (in the Reid Series) will affect someone's life as that one affected mine," he said.
Any Reid public appearance is never complete without some self-deprecating humor, and Tuesday's special gathering was no exception. As he thanked those in attendance, Reid flashed a wry smile and noted that his papers probably number in the thousands, "Now, I don't know how good my papers are, but I do know I have a lot of them." Then Reid grew more serious: "It's a great University, and I hope my papers make it better."