Maritza Perez realized her passion for social justice at a young age. While growing up as a first-generation American in Northern Nevada and witnessing injustice against the immigrant Latino community, Perez knew that she wanted to pursue a career where she could fight for marginalized people.
"I care deeply about communities of color who have been most impacted by the injustices of our legal system," Perez said. "I am passionate about justice, civil rights and improving the quality of life for these communities and that inspires me to do the work I do every day."
Perez now works as the director of the Office of Federal Affairs at the Drug Policy Alliance and was elected the president of the Hispanic Bar Association of the District of Columbia (HBA-DC), a non-profit that educates the Hispanic community on legal issues and encourages Latinos to join the legal profession.
"Being president of the Hispanic Bar Association of the District of Columbia is a great honor and responsibility, and I am thrilled to serve my community in this way," Perez said. "The HBA-DC does a lot of great work to empower and professionally develop our attorney members."
Before gaining her Doctor of Law degree from the University of California, Berkeley, Perez graduated from the University of Nevada, Reno with dual majors in journalism and Spanish and double minors in political science and economic policy. Perez's time at the Reynolds School of Journalism allowed her to cultivate critical skills that she now uses in her legal work.
"My education at Reynolds School taught me to question narratives that are told to me, and this has helped me be an effective advocate," Perez said. "I also honed my critical thinking and writing skills at RSJ which are essential to my job as I craft policy and legislation."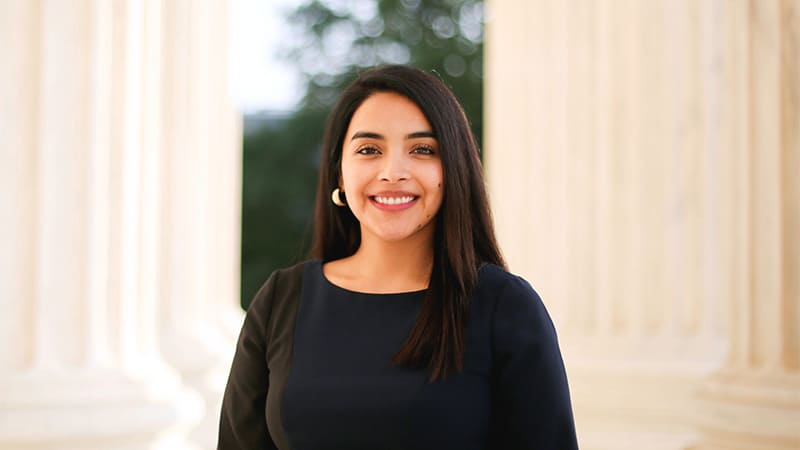 In her position as a federal policy advocate, Perez works with Congress and the administration to shape laws and policies on issues related to criminal legal reform and drug policy reform. This includes educating government officials on policy and advocating for laws that benefit underserved communities.
"I really enjoy the combination of having to understand both politics and policy to do my job effectively," Perez said. "Of course, the absolute best part of my job is having the privilege to make a difference in people's lives."
Her passion for helping others led Perez to join Teach For America after she graduated from the Reynolds School in 2010. While there, she taught English, Spanish and social studies to students in New Orleans and founded a girls' basketball team.
Since then, Perez has gone on to build a career in social justice, including working as a law clerk, a legislative attorney and a senior policy analyst.
"Social justice work is heart work and it's hard work," Perez said. "It can be a challenging field to enter and stay in, but reminding yourself of why the work matters will keep you grounded and keep you going when the work gets tough."
As Perez continues to accomplish her long-time goal of championing underserved communities, she wants students with similar dreams to know they can reach their full potential as well.
"I hope college students remember that your degree, no matter what you major in, is something that can help open doors in your career," Perez said. "Do not feel limited by what you study, where you come from or who you are because if you work hard and seek out opportunities, it will pay off."