Computer Science & Engineering Professor Fred Harris, Jr. has plenty on his plate, but it seems there's always room for more.
Harris, who received the University's Foundation Professor award last spring, will use the stipend associated with the honor to continue his work with international research partners.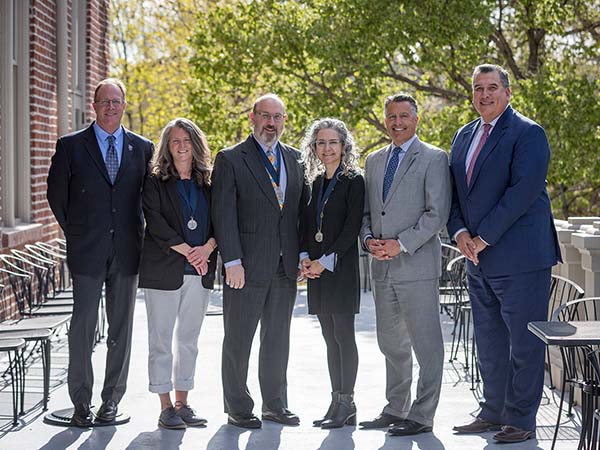 That's when he's not serving as Nevada director of the National Science Foundation Established Program to Stimulate Competitive Research (ESPSCoR); running a $20 million National Science Foundation ESPSCoR grant; or conducting research in his focus areas of parallel computation, data science, software engineering, computer graphics and virtual reality. Somehow, Harris also fits in teaching, mentoring students and supporting newer faculty members.

"He deeply cares about the success of our department and has done an excellent job mentoring junior faculty," Eelke Folmer, professor and chair of the Computer Science & Engineering Department, said. "Though he is super-busy as EPSCoR state director, he still manages to pull in a ton of funding and supervise dozens of students."

The University Advancement office recently released a video of Harris, along with videos of two other faculty who received Foundation Professor awards last spring: chemistry Professor Ana de Bettencourt-Dias and anthropology Professor Deborah Boehm.
"It's a big honor," Harris said, of the award. "It means a lot."
Service to the University
Harris' dedication to Computer Science & Engineering (CSE) — one of the largest, fastest-growing departments in the College of Engineering — may be due, in part, to the fact that he was there at the beginning.
He recalled joining the University in 1994 as an assistant professor: at the time, he was the fifth faculty member hired for the fledgling CSE department.
"We were having to help build a department," he said.
Over the years, Harris served on multiple CSE faculty search committees, sometimes as chair, always with the goal of helping to build a strong team. Today, he is proud of the department, particularly when it comes to the collegiality among faculty.
"Our culture is really good," he said. "We're able to talk and communicate; we get along really well."
And now that the department and its leadership has matured, Harris said CSE faculty are able to take on leadership positions within the University. He himself has served in several volunteer roles at the University, including a term as chair of the Faculty Senate in 2016-17.
Teaching
To receive the Foundation Professor distinction, a person must excel not only in service, but in teaching as well as have national prominence in their field and a record of sustained achievement.
"Fred," said longtime friend and collaborator Sergiu Dascalu, "excels in all."
Dascalu, also a CSE professor, met Harris in 2002, when Dascalu was brand-new to the University. Together, the two have co-authored more than 120 research papers, collaborated on grant-funded research projects and co-mentored students.
"Students like him a lot," Dascalu said. "He knows how to talk to students at all levels."
He added that Harris also begins mentoring students at the undergraduate level — even co-authoring papers with them.
"That is not that common," he said. "That's special to Fred."
In 2005, Harris was the recipient of the F. Donald Tibbetts Distinguished Teacher Award, an honor coordinated by the Office of the Provost.
National prominence and sustained achievement
Harris' stature in the computer science field is long-established. As Folmer, the CSE chair, noted in his nomination of Harris for the award, Harris has worked on 22 different journals as a referee — meaning he was entrusted by in-house editors and academic editorial board members to provide fair and detailed reviews for manuscripts under consideration. He sits on the editorial board of the International Journal of Computers and Their Applications.
Harris also has keynoted and chaired several conferences, and has been a program evaluator and is now a team chair and commissioner for ABET first in computing (under CAC) and now in applied and natural sciences (under ANSAC). ABET accredits college and university programs in the disciplines of applied and natural science, computing, engineering and engineering technology. In a nutshell, he's been busy. And he is set up to remain busy — and sustain that high level of achievement — over the next five years.
Harris is the principal investigator of a five-year, $20 million National Science Foundation ESPCoR grant awarded to the Nevada System of Higher Education to support a comprehensive fire-science project. The project, Harnessing the Data Revolution for Fire Science, was announced in May. Its overarching goal is to increase Nevada's capacity for wildland fire research, education and workforce development.
It's a lot — but that's typical of Harris.
"He likes to get involved," Dascalu said. "He cares a lot about the department, and the college and the University."