It is summertime, and for the hardworking professionals in the Facilities Services Planning & Construction department, that means it is construction season. With fewer students and faculty on campus and less chance of weather delays, contractors can work quickly and efficiently to complete projects without disrupting most classes and events.
There are many exciting projects underway this summer including the completion of the Gateway Parking Complex, expected to open this winter. Ninth street has been reopened following completion of the bridge connecting the new garage to the main campus. Further north, the parking lot and vehicle turnaround between Cain Hall, Facilities Services and Leifson Physics is also being reconfigured and updated. This will include a convenient new ADA pathway to the front or west side of the William J. Raggio Building.
Additional pathway and utility improvement projects are taking place south of the Lawlor Events Center and east of the Wiegand Fitness Center. Paths of travel are also being briefly interrupted for the installation of a vehicle gate arm between Palmer Engineering and Davidson Math & Science and for restoration of pavers around the John Mackay statue at the Quad. Building 058, the old Facilities Services building, continues to undergo a major renovation as well.
Other important construction projects this summer includes a continuation of campus-wide 25kV electrical and metering system upgrades. Mackay Stadium is also getting track repairs and new turf, Lombardi Recreation Center is undergoing a locker room renovation and updates to a classroom, and a beautiful new monument at the corner of 9th and Virginia Streets is nearing completion. Various classroom upgrades, HVAC system upgrades and office remodels round out the expansive summer construction punchlist.
The University is not the only entity in the vicinity of the main campus with major construction underway. Various private developers are building student housing right outside the University. Those include new complexes east of the Gateway Parking Complex and on the west side of Virginia Street. Traffic patterns may be adjusted as these projects near completion.
Summer is easily the busiest time of the year for his team, notes Cory Jennings, director of construction services.
"Summer is the most opportune time for our team to minimize the impact of disruptions on the campus community while maximizing productivity. With nearly 50 active construction contracts on our campus and at satellite locations, we are certainly busy. But it is something we strategically plan for, which helps us meet critical deadlines and hit our financial targets," Jennings said.
For those faculty, staff and students enjoying the beautiful campus this summer, please excuse the dust and noise as contractors work to ready buildings and grounds for the fall semester. The team at Facilities Services is excited to welcome incoming first year and returning students to the ever-changing and growing landscape of the main campus.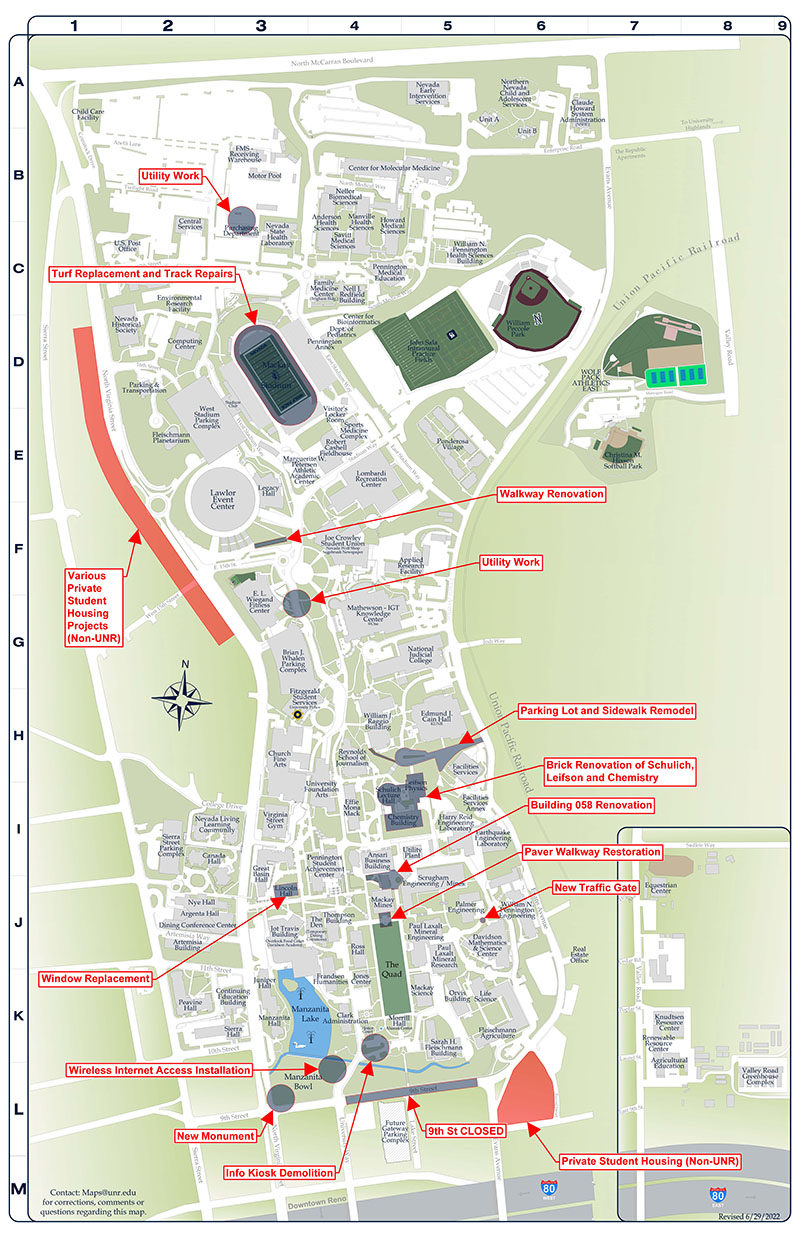 The full list of construction projects around campus includes:
Utility work in the Purchasing department
Turf replacement and track repairs at Mackay Stadium
Various private student housing projects (non-University) along Virginia street
Walkway renovation near Lawlor
Utility work by the E.L. Wiegand Fitness Center
Parking lot and sidewalk remodel near Edmund J. Cain Hall
Brick renovation of Schulich, Leifson and Chemistry buildings.
Renovation of building 058
Window replacement in Lincoln Hall
Paver walkway restoration in front of the Mackay statue
New traffic gate installation near Palmer Engineering
Info kiosk demolition near Morrill Hall
Wireless internet access installation near the Manzanita Bowl
New monument installation on 9th street
9th street previously closed for Gateway Parking Complex construction
Private student housing (non-UNR) along Evans avenue.
Facilities Services prioritizes the safety and comfort of the campus community and sends email notices of construction activity to those that may be affected. For information about building notifications, visit the Facilities Services building notifications webpage.