Massive wildfires, major hurricanes and other natural disasters are occurring more frequently than in the past.
A new National Academy of Sciences Engineering Medicine (NASEM) report, which included input from College of Engineering Dean Erick Jones and others on a seven-member national committee, presents key findings to assist the Federal Emergency Management Agency (FEMA) in managing these compound, cascading disasters.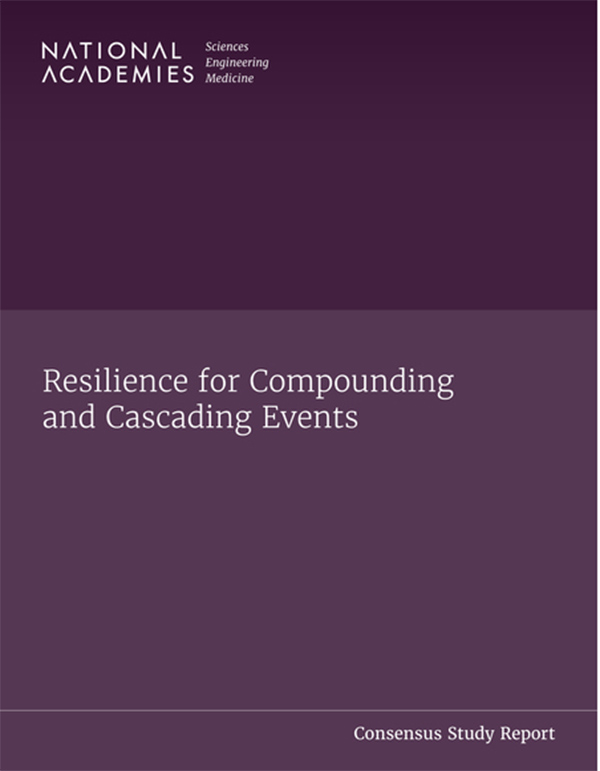 The report, "Resilience for Compounding and Cascading Events," was compiled by the Committee on Hazard Mitigation and Resilience Applied Research Topics in conjunction with the National Academy's Resilient America Program. It sites climate change as increasing the frequency of compound disasters — two or more extreme events occurring simultaneously. Examples of these compound disasters, listed in the National Academy report and taken from the Intergovernmental Panel on Climate Change's 2021 report, include concurrent heatwaves and droughts, compound flooding (e.g., a storm surge in combination with extreme rainfall and/or river flow), compound fire weather conditions (i.e., a combination of hot, dry and windy conditions) or concurrent extremes at different locations. Additionally, long-term pandemics, such as COVID-19, further compound the situation.
"Response (to a disaster) and recovery are different," Jones said, in an Oct. 18 video presentation of the report. "As these disasters happen, the recovery hasn't happened from the previous event."
Jones added that when communities are rebuilt after a disaster, they often are rebuilt to standards that were set in a time before the modern era of compounding, cascading disasters. New infrastructure, rebuilt to older standards, may not be sufficient for today's environment.
Another issue raised by Jones and others on the panel: ownership. Economic response to a disaster often is focused on property owners, not renters.
"How do we engage the community to help them become resilient, when the community may not have ownership?" Jones asked. "How do we create better strategies to build resiliency? Our report brings some those questions to the fore."
The report is the culmination of a year-long project undertaken by the National Academy to address applied research topics in the field of hazard mitigation and resilience to assist FEMA in reducing the immense human and financial toll of disasters caused by natural hazards and other large-scale emergencies.
That aligns with one of the College of Engineering's main positions, or areas of focus: engineering and designing equitable community infrastructure to mitigate cascading local, regional and global hazards, including fires, water issues and earthquakes. Current research and capabilities in this area at the college include:
The Large-Scale Laminar Soil Box System unveiled Sept. 15 and part of the University's world-renowned earthquake engineering complex. The Soil Box System — the largest in the U.S. and comparable in size to the largest one in the world — is a collaboration with Lawrence Berkeley National Laboratory, with design and construction supported by the U.S. Department of Energy. It provides an unprecedented and innovative facility for evaluating the complex manner in which such structural systems as buildings and bridges interact with the surrounding soil during an earthquake.
Work on fire-science projects funded through a $20 million, five-year grant through the National Science Foundation's Established Program to Stimulate Competitive Research (EPSCoR) to the Nevada System of Higher Education.
The Nevada Water Innovation Institute, directed by Civil & Environmental Engineering Department Chair Krishna Pagilla, partners with regional government agencies on issues in the water sector.