About Kevin
Alumnus Kevin Carroll always knew he wanted to be an educator. "Teaching was my dream," Carroll said. Since he stepped foot into his first classroom in 1992, his commitment to the profession and his students never waned, culminating in his recognition as the Nevada Principal of the Year in 2021.
'91 BS Biological Sciences
What drew you to pursuing a career in education and why did you choose the University of Nevada, Reno, and the College of Education & Human Development?
From a very early age, I always knew I wanted to be a teacher. As I came up through elementary, middle and high school, a few teachers really solidified that for me. I looked up to many of my teachers. Coach Fred Vasquez at Dilworth Middle School was such a role model for me and inspired my journey to become an educator. There were many others along the way that paved the road to my career in education, and these teachers taught in a way that made me want to eventually be like them.
What were your favorite traditions at UNR?
My favorite memories at Nevada include sporting events, tailgating before football games, homecoming, hanging out in Jot Travis Student Union and the annual "Hello on the Hill" event. Those were such great times and led me to make many lasting connections at UNR.
How did your education in the College of Education & Human Development contribute to your career and life journey?
I had several really influential teachers in the COEHD. Dr. Tooke taught me so much about math methods and classroom management techniques. Drs. (Meggin) McIntosh and (Stephen) Lafer also had such an impact on my education experience and of course later in my career as a teacher and then as an administrator. I am still very engaged with the COEHD as teaching faculty in the NV Leads principal preparation program and really enjoy watching the next generation of school administrators hone their skills and build confidence as future leaders in our district.
What are you most proud of in your professional life?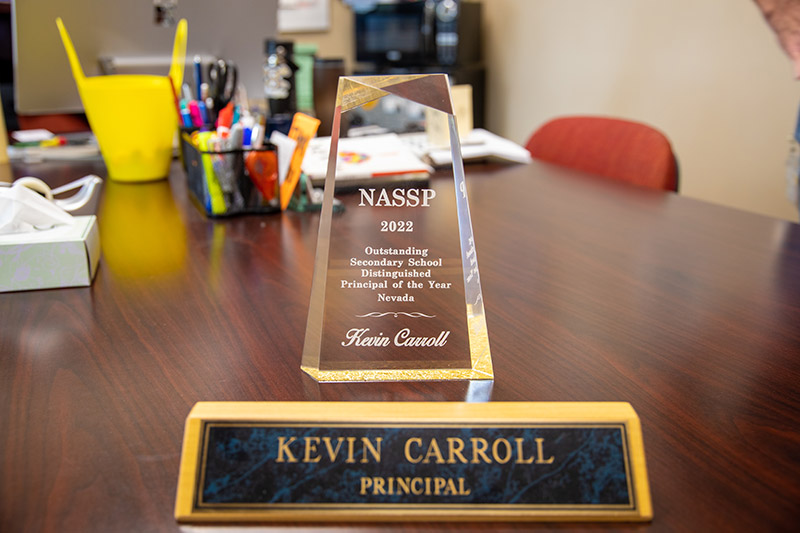 For me, it always comes down to the relationships that I have fostered with students, parents and all the staff at every school. I started as a math and science teacher in 1992, but the experience I had as a department leader opened my eyes to the possibility of entering administration.

I was named assistant principal of Wooster High School, then principal of Sparks Middle School. In 2013, I became the principal at Sparks High School. To this day, relationships are the most important tool I use to create the culture we need to foster student engagement and success. That culture is one of accountability, collaboration, respect and safety that supports students and encourages them to meet their potential.

As I will be retiring at the end of this school year, I am especially proud of receiving the 2021 Nevada Principal of the Year award. For me, this award must be shared by all the students and staff at Sparks High School. We are a team, and this award is reflective of all the work that staff and students have done to create the environment we want and need.
What advice would you give to students following in your footsteps today?
I would tell future teachers, administrators or anyone entering education to remember that relationships are at the heart of our success as educators. Just this week, we celebrated each other with warm fuzzies, and it is always such an emotional day when students and staff come up to each other and say how much they are appreciated.
What has been a recent meaningful moment for you in your teaching? We are calling these "Moments that Matter".
Just yesterday, I was thinking about my upcoming retirement and how much I will miss the students and my colleagues. Every time I have received a holiday card from a past student or a letter from a parent talking about how I may have impacted their child's educational or social experience, I am so honored to have had the opportunity to follow my dream of becoming an educator. I'll carry these moments with me and I know I will continue to have these encounters as I entire retirement. In the meantime, I hope you'll see me pouring beers at one of my favorite local breweries in the future!