The University of Nevada, Reno's Argenta Hall will reopen for fall 2022 move-in starting tomorrow, Aug. 18. The residence hall has been closed since July 2019 after an incident involving the building's boiler required remediation, construction and building updates.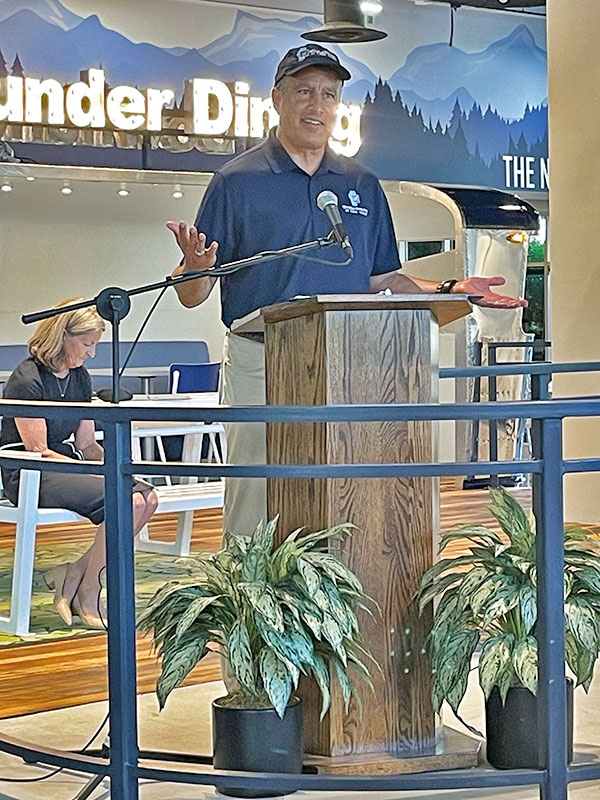 The University celebrated the reopening with an event on Aug. 16 for University leadership, first responders and others connected to the project. During the event, University President Brian Sandoval provided remarks, and guests were given the opportunity to tour the building.

"We will welcome the students who will live here with the knowledge that Argenta reminds us of the power of collaboration, of creativity and of community that we have on this campus," Sandoval said during his remarks. "The commitments and connections that we have made through the past three years, through an explosion and now in this re-opening, are what have made this journey so memorable."
The update to Argenta included a redesign to the Downunder Dining Commons. In addition to the all-you-care-to-eat location called Pack Place, the dining commons includes an upgraded convenience store and two new retail dining options – one of which will serve halal food. The capacity of the space was increased to accommodate approximately 500 people.
Students living in the residence hall will also have access to new community learning and social spaces as well as individual study rooms on every floor of Argenta. This portion of the remodel was made possible by consolidating the laundry rooms throughout the building to the first floor of the hall. All rooms also received new paint and carpet.
The capacity of the Downunder Dining Commons was increased to 500 seats.

Students can now enjoy new seating areas in the Downunder like this one inside the shell of a trailer.

Inside Pack Place, students will have access to 13 dining stations, including one that serves food without any of the common allergens.

All floors now have six to eight individual study rooms as well as community learning and social spaces for residents to use.
"We are excited to get students back into this building and open a state-of-the-art dining complex that will be available to our entire community," Executive Director of Residential Life, Housing and Food Services Dean Kennedy said. "With how much student feedback has been infused into updating this hall, it will be powerful to see how the student-centered, innovative spaces in the residential section and dining areas support student learning and success."
Argenta Hall has eight stories, houses up to 750 students and shares a connected walkway to neighboring Nye Hall. Its entire first floor is dedicated to the Downunder Dining Commons, with state-of-the-art features managed by Nevada Dining. Argenta is situated on Virginia and Artemisia Way in the center of all campus residence halls.