July 5, 2019 is a day that many who live, work and study at the University of Nevada, Reno will never forget. The date of the Argenta Hall explosion, which severely damaged both Argenta and Nye Halls, is not only significant because of what happened between 12:42 and 1 p.m., but also because of what happened in the days, weeks and months that followed.
"An isolated incident"
According to State Fire Marshal Bart Chambers' report on the incident, an initial boiler explosion in Argenta occurred at about 12:42 p.m. during an inspection. A three-inch gas feeder was severed, which led to a 1 p.m. explosion that caused "significant" structural damage to Argenta and Nye Halls, injuring eight people. If not for the safety measures that were already in place, praised by Chambers as "some of the best in the country," and the date of the blast falling right after a major holiday, the Argenta explosion could have been far worse.
After the event, the University quickly pivoted to ensure the 1,300 students displaced by the explosion would receive a quality residential life experience. In August 2019 the University completed an agreement with Eldorado Resorts to secure 1,300 beds in Circus Circus Reno's West Tower. The newly remodeled West Tower was rebranded "Wolf Pack Tower," and included a major commitment of resources by the University to ensure the Wolf Pack Tower students' received the complete residential life experience they had signed up for.
Due to the fact that the campus' main dining facility inside Argenta was lost, the University, along with its dining partner, Chartwells Higher Ed, erected two subsequent temporary dining facilities – phase one's "Howler Village" and phase two's "The Den."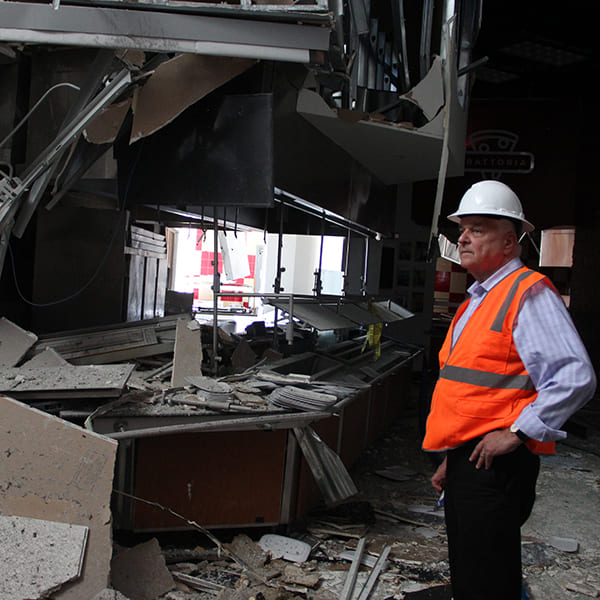 "Given the magnitude of such a horrible event, we were extremely fortunate for a multitude of reasons," President Marc Johnson said. "First and foremost, we experienced no human casualties due to the event. More than 21 different emergency and public safety entities arrived on-site, securing the scene and conducting a search of both buildings. Our state and local government all reached out with concern for the well-being of the University community, offering their support for whatever we needed."
"Within hours, displaced students had a bed and a warm meal and within days the University seamlessly integrated Wolf Pack Tower into the University's housing experience," Johnson added. "I'm so thankful that our University has so many capable and caring individuals who jumped in to get us through last July 5 and the many days that followed."
More of the unexpected
Just as the University was once again hitting its stride, the World Health Organization declared COVID-19 a global pandemic on March 11, 2020. Shortly thereafter, on March 13, Governor Steve Sisolak declared a state of emergency for the State of Nevada, and on March 15 requested that all state agencies take further proactive public health measures. Nevada System of Higher Education Chancellor Thom Reilly then requested that all NSHE institutions transition to remote instruction and operations no later than March 18, 2020.
The University was forced to once again quickly transition operations, this time campus wide. With alternative campus operations put in place, all classes moved online, all non-essential faculty and staff were directed to "Stay home for Nevada," and to protect the health and safety of on-campus residents, the University's more than 3,000 residence hall students were asked not to return to campus following Spring Break. Pro-rated refunds were processed to students and their families and a small group of students with extenuating circumstances were allowed to stay in the halls, following strict health and safety protocols and social distancing measures.
"People across campus have had to be so flexible these last 365 days – going from the Argenta Hall explosion, to preparing Wolf Pack Tower, to a global pandemic," Shannon Ellis, vice president for Student Services, said. "I share an overwhelming gratitude for teams of people who have worked countless hours since last July. People across campus, especially in University Residential Life, Housing and Food Services and University Facilities Services, haven't come up for air. They are resilient and I'm tremendously grateful for everyone who continues to put our students first."
Building updates
Nye Hall will reopen this summer and once again house students in the fall. The estimated construction cost for Nye Hall, which can house 550 students, is approximately $12,820,304, with insurance covering $12,298,433 and University Housing contributing $521,871 for upgrades.
Construction cost for Argenta Hall, which can house 770 student residents, are estimated to be near $40 million; however, the project is still in the design phase and under review with State Public Works, which Ellis said has been extremely helpful and responsive throughout the entire rebuilding process. Once plans are accepted, permitting for construction will likely begin in early fall. Peiffer Partners is the design firm chosen for the project and Clark/Sullivan Construction is the CMAR contractor.
Housing during a pandemic
While the campus' two largest residence halls are being rebuilt, the new challenge of housing students during a pandemic is being met with that same steadfast commitment to the quality on-campus student experience Ellis referenced.
Two new interim housing contracts are in place for the 2020-2021 academic year, to make up for the approximately 800 beds needed with Argenta Hall offline. An agreement with CA Student Living Reno II, LLC of Uncommon Reno and Cardinal Group Management/Canyon Flats III, LLC of Canyon Flats will offer housing designed with students in mind.
"We understand that health and safety is a major concern right now and for the foreseeable future," Dean Kennedy, executive director of Residential Life, Housing and Food Services, said. "We are incredibly fortunate that the rooms being offered as part of this housing arrangement are all single occupancy with private bathrooms."
Both complexes offer apartment-style living close to campus with housing options ranging from studios to four-bedroom apartments. All apartments offer new, high-end construction standards, are furnished and include a full-size washer and dryer. Limited parking will be available for a fee on a first come, first served basis starting July 20. Construction of both new complexes is still underway and currently anticipated to be on time.
"While construction timelines are fluid, we have worked with both properties to ensure our students are well taken care of," Kennedy said. "Should there be a delay, which can happen with new construction – especially during a pandemic – our partners at Uncommon and/or Canyon Flats have agreed to ensure temporary housing for our students, offer transportation between 7 a.m. and 10 p.m. if the property is more than three city blocks from the University, and will give students a $25/day stipend until they can move into their designated rooms."

University Residential Life, Housing and Food Services sent room assignments out to students in early June. Based on Phase 2 operations, which the State of Nevada is currently operating under, room assignments were offered on a first-come, first-served basis so no more than 50 students would be on a floor or wing, depending on the building configuration. All students who applied for University housing before Feb. 1, 2020 have been assigned a building and a room. Additionally, students who applied for housing after Feb. 1, but before May 5, have been assigned a building. When Nevada moves into Phase 3 operations and the buildings can accommodate more occupants, residents in the second group will receive their room assignment and move-in details. Demand for the residence halls once again exceeded available capacity, with a third group of students wait-listed for housing.
"We continue seeing a high demand from students asking to return to the residence halls for an additional year or years," Kennedy said. "I think that speaks to the quality of our staff and the facilities offered across campus as we seek to continually improve the overall student experience."
As for dining, Kennedy said all dining venues across campus will remain open and provide quality service along with additional protective health and safety measures. Those include more "grab-and-go" services in order to adhere to state occupancy directives. Additionally, extra hand sanitizer stations have been added to all dining locations and Nevada Dining is looking into possible delivery options.
Fall 2020 move-in
This year, University move-in will look a lot different. With NevadaFIT canceled because of the pandemic, all students will not be asked to move in over the course of one day as they have in the past. Rather, the University plans to spread student move-in days and times over the course of five days, Aug. 18-22, and asks students and their families to check-in during their chosen day and time to ensure everyone's health and safety.
"Our priority continues to be students' health and safety as they experience college while living on campus. This starts from the moment they move their belongings onto campus," Kennedy said. "Most of these students have already endured so many uncertainties and challenges as a result of the pandemic. From the moment they get here, we want them to feel safe, secure and welcome."
An army of support
"The University is humbled by the tremendous support it has received this past year," Johnson said. "We are a resilient institution that has been around for almost 150 years. We have learned a great deal from past challenges and, as we move into another academic year filled with unknowns due to a global pandemic, we will continue to serve our students first and foremost. They are the reason we are here."