The University of Nevada, Reno has come to an agreement with CA Student Living Reno II, LLC of Uncommon Reno and Cardinal Group Management/Canyon Flats III, LLC of Canyon Flats to lease the 838 student beds needed for the 2020-2021 academic year. Canyon Flats will house approximately 506 University students and residential staff, and Uncommon Reno will house approximately 330 University students and residential staff. Nye Hall, which was taken offline after the July 5, 2019 Argenta Hall explosion, will reopen in August 2020 offering an additional 530 beds to students. Argenta Hall will remain under construction and is on track to reopen in August 2021.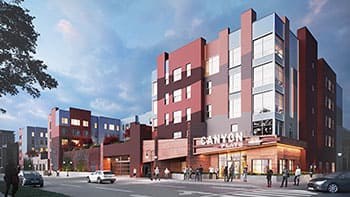 "Our entire Wolf Pack community will forever be grateful to Eldorado Resorts for working with us so quickly to help us provide a comprehensive University residential life experience to 1,300 students after the events that unfolded last July," Shannon Ellis, vice president for the University's Division of Student Services, said. "Given how well it worked to lease and operate an entire building as our own, we set out to find spaces that could accommodate a similar need for a smaller group of students. We are excited about the housing options for the next school year and believe students and their families will be as well."
Canyon Flats and Uncommon Reno were originally designed with students in mind. They offer apartment-style living close to campus with housing options ranging from studios to four-bedroom apartments. All apartments are furnished, and limited free on-site parking is provided under the lease agreements.
Student experience
Both housing options will be an active part of the University's Residential Life and Housing programs, which offer activities and programs designed to aid in the student experience and the transition to being part of the University. Both Canyon Flats and Uncommon Reno will include:
Entrances and exits that lead to a services desk, staffed 24/7 by University employees.
Student staff: Live-in academic mentors offering tutoring hours and resident assistants on each floor.
Full-time staff: Live-in, master's-level faculty and graduate assistant resident directors.
Residential occupancy exclusively to University students and residential life and housing employees.
Safe and secure living spaces. Both locations will be added to University Police Services patrols. There will be no public access to residential areas in either building.

Close to campus: Canyon Flats is conveniently located at 661 North Center Street, just a few blocks from campus, and Uncommon Reno is located at 1669 North Virginia Street, directly across from campus.

Designated study areas and common activity areas.
New, high-end construction standards: Both buildings are currently under construction and scheduled to be completed well before move-in days this August.
A full-size washer and dryer in each unit.
"As with all of our residence halls, our goal is to offer students residential spaces where they can live, study and thrive," Ellis said. "Canyon Flats and Uncommon Reno will offer spaces for our residence hall students to succeed."
The combined payment under the lease agreements for Canyon Flats and Uncommon Reno will cost approximately $10.1 million for the 2020-2021 academic year. This amount will be paid primarily from insurance proceeds. Housing rates will remain consistent with the University's currently published rates.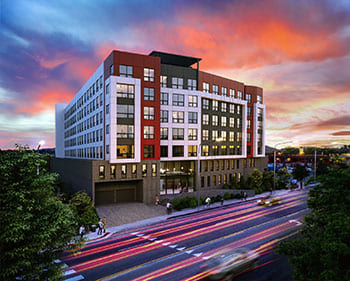 Students interested in applying for University housing, including Canyon Flats and Uncommon Reno, can indicate their residence hall choices in one of two ways: The first is by order of preference via a supplemental application for students who already applied to housing that will be sent directly to them; the second, students who apply after March 3rd will be able to indicate their choices when they apply. Students are encouraged to apply early, as assignments are processed in the order the housing application is received. While there are no cut-off dates for housing, the University highly encourages students to apply by May 15, 2020.
"We are glad Canyon Flats could assist the University for the 2020-21 academic year as they continue to bring Argenta Hall back on-line," Wesley Deese, Providential Student Housing (Consultant to Canyon Flats ownership), said. "The close proximity to campus along with the purpose-built floor plans and amenities will make it very conducive for the students' lifestyle while they are attending the University. We appreciate the University for considering Canyon Flats as an option to meet their housing needs during this transitional period and along with our management partner, Cardinal Group Management, we look forward to welcoming the students and staff this August!"
"Uncommon Reno is honored to partner with the University for the 20/21 school year. From academic spaces to leisure lounges, Uncommon community amenities offer study spaces to aid in student success," Ashley Parsons, Uncommon Reno property manager, said. "In conjunction with the University, Uncommon Reno will do everything in our power to provide an exceptional living experience for Wolf Pack students beginning this Fall."
Dining
All first-year students who have not reached the age of 21 by the first day of their first semester and live in the residence halls are required to purchase a meal plan for both fall and spring semester. This policy is in place to ensure students can focus on their academic pursuits. Having a meal plan eliminates the need for shopping, cooking and cleaning up after meals.
Campus has a variety of dining options available to students including The Den, the newly opened interim dining facility, which will be open throughout the 2020-2021 academic year. The Den offers students a wide variety of quality food options, including menus designed to accommodate different diets and food allergies. Additionally, there is an on-site dietician who will work with any student to ensure their nutritional needs are being met. The new structure offers comprehensive dining services including comfortable seating and thoughtful design throughout the building. Also new to campus will be Panera Bread and Habit Burger, and both locations will accept dining plan food bucks.