Will Carrasco, president of the University of Nevada, Reno Graduate Student Association; assistant technology specialist at the Disability Resource Center; and master's student in educational leadership, recently donated his long hair to Children with Hair Loss, a charity that provides hair replacements to children at no cost.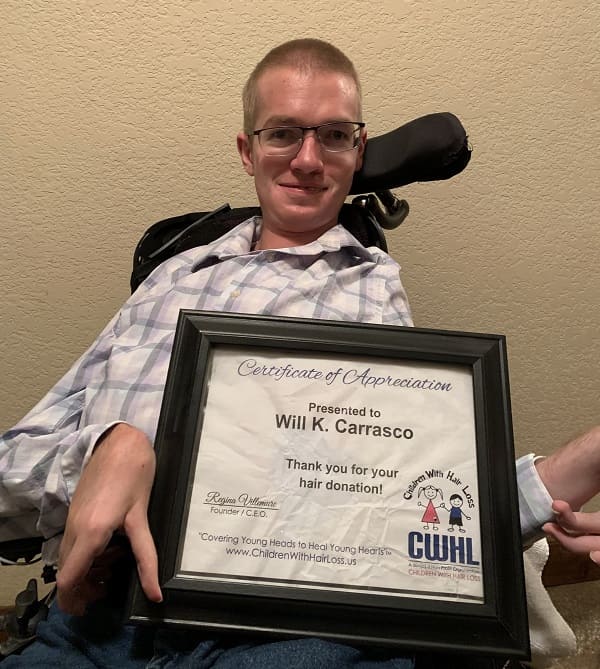 "Donating hair has always been on my bucket list," Carrasco said. When the COVID-19 pandemic impacted hairdressers' ability to operate, Carrasco saw it as the perfect opportunity to grow his hair out.

"For as long as I can remember, I've always liked to help people all around me," he said. "It's a very simple thing to do that doesn't require any money. It's just hair, and it'll grow back."

Children with Hair Loss helped 608 children with medically related hair loss across all 50 states in 2019 – and more than 5,000 since its founding in 2000. Its mission, "Covering young heads to heal young hearts," speaks to the painful effects of hair loss and the importance of these kinds of donations. Even though hair donations don't require money or hours of active community service, they still take a lot of time and patience.

"Donating my hair turned into a bigger commitment than I thought," Carrasco said. "Originally, I was told I only needed eight inches to donate. As it got to about six inches, I thought I was almost done, but the nonprofit I was going to donate to raised their minimum length to 12 inches. I had already started, so I was not going to give up. That's not my personality. I decided to go on with it."
A few months later, Carrasco, well on his way to the new goal with over nine inches of hair, got a reprieve. "A friend contacted me and told me of the organization Children with Hair Loss. Their minimum requirement is only eight inches." He jumped at the chance and was able to donate his full, flowing head of hair to a child in need.
With a fresh buzz cut and a desire to keep giving back, Carrasco is currently helping organize a blood drive with the Graduate Student Association. This year marks the 10th anniversary of the annual blood drive, which is happening through Saturday, Feb. 13 at the Vitalant Donation Center.