The Orvis School of Nursing is proud to sponsor the Northern Nevada Pride for the third year in a row. The Northern Nevada Pride is an event presented by and benefiting the local non-profit organization Our Center, Northern Nevada's only LGBTQIA+ community center. The Orvis School of Nursing is the only nursing school in Nevada that officially sponsors a Pride event.
Northern Nevada Pride's in-person festival and parade are back on July 24, 2021. The CommUNITY Pride Parade will begin at 10am in Downtown Reno. The Pride Festival will be in Wingfield Park from 11am – 5 pm.
During the event, Orvis will have a booth set up to promote the school and nursing programs. Members of the Orvis Students Nursing Association will also be on-site to offer blood pressure screenings and health education on high-priority health conditions for LBGTQIA+ individuals, including diabetes, mental health, cancer, and substance abuse. The School will also have a variety of branded pride swags to hand out to visitors.
Orvis DEI committee is dedicated to inclusivity
Sponsorship in the Northern Nevada Pride is just one of the ways the Orvis School of Nursing is supporting inclusivity in the community.
In Fall 2020, the DEI Committee was founded at the School. The committee consists of thirteen volunteer faculty, staff members, and student representatives. It is chaired by the Assistant Dean of DEI for the Orvis School of Nursing, Zhizhong "Z" Li, MSN, MA, RN, CNL.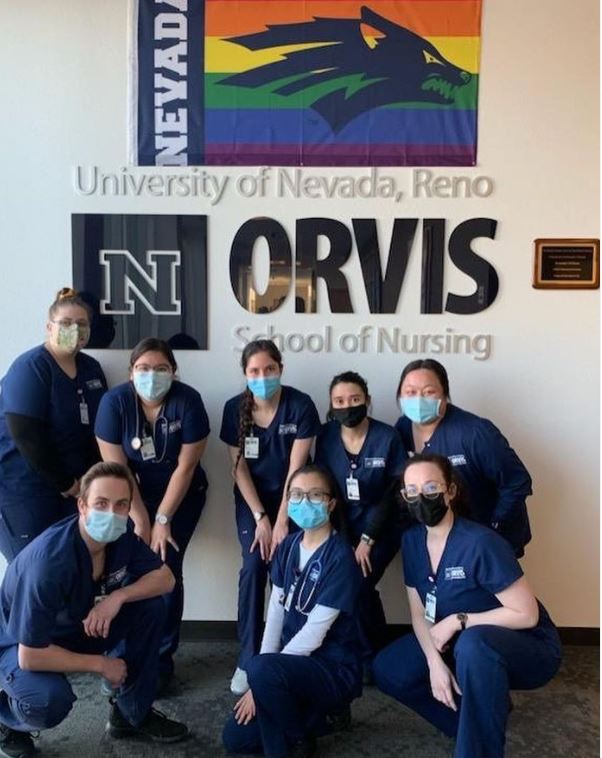 The foundation of the DEI committee was driven by passion. When entering the Orvis School of Nursing building, visitors are greeted by the Wolfpack rainbow flag and plaque that symbolize the welcoming, inclusive, and safe environment for all. "Nursing is in a unique position that is deeply connected with our community and carries the responsibility for addressing diversity, equity, and inclusion issues in our society," Li said. "At Orvis, we want to create and sustain an environment that is safe, welcoming, and equal for all."

The School recognizes diversity, equity, and inclusion as critical to nursing education and fundamental to developing a nursing workforce able to provide high quality, culturally appropriate, and congruent health care in partnership with individuals, families, communities, and populations.
The DEI committee has set strategic goals for education and student and faculty recruitment and retention. Those goals include:
To educate and inspire current and future nurses to be providers and change agents improving the health and wellbeing of our society; to encourage and support research and innovation; to focus on the challenges of a rapidly changing and culturally diverse healthcare environment.
Ensure diversity, equity, and inclusion are evident in education, research, scholarship, practice, and service activities.
Recognize and promote the core values of diversity, equity, and inclusion and increase investment in and commitment to the diversity of the student body, faculty, and staff.
Provide support to neurodiverse students, faculty, and staff.
With the assistance of the DEI committee, Orvis is committed to creating an accessible and supportive educational experience that recognizes diversity and cultural competence as integral components of academic excellence.