University of Nevada, Reno Graphic Design and Printmaking student, Mikayla Dimulias' artwork, "Simply Serene," was recently selected to represent the School of the Arts on the Fall 2021 sticker. Reviewing panelists included representatives from the departments within the School of the Arts and a guest juror from the Nevada Museum of Art.
Dimulias explores the beauty of Lake Tahoe in a more abstract form.
"This piece was inspired by Lake Tahoe," Dimulius said. "It is a place I grew up going on vacations to, so it holds a special place in my heart. It still is my little getaway location where I love to hike, bike, relax and enjoy the fresh air."
With an artistic practice focused largely on her appreciation for beautiful landscapes, Dimulias describes her winning artwork, saying, "I have always loved the simplicity of line drawings. I think the simplicity reflects the idea of escaping to the lake and enjoying the scenery and relaxing on the beach."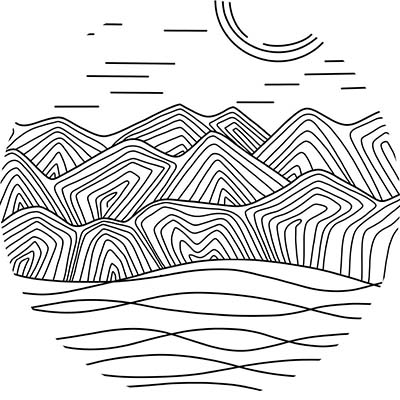 The School of the Arts sticker initiative features original artwork by University of Nevada, Reno students each semester, honoring and celebrating each of the different disciplines in the school.

"Mikayla's piece is our first digital design, and also the first landscape and monochrome piece," Shoshana Zeldner, Program Manager, Special Events with the School of the Arts, said. "I'm really excited about the range of artwork we have been able to feature in this really fun and engaging way. The School of the Arts sticker initiative captures the diversity of artwork and approach within the school. Since we started the initiative in spring of 2020, all of the artwork selected has been so different, taking on a range of inspirations and media."
The School of the Arts is currently accepting submissions for the spring 2022 sticker. All University undergraduate and graduate students majoring or minoring in a School of the Arts department are eligible to participate. Submissions must be received by Friday, Dec. 3, 2021. The winner receives a $200 commission award and of course, stickers. For information about how to apply, visit unr.edu/arts/sticker.
The Fall 2021 stickers are available on the University campus at the Joe Crowley Student Union front desk and at the Mathewson-IGT Knowledge Center information kiosk. They are also available off-campus at the Sierra Arts Foundation, located at 17 S. Virginia St. in downtown Reno, and Sundance Books and Music, located at 121 California Ave. in Midtown Reno.
For more information about School of the Arts, visit the School of the Arts website, call 775-784-4278, or email arts@unr.edu. Event information, news and photos also are available by following the School of the Arts' Instagram, School of the Arts' Twitter and School of the Arts' Facebook page.