Meet Jennifer Burton, University of Nevada, Reno School of Social Work student. Jennifer always wanted a job where she could help people and love going to work every day. She also is proud to identify as a second-generation Latina social worker. Through social work, she knows that she has the ability to reach a demographic that has not always been represented. Get to know Jennifer and what being part of the Wolf Pack means to her and how her LatinX heritage is helping shape her success within her career as a social worker.
"My name is Jennifer Burton (but I've been going by Jenny since I was in 3rd grade and was given the option). I am currently a graduate student majoring in social work and expect to be graduated by this upcoming December! I was inspired to pursue this major after years of feeling undecided between what I wanted to do as a profession. I knew that I wanted a job I loved and that helped people. One early morning, after a late-night reading binge of The Giver, I had an epiphany and decided social work would be the way to go. It felt right with my soul. After this, the school I would attend was a no-brainer because I was born and raised here in Nevada and have a love for my home state.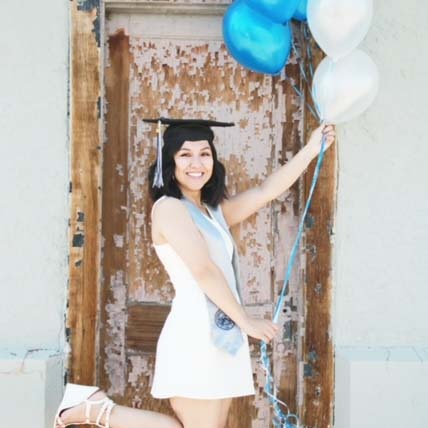 I live in the middle of nowhere, Nevada, so I have pursued most of my degree online. I have only had occasional visits to the campus during my BSW but found that I loved the campus as a whole. During the weekend classes I would take the time to walk around campus because it reminded me that I was, in fact, part of this great university. Being part of the Wolf Pack means a lot to me because I was raised to be proud of the fact that I was an American and a Nevadan.
As a first-generation American, it means a lot to myself and my parents that I have had all the opportunities they dreamed of for me and my two brothers when they first came to the US from Mexico. Being a Hispanic/Latinx student makes me proud because I know that we are an underrepresented population when it comes to level of education, especially as a woman. The advice I would give to prospective Hispanic/Latinx students would be to never give up. Our parents came here to give us these opportunities, so we have to seize that sacrifice they made leaving their home country and make it worth it.
An interesting fact about me is that I am actually a second-generation social worker. My mother received her Bachelor of Social Work while still living in Mexico."