Dr. Eugenia L. Weiss, PhD, PsyD, MSW/LCSW, MA was recently hired as the MSW Program Director and Associate Professor for the School of Social Work. Dr. Weiss has more than 30 years of experience in social work. She brings a passion for teaching and interacting with students as well as collaborating with social work and interdisciplinary scholars towards advancing social impact in underserved communities.
"I am very excited to work with the School of Social Work students, faculty, and staff and am looking forward to being a part of the University learning community," said Dr. Weiss.
"I am thrilled to have Dr. Weiss join the school of social work – she has an incredible combination of scholarship, teaching excellence, and leadership experiences which make her a wonderful addition to the School of Social Work team," expressed Shadi Martin, Dean of the School of Social Work.
Dr. Weiss was drawn to the University of Nevada, Reno School of Social Work by the diverse student body and their passion towards social justice, the collaborative spirit that the school offers in conducting scholarship and its roots in advocacy and activities for social change.
"As part of the Wolf Pack, I am all about team effort and supporting our students in their education and career trajectories as the next generation of social work practitioners, advocates, policy makers and leaders to address the 13 Grand Challenges of Social Work and beyond," expressed Dr. Weiss.
Prior to coming to the University, Dr. Weiss worked as a licensed clinical social worker and licensed psychologist. She held a private practice serving Latinx clients and working with military veterans and their families. She has also worked in community behavioral health settings primarily serving Spanish-speaking clientele. "Dra. Weiss" is an immigrant from Chile and spent her formative years residing in Southern California before relocating to Nevada.
Her research interests are transdisciplinary and include behavioral health promotion, well-being and diversity, equity, and inclusion in higher education and in broader contexts, providing voice to the disenfranchised. She conducts both qualitative and quantitative research and is active in organizational consulting through the provision of culturally responsive program evaluation and capacity building.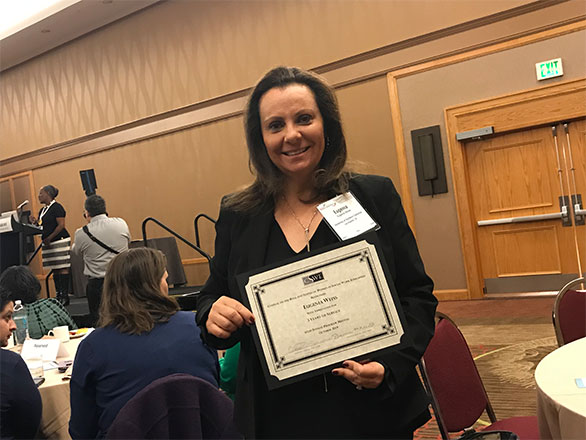 Dr. Weiss provides leadership and evaluation trainings in a variety of settings including education, health, and human services including veteran serving organizations. She has many years as an experienced instructor, was a faculty member for 16 years at the University of Southern California, Suzanne Dworak-Peck School of Social Work, and enjoys teaching an array of social work classes including social work research methods, program evaluation, data-driven decision making and leadership.

As part of her work, she has secured external funding and has published in peer-reviewed journals and books in the areas of transformative leadership and diversity, social work practice, women's empowerment, and military social work.
Read more about Dr. Weiss and her publications on the School of Social Work website.