What drew you to pursuing a career in education and why did you choose the University of Nevada, Reno and the College of Education & Human Development?
I moved to Reno after high school to attend the University of Nevada, Reno because it was in-state and away from home (I graduated in Southern Nevada). The draw to the University of Nevada, Reno was the campus life, the beautiful weather, and the vast amount of outdoor opportunities our area offers. I arrived to Nye Hall "undeclared," and started with basic college classes. As a freshman, I took upper-level math courses and I tutored my engineering friends in Getchell Library. One late night, a close friend of mine said "you should really consider teaching math, you explain it very well!"
From that night on I declared as a Bachelor in Secondary Education with a Major in Mathematics. After having an amazing experience through the College of Education & Human Development and those professors, I was assigned to my internship at Reno High School. After the first semester of student teaching, I was offered a job to finish the school year. However, I was also working as a Manager at Northstar-at-Tahoe Ski Resort and made the decision to stay with this business leadership position. This was a difficult decision, however, I have no regrets as I learned so much about business leadership, managing adults, and interpersonal interactions.
That next Summer, a math position opened at Reno High School, and I eagerly applied and was offered my first teaching job! I spent the next 13 years of my career as a math teacher and Head JV football Coach at the home of the Huskies! Reno High laid the foundation for my career in education, and I am very thankful for the relationships and experiences that came from that amazing school.
Most of my teaching buddies were also graduate of the College of Education & Human Development at the University of Nevada, Reno and this made it exciting and fun to attend the University of Nevada, Reno sporting events together, and talk about the Wolf Pack at work.
What were your favorite traditions at the University of Nevada, Reno?
My favorite traditions at the University of Nevada, Reno came shortly after I graduated. My University of Nevada, Reno alumni buddies and I would organize tailgate gatherings for the Wolf Pack football games. We also would travel to nearby games to cheer them on. We had some of the greatest times supporting our Wolf Pack! The highlight every year was pairing a tailgate party with the Hot Air Balloon races and making an entire weekend of it. Now, with our families, we still hold to this tradition and enjoy sharing it with our children.
How did your education in the College of Education & Human Development contribute to your career and life journey?
My decision to major in Education at the College of Education & Human Development changed the projection of my life! My experience at the University of Nevada, Reno propelled me into my career and, as a result, rooted me in the Reno area. I started my family here, built relationships with my college buddies and colleagues, and 22 years later, call Reno home for me and my kids. We love the "college town" feeling that the University of Nevada, Reno has built in our community and attend Wolf Pack sporting events as a family.
What are you most proud of in your professional life?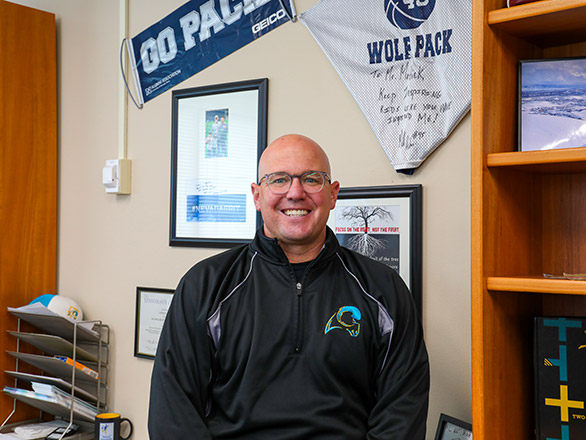 Towards the end of my time at Reno High School, I was tasked with some leadership roles that started me on my leadership journey. In my last year at RHS I applied for a leadership position in Washoe County School District and packed my classroom up for a Dean of Students at Clayton Middle School. Then I moved to Assistant Principal at Cold Springs Middle School, and finally to Billinghurst Middle School. The professional accomplishment that I am most proud of is becoming Principal at Billinghurst Middle School! I am not only proud of my personal accomplishment, but also I am so proud of the students and staff of Billinghurst. I am proud of the positive relationships we have fostered here between students, teachers, staff, parents and the entire community. We live out our mission statement by embracing each other by cultivating a welcoming, safe, and respectful environment that prioritizes building positive relationships!
What advice would you give to students following in your footsteps today?
Lean on other students, faculty, and professionals in our career. A career in teaching is like no other. It can be very difficult, especially in the days we are experiencing currently. However, it is always very rewarding! The positive days outweigh the negative days. The teacher community is strong in our area, and we have a great network of resources. Reach out and take advantage of resources. Lastly, get in the classroom! The more experiences you have in the classroom, the more comfortable and confident you will be at graduation!
What has been a recent meaningful moment for you in your teaching? We are calling these "Moments that Matter".
In the teaching business, we get a lot of "Moments that Matter". It can be as simple as a former student saying 'hi' the grocery line, or a former student as your bank teller, or as is my case, a former student one of your teachers in your building (such is the case for me and College of Education & Human Development alumni David Moss at Billinghurst MS). However, my most recent "moment" is seeing the University of Nevada, Reno Assistant Football Coach Chad Savage on the sidelines of the Wolf Pack football games! Coach Savage was a former student and player for me when I was at Reno HS. He was a standout student-athlete with a contagious attitude. I knew he would go on to do amazing things.
Chad went through college and immediately went into grad school as a GA Coach at another college. However, Coach Norvell knew a good 'ol Reno boy when he sees one and got Coach Savage back to the Wolf Pack sidelines. This is a "moment that matters." Chad's leadership story starts with his sophomore year in high school when he tells others of his JV football coach that lit a fire of passion that fueled Chad through his entire coaching development and landed him his dream job with the Wolf Pack. To be a pivotal point in Coach Savage's story is so special. These are the moments, that although you do not know it at the time, matter the most!