During strong earthquakes, when the ground is loose and saturated, the ground can become fluid. This process is known as liquefaction, and while it may seem like a perhaps unnerving curiosity in the abstract, for structures like buildings and bridges, it is catastrophic and potentially tragic. To solve this problem, Department of Civil and Environmental Engineering Associate Professor Ramin Motamed, working with collaborators at the University of California San Diego and industry partner Ram Jack, have conducted tests on helical piles used to strengthen building foundations.
"The shape of the helical piles provides an anchoring mechanism and allows the piles to be screwed into the ground," Motamed said. "They are easy to install, and they are popular in northern Nevada and California. They have been used on houses in Lake Tahoe, and to retrofit buildings. Our experiment tested their performance specifically in liquefaction under seismic conditions."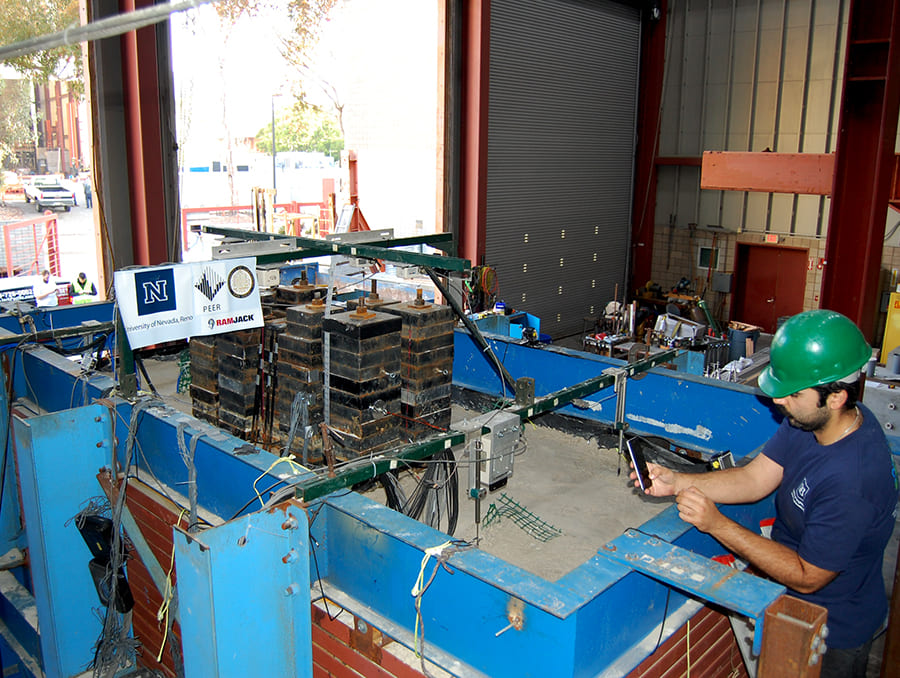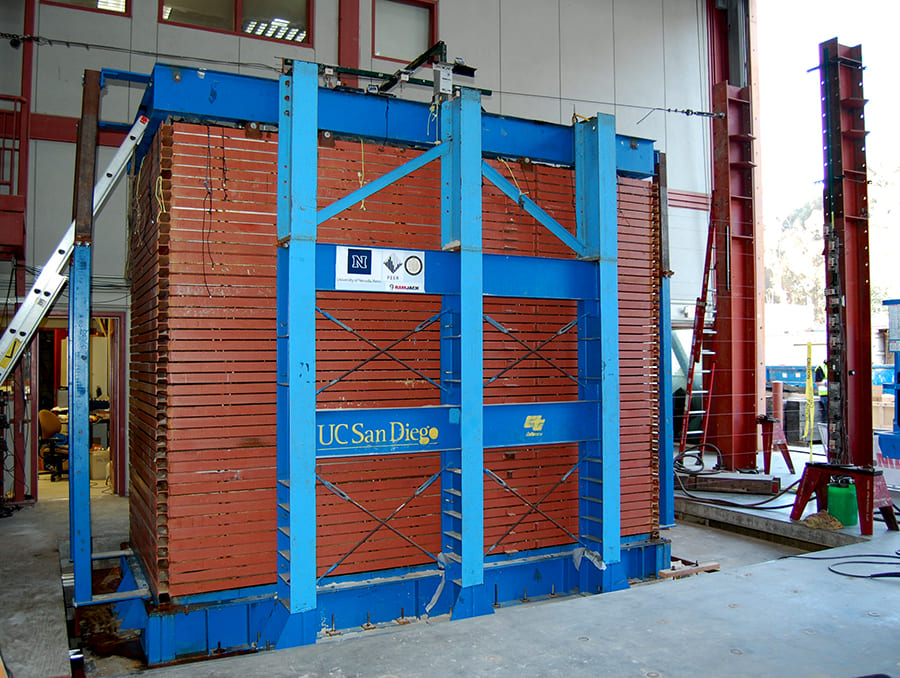 Funded by the University of California Berkeley Pacific Earthquake Engineering Research Center (PEER), the testing was conducted at the University of California San Diego campus. Motamed provided expertise specifically on liquefaction, and University of Nevada, Reno Ph.D. student Mihad Jahad Orang laid the groundwork for—and oversaw the execution of—the two tests, a baseline test in 2018 and a mitigation test in 2019. In each case, an earthquake resulting in liquefaction was simulated using a large shake table. In the first, the structure was given no foundation support and it sank approximately 11 inches into the liquefied ground. During the second test, all the conditions were the same, but this time, the structure had four helical piles supporting it. As a result, it sank less than half an inch.

"This means," Motamed said, "that the helical piles reduced the foundation settlement by more than 90 percent."


The University's reputation for earthquake engineering made it a natural partner for this project. Specifically, responding to notable earthquakes that resulted in liquefaction—like the 2010 Tohoku earthquake in Japan, a series of earthquakes in Christchurch, New Zealand in 2009-2010, and the 1989 Loma Prieta earthquake in California—Motamed and the researchers in the College of Engineering have used shake tables to simulate, test and study earthquake-induced liquefaction on structures. The scale, though, was always relatively small.
"It was the time for us to conduct these tests at large-scale," Motamed said. "This large-scale shake table test using the 10-ft tall laminar box allowed us to reproduce the behavior of shallow foundations in liquefied soils based on representative soil profiles. For example, in Christchurch NZ, the behavior of damaged buildings was governed with shallow liquefied soils, typically at depths shallower than 10 feet—very comparable to the soil profile we used in the helical pile test."
"Eleven inches on a structure, it's going to collapse, most likely. But a half inch? People are going to survive."
As the data from the tests continues to be analyzed and translated into papers and recommendations that could inform building codes, the project's potential impact is powerful as both residential and commercial structures are built in zones prone to liquefaction. As Ram Jack director of engineering Darin Willis said, "Eleven inches on a structure, it's going to collapse, most likely. But a half inch? People are going to survive."
The positive results, Motamed stressed, are the result of collaboration: "This scale testing would not have been possible without team efforts. Ram Jack provided materials and staff to install the helical piles, and UC San Diego Professor Elgamal and his students and staff at Powell Laboratory were critical to the success of the project. With funding from PEER, the research advances that organization's mission to develop and disseminate technologies to support performance-based earthquake engineering. The project is a great example of how we can remediate liquefaction-induced foundation settlements and improve the resiliency of society."