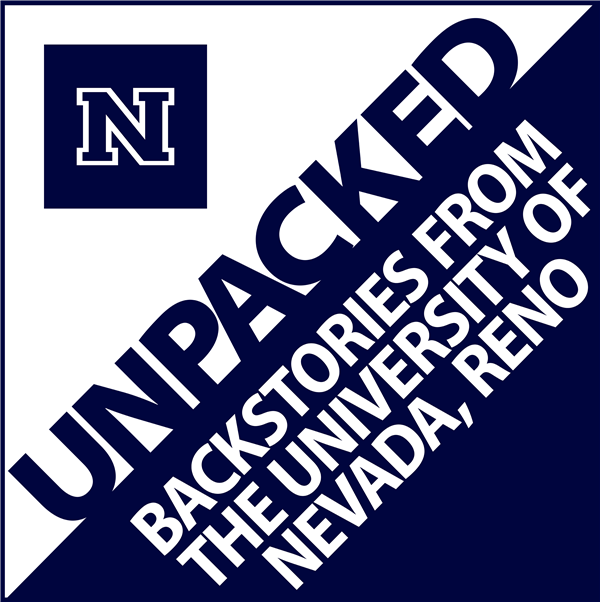 University Marketing Communications has launched an exciting new project.

It's the new Nevada Today podcast – UNPACKED: Backstories from the University of Nevada, Reno.

Starting today, UNPACKED will be available on the Nevada Today web page, and for download through the common podcast sources including Spotify, Apple Podcasts and others about every two weeks.
The podcast's host/producer is MarCom's David Stipech (formerly of KUNR), who "unpacks" the stories of people from all facets of the University community – their journey, their passions and their impacts.
Stipech's first guest is Director of Admissions Steve Maples in a timely, hopeful and positive visit about recruiting, the upcoming fall semester, his own daughter as an incoming freshman at Nevada, and valuable life wisdom for all of us.
"It's a quick 30-minute listen that is a truly inspiring and fascinating episode to kick us off," MarCom Executive Director Kerri Garcia-Hendricks said. "Steve's interview is outstanding and certainly makes our team grateful to work with such a personable and dedicated colleague. Kudos to Steve for being our first guest."
UNPACKED: Backstories from the University of Nevada, Reno
Steve Maples: Wisdom and hope for the resilient "Homeland" generation. Host: David Stipech (episode transcript below)
By creating podcast content that is portable for hands-free, mobile listening around the house, in the car, at the gym or on the go, UNPACKED adds a new "lane" for MarCom in telling the University's story.
"Audio today is experiencing quite a renaissance across demographics," Stipech said. "Podcasting especially is experiencing unrelenting growth in content offerings and listeners right now."
In his 14 years at KUNR as general manager and periodic interview program host, "NPR was a national storytelling and journalism powerhouse that became a leader in the podcast format – a perfect fit for developing a new pipeline for listeners in the digital age," Stipech said. "Only in the last five or so years has podcasting really come into its own with such a wide diversity of content, voices and producers."
Today there are more than a million podcasts with over 29 million episodes with 68 million weekly listeners spanning all age groups, according to the 2020 Global Podcast Statistics, Demographics and Habits. A number of well-received podcasts have recently begun being offered from across the University.
UNPACKED gives a literal human voice to the University community. It connects listeners to the people behind the stories through conversations presented in a personal, credible, relatable and engaging way.
"The aim all along has been to do a really high-quality podcast that stands out with strong production that engages the listener with fascinating conversations with interesting people," Nevada Today Editor Karl Fendenlander said. "As host and producer of UNPACKED, David really has done an exceptional job in accomplishing just that with a podcast that MarCom and the University can be truly proud of."
The podcast supports University marketing and communications objectives and recruitment strategies. The target audience is those with at least some level of interest in or connection with the University, from staff and faculty, to current and prospective students and parents, from alumni to regents, to fans and community partners.
The Maples interview
In the premiere episode, Maples shares what led him into college admissions and recruiting and why he is still passionate about the University and his students after nearly three decades on the job. He talks about about the emotions and process of having his oldest child, daughter Mya, choose to attend Nevada this fall.
Maples discusses the nuggets of advice he gives to high school seniors and college students, and many insightful and wise perspectives. He also talks about why he pursued a job in college admissions with Nevada and why he's stayed for almost three decades.
"I did inquire about the [admissions] position and that's when I met Melisa Choroszy (currently associate vice president, Enrollment Services), who 29 years ago became my boss and here it is 29 years later and she is still my boss," Maples said in the podcast interview. "She said, 'I need to hire somebody who's going to be innovative and creative and willing to take risks. And so, I need you go out there and be secure in that and know that there's nothing you can screw up that I can't fix.'"
He added: "I always love that because over the years I haven't held her to that too many times, but I certainly have made my share of mistakes. But it's one of the philosophies I have about this world, that failure is an option, and it has to be an option if you're going to be successful."
Maples said he sees hope in the incoming Class of 2024. He refers to them as the "Homeland" generation because they were born at the time of 9/11 – and points to their resilience from being tested from that day forward with the Great Recession as they entered grade school to active shooter drills to COVID's disruption just as they were finishing their senior years of high school.
"I have a ton of hope because of that – just watching what they've already been through and how they've faced every measure of that," he said.
His time with the University also has fostered a confidence in the institution, forged in the fire of that Great Recession that began in 2009 with 32 percent budget cuts in one year.
"I've seen, through some of the toughest times financially and resource-wise, this University grow to a point where it is now a Tier 1 University, a Research 1 University through all of that," he said. "So, it's really easy for me to have hope because I've watched the progression for the last 29 years."
Also available on Apple Podcasts and other podcast platforms.
UNPACKED PODCAST, EPISODE 1 TRANSCRIPT: STEVE MAPLES 7/14/2020
STEVE MAPLES: My wife and I are very blessed. We have two children, one of which my daughter just graduated from Reno High School and has chosen to attend the University. I've spent the last 29 years doing my little part to try and make it a university that I'd someday be proud to send my children to. And I can look at my daughter who's a very talented student academically and say, "We're a great option." And that's a tremendous sense of pride.
DAVID STIPECH: From Nevada Today, this is UNPACKED … backstories of people from the
University of Nevada, Reno community – their journey, their passions and their impacts. I'm David Stipech with Marketing Communications and on today's show, why Steve Maples still absolutely loves recruiting and shaping students after nearly three decades on the job. Just who is Steve Maples and what drives his unwavering optimism in these uncertain times?
STIPECH: The landscape of college recruiting and admissions is being rocked by the pandemic like never before at institutions across the country. It's all about uncertainty. And for parents with college-age students looking for stability and an anchor in choppy seas, they'd be hard pressed to find anyone better than Steve Maples. The guy isn't just a recruiter or a promoter; just spend a little time with him and you'll see that he's a true believer … in the University of Nevada … and in this generation of students. That's in part because of his years on the job, and also because he himself is a parent of an incoming Nevada freshman. His title with the University is deceptively short, just three words: Director of Admissions. But what exactly does he do?
MAPLES: Probably, I'll start with biggest thing, and that is trying to market the University and present the University to the outside world, especially parents and students and families that are looking at college and where to continue their education after high school. The admissions process at the University is pretty straightforward. At some schools, there are all kinds of different levels and stages, but if you're admissible to the University you are admitted. If you meet our criteria for admission then you're admitted. My job, what I like best about it, is to get out and meet students that want to come to the University and meet their families. That's probably one of the most exciting things. To do this work, you really need to be passionate about it. Because your passion comes out and that passion is seen by the students and families, that you care and, therefore, the University cares.
STIPECH: Now some may think that having the title of Director of Admissions means sitting behind a desk all day with stacks of papers. But I've seen you in action. That's definitely not the case. You're constantly in motion, you're very energized and like to be right in the mix … especially when it comes to working with first-generation college students. Talk about that a little bit.
MAPLES: Everybody of course experiences college as a challenge from whatever background they come. But specifically, for first-generation students, they don't have a lot within their families to rely on to walk them through this process. They're the ones, the first in their family to kind of have this opportunity and really understand what its about. I love my recruiters because for many of these families, there's a lot more work involved just trying to understand that after 12 years of free education in the public school system, to really have some of these opportunities available to them, the best opportunities that college provides, it is going to cost money and it is going to mean investment, sacrifices in many different ways, so we understand this is our opportunity to share with, not just the students, but their families that college has the opportunity to change their lives forever. And not just the student, but what they'll be able to do for their families later on as well. And so, some of the most rewarding work is working with first gen college students.
STIPECH: Steve, I know in your work it's important to you that you help open up opportunities for students at the University of Nevada, Reno who might otherwise be overlooked or maybe even rule themselves out for a college education.
MAPLES: So, I tell people this a lot, and I think it might surprise them. But I don't really care at the end of the day who we admit to the university. What I'm most concerned about in this whole admissions process is, who are we denying the opportunity to come on to college and everything that college provides? I think that's one of the most important things that we do is when we're looking at students and we're looking at their opportunities and we do, we have big special admit population, because we understand there are many other factors: There are test scores and there are GPAs. But there's a lot of other things that go into it for students. For instance, we do see students that maybe in their freshman year or their sophomore year, the really struggled but they really took off after that. We hear the students say, "Well, in my freshman year I really didn't know about college, nobody really talked to me about it. I wasn't really thinking about it. But then I had a teacher or I had a coach that said this is really the pathway for you and this is what you need to do." And you can really see that in their grades. You can see where they really kind of settled down and they really worked hard and you can see that transformation. And those are the kind of students that we don't want to lose out on at the University. We want to make sure they have every opportunity not just getting to college but being successful and most importantly graduating from college.
STIPECH: So, Steve, when I saw your bio and it said you've been here 29 years, I thought I must have the wrong guy. There's really no way you look or act like you've been at the University for almost 3 decades. But I do have that right?
MAPLES: It is true. As I love to tell people, I feel it's the college students that I'm around that keep me young. But if you ask my own children they don't think I'm young at all.
STIPECH: Yes, of course. Now you're currently the University's Director of Admissions, and you've had various roles leading up to this over your nearly three decades. What was it about college recruiting and admissions that got you interested in the first place, and what keeps you going?
MAPLES: Well, I'll tell you when I was finishing up college, I had a friend who graduated a year before me and he was planning on going off to law school, but he was hired as kind of a part-time recruiter for the University or at least for a full year. And it never dawned on me to be in a position like this but after talking with him, "You wouldn't believe the people you get to meet, the families, the students, the schools and the travel and everything." He made it sound like a great opportunity. I did inquire about the position and that's when I met Melisa Choroszy, who 29 years ago became my boss, and here it is 29 years later and she is still my boss. When she hired me – I love this because it's something I use with everybody I hire too – she said 'Steve, you're coming to a university that needs to grow, and the majority of the population, in fact over 75 percent of the population is 400 miles away from our campus. I need to hire somebody who's going to be innovative and creative and willing to take risks. And so, I need you go out there and be secure in that and know that there's nothing you can screw up that I can't fix. I always love that because over the years I haven't held her to that too many times, but I certainly have made my share of mistakes. But it's one of the philosophies I have about this world, that failure is an option, and it has to be an option if you're going to be successful. Because you can't continue to the same things and expect different results. So, I felt like I was empowered from the very beginning. Let's try this and let's try that. And if it doesn't work out, then great. And I tell my staff that all the time, I'd rather succeed or fail miserably and nothing in between. Because with so many limited resources that we have, we need to make sure that they're working, and so that means if it succeeds, great, and if we can measure that, that's wonderful. But if we also find that if we try something and it doesn't work then that's something we can cross it off. We're not going to waste precious resources on it and we can move on to the next thing to see if it works or not.
STIPECH: I want to turn our conversation toward your family and that part of your backstory for a moment. In the midst of the pandemic that everyone is dealing with, including you in your work at the University, this is an especially interesting season for you and your family.
MAPLES: My wife and I are very blessed, we have two children, one of which, my daughter just grad from Reno High School and has chosen to attend the univ. And I do say chosen to attend. I talked a lot with my director of admissions friends over time as my kids are getting older. It's like, "So what do you do, what do you say?" You try to take a backseat and you answer as many questions as you can, and they cross your fingers and pray a lot or whatever else and hope that your child at least looks at your institution. That's been kind of an interesting experience for me, watching her kind of go through it and make her own decisions. As much as I love having her come to the University, its very important that it needed to be her decision. And it wasn't when she was in 8th grade or 9th. She didn't want to go to the University of Steve. And I understand that. And so, but along the way, she met a lot of influential people at her school that really impacted her. Many of them attended the University that's when it started to become kind of a reality for her. That's been experience. I like to tell people that I've spent the last 29 years doing my little part to try and make it a university that I'd someday be proud to send my children to and that's really come to fruition, especially the last 10 years with $850 million in new construction, our Tier One ranking and Research 1 ranking, I can look at my daughter, who's a very talented student academically, and say we're a great option. And that's a tremendous sense of pride to at least play a small role in all of that. In addition to my daughter, I also have a son who's a freshman in high school. Watching them and they really have kind of impacted how I look at the University and I get to see it through their lenses, which has really kind of helped my quite a bit, and personalized this whole thing that I call my job of recruiting students to the University.
STIPECH: And I like how you referred to it as the University of Steve. I guess your family is probably well versed about the University from family dinners and everything else. What's it like to be the guy who eats, drinks, sleeps and breathes the University of Nevada, Reno?
MAPLES: That's definitely true. I don't know if that's a positive or a negative about my life. It doesn't matter where I go, at some point someone's got a son or daughter that age or getting close to the age and they ask a question and they kind of wonder if I'll talk about it. Its definitely a part of my life so much outside of work. I'm proud of the type of institution it is, the way they treat people and treat students and care about that. But yeah, I'm really excited about what's happened over the last 29 years. Which is the main reason why I've stayed. You know you look at other opportunities and things. I like to tell my students this thing. I tell them when they're in college, when I see them 15 years from now, I can them one question and that will answer whether or not they're happy and successful in what they're doing. Just ask them do they feel like they matter in what they do. And if they answer that with a yes, I don't have to ask all the follow-ups to know that what they're doing, they're in the right place and they're enjoying what they're doing. I guess that I feel like I've had that opportunity.
STIPECH: It seems to me that you're always in the "on" mode; you're enthusiastic, you're very passionate. Where do you think that comes from?
MAPLES: I'd say a lot of it comes from my own parents. I grew for the most part in Reno. I was born in Oregon and then moved down to reno because my mother got a position as a professor in the College of Education as a prof of counseling and educational psychology. So, in some ways, I was kind of a college brat just kind of around that area. But in high school, the biggest thing I wanted to do and I talked to my friends, is that I want to find some place where I make an impact. Or make a difference. And it's interesting, because one of the things I still love to do is get to go certain high schools and talk with their government classes. Here are the students in their senior year of high school and they're getting ready to go off to college and I challenge them a lot. Because I was also a philosophy major in college, I guess I just like that deeper thinking. I tell them the same thing that I was told in my first philosophy class, in which my professor gave me the key to happiness, the key to success. He said, "I'll give it to you right now. It's real simple. So, get ready for it. Find what you love and find a way to make money at it. In that order." He said the problem with people in this world is they go about it just the opposite. They find a way to make money and then they look for what they really want to do. And you really kind of take that to heart and I really challenge high school seniors to say, "Let me ask you the last time you thought about a job, a new job you hadn't heard of. What was the first follow-up question, the first thing that was in your head?" And I know what the answer is, it's how much money you make. I said, "Well then right there you failed." And it's something that I do to those seniors to really make them question what is it that you want to do and why do you want to do it? Is it because the money or is because when your parents intro you at cocktail parties or wherever they're at, "This is my son, this is my daughter; they're going to grow up and be lawyer or a doctor or whatever." And I say because none of that's sustainable at the end of the day. What's sustainable is something that you enjoy and that you have satisfaction in and feel like you matter.
STIPECH: So, you and your team are now recruiting the class of 2024. That is hard to believe. I mean that just does not seem possible. Given the geography and the intense competition for students, how do you approach recruiting students to this university?
MAPLES: The average student … so nationally the statistic is 70-75 percent of all students will attend a university within 150 miles from where they live. And if that were the case for with us, we would dry up and blow away yesterday. Because as I kind of mentioned before, just take the demographics of the state of Nevada, so 80 percent of the state's K through 12 population is located 422 miles away in Las Vegas. And so that's a huge population for us; it's almost identical to what we pull from all of Reno and outlying areas. We've also become quite a draw for California and other states and to me that's wonderful being a state institution that has so much diversity in every sense of the word. Over the years, we've watched our ethnic diversity increase. This past fall, 47 percent of our freshman class were students of color, which is wonderful on this as we continue to move toward 50 percent. But just the geography we pull from, all 50 states and over 70 different countries, so that student that's looking for an experience that's going to put them in the place with people from not necessarily where they grew up, wherever they grew up, we're a great institution for that. And having those opportunities. But it is an incredible challenge for us, too. If almost 70 per of your students are completely opposite of what the nation is doing, meaning, if almost 70 per of our students come from outside that 150 mile radius.
STIPECH: So, given the challenge of what you're talking about there regarding our geography, getting prospective students to campus for tours. Helping them experience the University all that would certainly very important. What's a normal year look like when things aren't being disrupted by a global pandemic?
MAPLES: We do this big event called Nevada bound where we'll fly students from Las Vegas, again because they think that, well, it's just a smaller community what could Reno really have? So we fly students up from Las Vegas so they can experience our campus and then students come from out of state to see it. We do that because when a student puts down University of Oregon and Arizona State and University of Nevada, Reno as their final three schools, when they go to Oregon, they get reinforced what they thought. They see a nice campus and it is a nice beautiful campus and everything and that's kind of what they expected. When they go to Arizona State, it's a big campus but its also really nice and everything. But when they come to Nevada, that list usually got placed on it because they had a friend or family member or someone who said, "You need to go see the University of Nevada, Reno. And then they come and they're blown away. And the 17- and 18-year-old student that usually has all the answers and is bullet proof, they come and they say on the evaluation, "This is unexpected, I was blown away I didn't expect this." So, whereas when you go to a lot of these other campuses that have a brand associated with it, they're just reinforcing that because it's not what you expect to see. You don't expect to see $850 million of new construction in the last 10 years. And how many campuses can say something like that? So, for us, you know, every school is going to tell you the tour is important, but for us it seals the deal for so many people, like, "I had no idea." They come up and see the campus and it's not what they expect and that's a wonderful thing as well.
STIPECH: COVID-19 disrupted the spring semester, it's impacted summer sessions and you're reaching out to students for the fall. What are the priorities, the adjustments for you and some of the concerns you're hearing from parents?
MAPLES: So, this is where it's tough for me to take my director of admission hat and my parent hat at the same time because I'm experiencing that, you know, I'm experiencing it with my own daughter, watching her lose out on the opportunities for her prom, her senior sunrise, her graduation ceremony and all of these different gatherings. And talking with a lot of parents, I host a weekly webinar for incoming parents and students to just really kind of talk through a lot of what you're talking about, because with this the biggest thing is the uncertainty. Nobody knows exactly how things are going to be in the fall and it's just been this progression of things taken away. You just kind of look at this and so we try and make sure that were very transparent with what the latest information is because for every parent that wants I want, my kid to have the whole college experience nothing different, there's the next parent who's like, how are you going to keep my kid safe? And so, it's balancing all of those things because, we of course as an institution want all that, too, and I as a parent, I want all that, too. I want my daughter to have the whole college experience. I want her to go to a campus that I feel is going to be safe.
STIPECH: So, with everything now going on with COVID, what are some of the ways you've had to adapt or change up what you do?
MAPLES: It is great to see the university taking really active measures every Thursday at 4 o'clock, I have the webinar and I tell them I'll be back here next Thursday, too, and every Thursday after that, so you can see that we're to continue to ask answer questions because there is so much uncertainty out there for families and students. Some of the things as an institution we have done, the month of April and May, those are our two biggest visitation months. And we had to cancel all of our NevadaBound trips. And the campus and tours and everything else like that, so we've had to develop this whole virtual world and so we now have virtual visit website that has everything on it you can imaging from pictures and videos of the campus to some of the things that I think make us a little unique. One is I know how important it is for students and parents to hear from students about their experience on these campus tours, so every day we have live virtual tours, meaning we have two student ambassadors and a recruiter; the recruiter goes over a little bit of the admissions stuff and then the students take families on this tour. You sign up for it, it's an hour long, they go over the pictures of the campus they talk about how they experience those services and those buildings, but the best part is the parents and students they get to ask real time questions right there that get answered, about the university. And you know, it's trying to fill this void for so many people that didn't get to have that experience in the spring and being able to see the campus in person. So were trying to do different things to try and meeting families where they're at, and also trying to be honest and transparent in this, and I will say this, it is our desire, and I can tell you as a parent it is my desire, for my daughter to have the best college experience possible. And so rather than draw conclusion now and just say we're not going to be able to do anything, it's quite the opposite: How can we look and be innovative and creative and safe and continue to face that challenge with, how do we give students the best experience possible? And it's one thing to say that an administrator but it's another to say my daughter, who worked very hard and had many different options available to her, I want her to have all of that. And you know that is the one thing we face with the whole country; this isn't something unique to our institution, every institution is facing it too. But the number one condition is safety, and then after that, how do we innovatively and creatively give our students the best full college experience.
STIPECH: As someone who worked for nearly three decades in higher education … How would you describe the value or the priority of having a college education today?
MAPLES: You know, I address the money piece because of course that's something that's on everybody's mind, but money's the great equalizer in the sense of you justify it that way and that covers a lot of bases. So, but I like to get it more out of the way than anything, that is that today's statistics mirror very similar to 30 years ago, and that is a person with a college degree over the course of their life can make more money, almost a million dollars more than a person without a college degree. So, lets get out of the way and move on because to me that's the least important reason. But if for no other reason, it does cost money to go to a university and if for no other reason, it is an investment that pays off that way. But to me the second thing is, and I tell high school students this all the time, you can start right after high school with jobs that pay pretty well. A lot of unskilled jobs: you can find that job parking cars in Las Vegas at casinos when they are open, or you can find construction, you can find some other different opportunities that are great opportunities. But you hit a ceiling pretty quickly as far as what you're qualified to do. And to be able to be even in the construction industry or other industries, you still need more skills education and training and the greatest thing that a college education does is it opens you up to so many different things, that it's not a matter of do you have those minimum qualifications. You have the qualifications, so it's more a matter of what it is you want to do. And that's something I share with my seniors every year that I love to do. I call it my pyramid scheme. That is, I draw a picture of a pyramid and I say, so this is the way you thought college is going to work. You come in with all these different ideas down there at the bottom. As you progress up toward the top, you get to that point that you graduate and now you've got your one career, it's all planned out, you know exactly what you're going to do when you go forward, right? And they all look at me kind of funny, like, no. I say no, it's just the opposite. And then the next thing I do is I flip it over and I show the pyramid upside down. I show them when you came to college, you thought you knew everything and you didn't know anything. You didn't even know who you were and what mattered to you. And as you progressed through college, you get this opportunity, your options widen and they widen and they just continue to widen until they reach the top where you graduate. And if you ask a college senior right now, the biggest thing is they're concerned because they want to make sure they take the right next step, but college doing what college does, is it provides you with so many avenues and so many opportunities, that it provides so much concern though. It's like, "I got all these different options, what if I choose the wrong one?" And what I try and talk to the seniors about is there is no wrong one. In the same way you've progressed to this point because of all the experiences that you've had that have only opened up more opportunities, that's only going to continue on past this point. But that's what the college education did that you didn't expect it to – was that you expected it to just drive in one direction and make your life real easy and simple and basic. Instead it did just the opposite. It gives you so many opportunities. My mother gave me great advice that I really took to heart and I tell students, she said, your twenties are not your decade to find your career. Your twenties are your decade to look for what it is that you really, really want, and your thirties are your decade to get that. So it's not just that first job out of college is the job that you're going to spend the rest of your time with, it's just one more experience and while you're at it, you should try to get a couple more and find some other opportunities so that by the time you end your twenties, you really looked at and have been able to really honestly check off things, so that now that you have all the experience and know who you are and now you're in your thirties and you really get what it is that you want for your career.
STIPECH: You seem very optimistic, very confident in the future in a time right now of a lot of uncertainty. How do you see the future for today's students? Do you hold a hopeful sense of the future maybe from your long view based on your many years with the University?
MAPLES: I do. I draw on the experience of 29 years here. You know, let me just say one thing about this class coming in. I see so much hope in them because most people don't understand the class like I do because my daughter is one of them. My daughter like the rest of the class was born either right before or right during or right after 9/11. My daughter was born a month after 9/11. And so, the whole world changed on that day. You know they call them Generation Z or whatever, which I think is a real lazy way to call them. I believe they need to be called the Homeland Generation. We don't add departments to our government and that's the last department we added in the past 30 years, is department of homeland. And we did it because safety became a new measure to our world than ever before. My daughter's grown up with active shooter drills and we never have seen the unsafe events that have occurred in schools over the whole time that she's been there. When she started and her classmates started formal school in kindergarten and first grade, we had the worst economic downturn since the great depression. And so, these students, the one word I would say for them is resilient. They faced so much at a young age, and I like tell the parents that as much as we tried to hide the financial situation and everything like that back then, we haven't. They've seen it. They've seen it their whole lives and now they've experienced the pandemic in their last year when its supposed to be their ritual and right to grow up and move through adolescence. So, I have a ton of hope because of that. Just watching what they've already been through and how they've faced every measure of that.
MAPLES: As an institution I was here in 2009 when we faced 32 percent budget cuts in one year. I watched the university, which could have done what everybody else did, and that was your horizontal cut, everybody give back 32 percent. But our university made very difficult and not-popular-with-certain-area decisions, which they did vertical cuts, which they only took out certain areas to maintain the core functions. And so, I can tell any student because I've already talked to the president, for instance, that students will not have to worry about their classes being available. We are not going to slow down anyone's time to graduation. The last several years we've sped up the time of graduation, so decisions are going to be made on this campus and cuts are going to be made, but its not going to be to students' instruction. They're going to get the classes that they need to graduate and so as we look forward to what's the next step and what are the repercussions. We'll have some things we have to deal with, But I've watched our University over the years through some huge challenges become a better university. In 2009, I believe our six- year graduation rate was 46 percent; today it's 61 percent. And our four-year graduation rate in 2009 was 17 percent. It's now 40 percent. And so, I've seen through some of the toughest time financially and resource-wise, I've seen this university grow to a point that it's now a Tier 1 University, it's a Research 1 University, all through that. So, for me it's real easy to have hope because I've watched the progression for the last 29 years and I know what the future holds too. That we're an incredible opportunity, not only for the students from the state of Nevada, but other places too, and people are seeing that and they'll continue to as we go forward.
STIPECH: Steve Maples, Director of Admissions at the University of Nevada, Reno. I'm David Stipech with University Marketing Communications. I hope you enjoyed this edition of UNPACKED, the new podcast from Nevada Today. You can find admissions information, take the virtual campus tours, sign up for an in-person tour, which have now been added, and get the latest updates about the upcoming semester at unr.edu And for daily and weekly news from the University, be sure to subscribe to the University's news source, Nevada Today at unr.edu/Nevada Today. That's also where you can listen to the latest episodes, or find UNPACKED wherever you get your podcasts.