Stephen Rock, director of the Nevada Center for Excellence in Disabilities has received the 2020 Lifetime Achievement Award from the Association of University Centers on Disabilities. Rock will receive the award during a virtual ceremony on December 8.
"I've got a lot of friends there and it would have been nice to have the ceremony and be there, but that's 2020," Rock said. "That's the way things are."
The AUCD comprises a network of university centers spanning across the United States. The member centers work on services for people with disabilities while simultaneously working with local and state agencies to advocate for people with disabilities. Rock said that the organization has also been active politically by pushing for disability programs and advocating for people with disabilities in policy issues.
"AUCD is a significant national organization in the disability field," Rock said. "I've been involved with AUCD for over 30 years. It's one of my homes."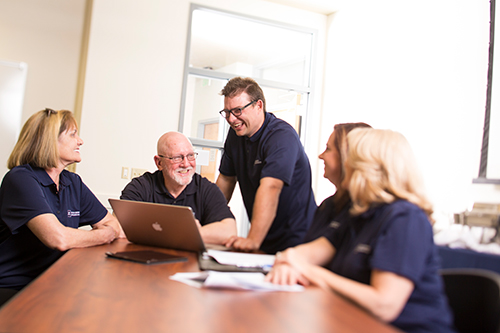 Rock was nominated for the award by colleagues at the NCED, but he said he never expected to receive the award. According to the AUCD, the Lifetime Achievement Award is only given to individuals who make a lifetime commitment to serving people with disabilities.
"I'm pretty overwhelmed," Rock said. "I didn't expect it. I was very surprised and a little overwhelmed. It's a national award. It's a big deal."
The announcement came as Steve retired at the end of October.
"Steve's commitment, leadership and innovation throughout his career has been an inspiration to so many and needed at many critical points in our college's history," said Donald Easton-Brooks, Dean of the College of Education and Human Development. "This award is well deserved and I couldn't think of a better way to end a career. We could not be prouder for Steve."
The NCED has been a part of the AUCD network since the early 1990s as one of many University Center for Excellence in Developmental Disabilities across the country. As director, Rock's role is to help other staff manage and implement projects that aid people with disabilities both at the University itself and across the entire state. Rock said that there is at least some presence to help people with disabilities in every single Nevada county.
"One of the things I think I'm most proud of is not a particular product as much as we've got an amazing faculty and staff who go out and develop projects and interact with the community." Rock said. "You've seen these people who really progressed in their career and are just remarkable professionals who go out and make a difference in the state. We've been able to recruit and retain some just remarkable faculty, and our staff or classified staff is some of the best."
The programs across the state created and supported by NCED range from local programs at the University like the Path to Independence, to behavioral training workshops, to providing technical assistance and training to school districts across the state.
"As a teacher and in our projects, we see remarkable change, and that's what's really exciting to see," Rock said. "That goes on through their entire life."
One challenge that the NCED often faces is that many people may recognize the programs that operate underneath it but not the center itself. Rock said that another common misconception for many people who aren't familiar with the community surrounding disabilities is failing to realize the potential of many people with disabilities.
"I just enjoy working with the population," Rock said. "I think they are people who need to be included in our society. They have a lot to offer, and they should have the same rights and opportunities as everybody else does."