It's not every day an employee from the University Libraries gets to handle a rare Dat So La Lee basket valued at more than $1 million. Two @One Digital Media Technology employees recently got to do just that! Multimedia Specialist Luka Starmer and Manager of Student Digital Media Technology Daniel Fergus were contacted by the Nevada Historical Society to explore the idea of using a 3D scanner to capture Dat So La Lee's work in a new medium for all Nevada Historical Society visitors to experience.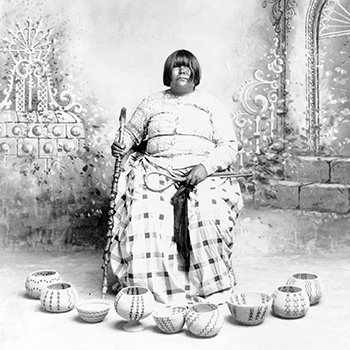 Dat So La Lee is widely regarded as one of the most innovative, important, and famous basket makers in the world. Her baskets remain coveted by collectors and can be found in top museums throughout the country, including the Smithsonian in Washington, D.C., the Nevada State Museum and Nevada Historical Society. Her work — much of it done in Carson City and at Lake Tahoe — helped feed the Arts & Craft movement and "Basket Craze" of the early 20th century. *
"Partnering with the Libraries allows the Nevada Historical Society to explore the uses of cutting-edge technology," Nevada Historical Society Director Catherine Magee said.
Much like the University Libraries, the cornerstone of the Nevada Historical Society's mission is education.
"One question we are always asked is, 'Why are the Dat So La Lee baskets so important?'," Magee said. "With the 3D scans, prints, and virtual exhibits created by the Libraries team we can help answer this important question. It also allows the Nevada Historical Society to expand its audience to help inform people about Dat So La Lee, her contributions to the cultural heritage of the Washoe Tribe, and her impact on 20th century artists."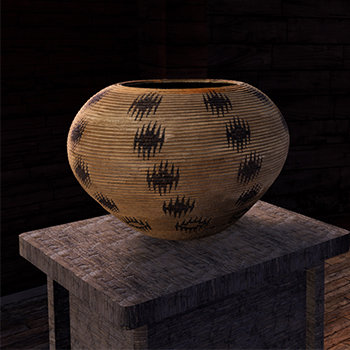 The @One team, along with the DeLaMare Science and Engineering Library, created a 3D printed model of a portion of the basket to compliment the digital 3D scan.

"The Nevada Historical Society wanted to experiment with 3D printing a portion of the basket to give people, particularly the visually impaired, an opportunity to touch and feel the basket," Starmer said. "This is a whole new way of looking at digital preservation, and it was a great instance of interdisciplinary collaboration!"
*Special thanks to Guy Clifton, Travel Nevada, for contributing to this story.