Mining is at the heart of the historical development of Nevada, and it is also the backbone of a new collection of materials recently acquired by Special Collections and University Archives. The Nevada Consolidated Copper Company Records contain materials highlighting the history of copper mining in northeast Nevada.
The collection is composed of administrative documents from the Nevada Consolidated Copper Company, later taken over by the Kennecott Copper Corporation. It includes 11 photo albums with cyanotype and black & white photographs from the Chief Engineer's Office depicting mining operations, equipment, and progress from within the mining pits. There are seven boxes of company letters, telegrams, operating notes, manuals, surveys and procedures, as well as annual reports, and correspondence between employees and other businesses from 1906 -1938.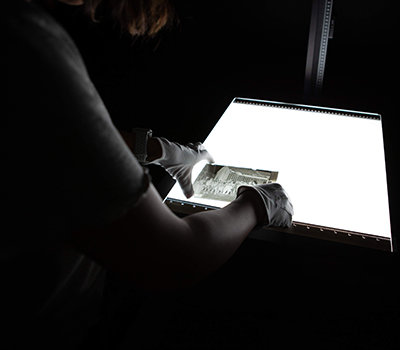 "This new collection brings to life the history of mining in Nevada," Manuscripts and Archives Librarian Jacquelyn Sundstrand said. "It is important because it fills in early 20th century information about mining in northeast Nevada as well as the company's town of McGill, its smelter, and the Northern Nevada Railway that serviced the mine. Prior to acquiring this collection, the Department lacked a specific collection on copper mining and the Northern Nevada Railway."

The collection was acquired from Fred Holabird of Holabird Western Americana in Spring 2019. More than 20 generous donors contributed to the fundraising effort through a web-based crowdfunding campaign.
"What is exciting about this collection is that a large portion of it are the photo albums covering the approximate years of 1906-1936," Sundstrand said. "The photos show details of the region, the machinery used by the mine from its beginning, as well as the personnel that worked there. These photographs are a great source of documentary evidence because they are all labelled with identifications."
To access or learn more about the Nevada Consolidated Copper Company Records contact the University Libraries Special Collections and University Archives Department via email at specoll@unr.edu or phone at 755-682-5665.