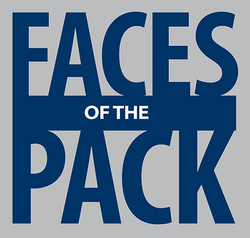 Nikki Nadeau is a first-generation undergraduate student entering her junior year at the University of Nevada, Reno. In the last few years, Nadeau has taken part in several projects with support from Undergraduate Research, a University service focused on funding and encouraging research among the University's undergraduate students. For her projects, Nadeau has been awarded grants, as well as the title of McNair Scholar, a program which supports the University's underrepresented students.
"I'm a non-traditional student; I started my undergrad at 26. It was in the time between high school and entering college that I found my passion for the environment."
Nadeau is majoring in business management and hopes to apply her degree to affect environmental change.
"Corporations can have a big negative impact on the environment, but we can use that for good too.
"I've been really fortunate, honestly. I had a really good friend in my freshman year who encouraged me to apply for undergraduate research opportunities. I worked on a really cool project with the Nevada Green Institute that year, where I got to research what issues the residents of Carson City area knew or care about regarding sustainability.
"Last year I got to design my own project with the Nevada Undergraduate Research Award. I decided to work on a project about the perceptions college students have about refurbished computers. It's been great, but also super frustrating. I'm still writing the manuscript, but I plan to submit it for publication later this summer. I couldn't have done it all without my mentor, Dr. Frank Fossen.
"With the pandemic making life so crazy, I'm really grateful all my research can be done online. It ends up being an exhausting amount of zoom meetings, but I'm also glad to have something to keep me busy."
After graduation, Nadeau plans to attend graduate school for environmental management or policy.
"If I could give students a piece of advice going into school, I would say that you shouldn't be afraid to go out and apply for programs you're interested in. You have a better chance than you think."