On September 10, 2015, Noticiero Móvil published its first article in Spanish and English – "Recipe: How to Make Marvelous, Authentic Mexican Rice." Written by Reynolds School of Journalism student Kristen Keks, the piece profiled a University of Nevada, Reno student Monica Gomez and her family's recipe for Mexican rice.
"It has saved my life on some nights when I'm missing Hispanic cooking terribly," she said in the article.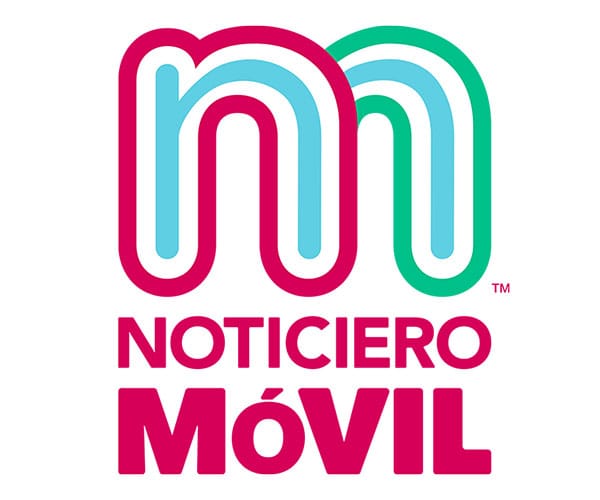 Since that story, the Reynolds School's bilingual news outlet has published countless articles, hosted community events and received grants and awards. For the school's dean, Al Stavitsky, one of the biggest accomplishments in the last five years is that Noticiero Móvil has influenced other entrepreneurial efforts in the school.

"The success of Noticiero showed us what was possible," he said. "The development of Noticiero has been highly influential in creating this entrepreneurial model that we have here in the Reynolds School. And it has really influenced our thinking about developing student-centered media firms."
With the program celebrating its fifth anniversary this month, Reynolds School faculty and others reflected on Noticiero Móvil's history and its plans for the future.
Filling a void in local news
The launch of the bilingual news outlet was the result of collaboration and foresight on the part of Reynolds School leadership.
"When I came to Nevada as dean in 2012, I started a program called the Nevada Media Alliance, which was modeled after a program I had started at the University of Oregon in which student journalists partnered with professionals to serve the community," Stavitsky said.
The school partnered with the Reno Gazette Journal, KNPB and KUNR and hired Vanessa Vancour as the editor of the program. Around 2014, Stavitsky noticed an opportunity for the Nevada Media Alliance to fill a void in local media.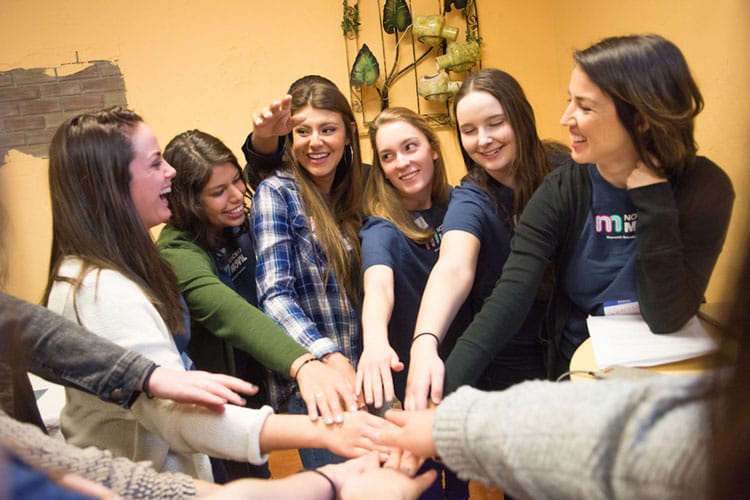 "Based on the demographics of the region and the fact that the Latino community was underserved with media, we made the decision to change the Nevada Media Alliance model to a bilingual news service."

In April 2015, the Reynolds School received a $35,000 grant through the Online News Association (ONA) Challenge Fund for Innovation in Journalism Education to provide Spanish and English multimedia news coverage before the 2016 presidential election.
Over the summer of 2015, Vancour worked with students and a freelancer to create the Noticiero Móvil brand, including Spanish and English websites and social media channels. She taught the first Noticiero Móvil course in fall 2015 with 16 journalism students, 10 of whom were bilingual. The class covered news and hosted live events like "Dance for Democracy," which used salsa dancing as a way to demonstrate how to participate in the Nevada presidential caucuses.
Bilingual internships, documentary film and community storytelling
As the program grew, it expanded its partnerships, including creating a bilingual internship at KUNR in 2016. The first student intern, Stephanie Serrano, won a national Murrow award in 2018 for her bilingual reporting, a remarkable feat for a student reporter competing in a professional category.
"In the past few years, KUNR has built a reporting internship program from the ground up. We care deeply about mentoring developing reporters, and we have also prioritized the growth of local, bilingual radio content," Michelle Billman, KUNR news director, said in an article about the Murrow award.
KUNR's second bilingual intern, Karina Gonzalez earned a national Gracie Award in the Radio Interview Feature student category from the Alliance for Women in Media Foundation. The partnership's most recent intern, Andrew Mendez, founded the Spanish-language section of the Nevada Sagebrush while working at KUNR and recently went on to intern for the Reno Gazette Journal.
Inside the Reynolds School, Noticiero Móvil started supporting bilingual documentary filmmaking in 2018, funding students' travel to Latin America and more.
"When the opportunity to go to Mexico presented itself," Reynolds School student Taylor Caldwell said during a 2019 interview about Noticiero Móvil and documentary film. "I spoke with [Vancour] about teaming up with Noticiero Móvil for the film. Because of Noticiero Móvil's sponsorship, we were able to make it happen."
In fall 2019, students in Noticiero Móvil presented "Silver State, Golden Stories," a web experience featuring audio, video and written works about Nevadans, sharing why they loved the sagebrush state in their native language. Stories from the project were also included in an exhibit at the Discovery Museum.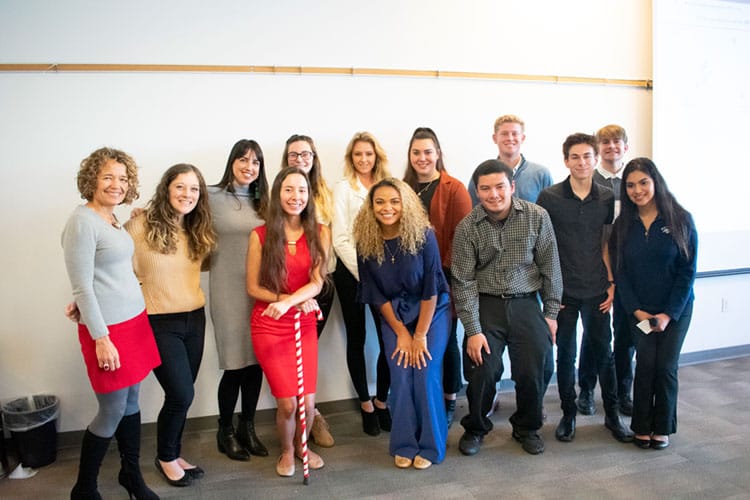 Award-winning program
Creating local impact resulted in national recognition for Noticiero Móvil. The Reynolds School won several grants and awards for the bilingual news service, including a second Challenge Fund grant in 2017 for digital reporting on immigration issues. In 2018, the school was awarded the Grand Prize for Innovation in Journalism Education from the ONA because of its bilingual-media initiatives.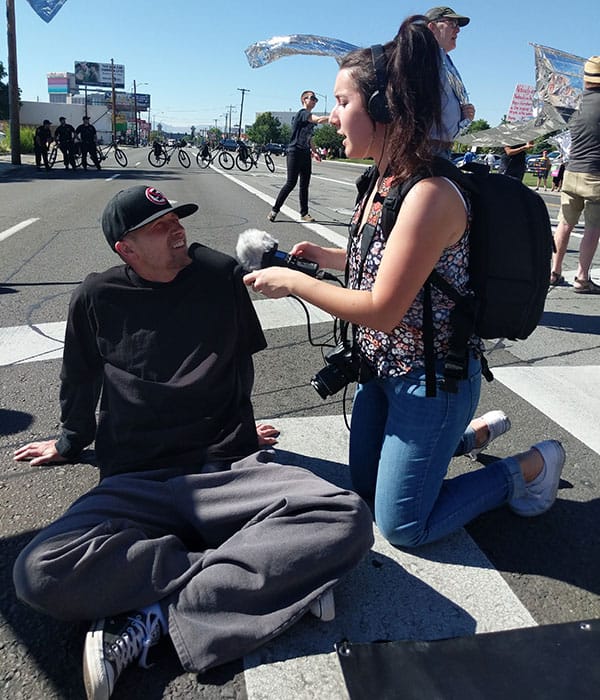 "ONA's support, and that of its partner foundations, has been transformative in staking the Reynolds School to a leading role in the bilingual-media arena," Stavitsky said in a 2018 interview about the award.

KUNR's bilingual programming earned the station and Noticiero Móvil another national Murrow award in 2019 for excellence in innovation in the small market radio category.
"This partnership allows KUNR to provide more inclusive storytelling that better represents Northern Nevada. Having bilingual reporters at the editorial table and out in the field is crucial for capturing stories that matter," Billman said in a 2019 interview about the national Murrow.
Moving forward
Recently, the program saw a transition in leadership when Vancour left to pursue other opportunities. In fall 2020, Director of Internships and Experiential Learning Claudia Cruz assumed the role of managing editor for Noticiero Móvil.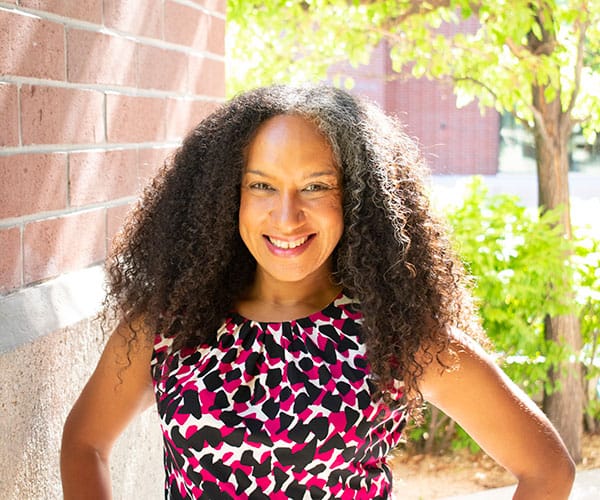 "I couldn't really say no because I knew I had the skills that would be needed for this role," Cruz said. "I've been a bilingual editor in the past, and I've been a bilingual reporter previously to joining the Reynolds School family." Cruz most recently worked as a technology reporter for CNET en Español.

In addition to maintaining the online news outlets in English and Spanish and continuing the partnership and internship with KUNR, Cruz plans to develop more partnerships and further engage the community.
"The last couple of months, we've expanded from KUNR to other local outlets that are helping us distribute more news to the Latino community at this very important time," she said. "We have a bilingual student from Noticiero Móvil who is now a freelance writer for ThisisReno, and we've stepped up our collaboration with the Nevada Independent and got permission to reshare some of their articles."
Getting audio and video programming out to the Latino community through social media is also a top priority.
"We understand that the Latino community is underserved in Northern Nevada when it comes to media outlets, and from conversations with stakeholders in the community, we also have members who may not have reached a level of education that would make it possible for them to read news articles even if the language is Spanish."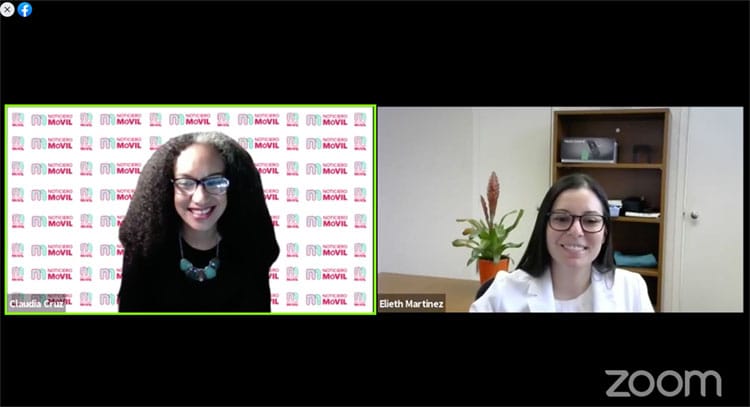 This month, Noticiero Móvil teamed up with the University of Nevada, Reno School of Medicine's Dr. Elieth Martinez for a Facebook Live event about staying healthy during COVID-19. Cruz hopes to hold more events like this one in the future and to move to in-person events when it is safe to do so. She also wants to use Noticiero Móvil as a public relations tool to get students into Spanish-language media.
"We want students to be bilingual reporters, but how do we get them? We get them by being out in the community. So hopefully, we can be a vehicle for moms, dads and high schoolers, too, to realize that there are jobs in this field."
In addition, both Cruz and Stavitsky are looking forward to the broader impacts of the program.
"If Noticiero Móvil does what it's meant to, it will create and develop the skillsets of young bilingual reporters, and they will then be ready to enter the work environment with these talents," Cruz said.
"We're not just educators. We're also producers, and at a time when there's a great need for accurate, ethical journalism, Noticiero Móvil fills an important role for the burgeoning Latino community in our region that does not have many Spanish-language news outlets," Stavitsky said.