An opportunity to expand what's happening in and around the University of Nevada, Reno Innevation Center-Powered By Switch is moving forward. The Reno City Council has approved a proposal for the University to lease and operate the Southside School in downtown Reno as of April 1, 2019.
The city-owned Southside School is located at the corner of Liberty and Sinclair Streets, across the street from the Innevation Center and on the same block as The Discovery Museum. The two-story, 10,554 square-foot facility was built in 1936 as an annex to the former Southside School and is on the National Register of Historic Places.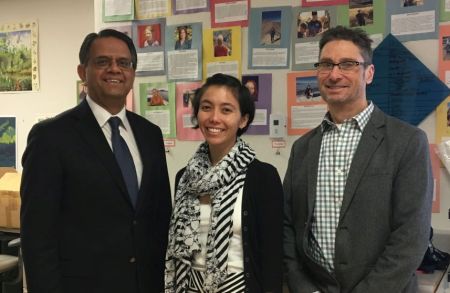 "We are excited to fold the Southside School into what's happening at the Innevation Center," said Mridul Gautam, University vice president for research and innovation. "The Innevation Center was created to stimulate ideation, invention and entrepreneurialism, and accelerate startups and new ventures. It is having success. You can feel the energy there, but even more, you can see the impact in the internships and jobs being created and the investment being generated."
Now in its third year of operations, the Innevation Center has 135 members and is engaged with 67 companies. Startup companies based in the Innevation Center have raised close to $50 million in investor capital.
It is a mark of success when a young business develops, outgrows the space and decides to move - or "graduate" - from the Innevation Center. Even with the graduation and replacement last year of two of the largest companies, there is a waiting list for new companies desiring to move into the Innevation Center.
"The Southside School building provides us with new opportunities to grow and expand our offerings. In particular, we look forward to developing new educational programming and working with Sierra Nevada Journeys to help us reach out to K-12," Innevation Center Director Jim Sacherman said, referring to the building's sole current tenant, a science-education nonprofit organization.
The Innevation Center has become a hub of regional collaboration with business-mentoring organizations, investors and economic development organizations engaged in these activities and successes. Along with the Nevada Center for Applied Research, the Innevation Center helps connect businesses and entrepreneurs to the resources and expertise of the University. The Innevation Center is home to Nevada Industry Excellence, a well-equipped Makerspace, InNEVator pre-accelerator program and Reynolds School of Journalism Podcast Center. The resources of the Innevation Center are open to University faculty, staff and students, and open to the community through a membership model. It is envisioned that the Southside School will be folded into these collaborative and entrepreneurial activities.
The City of Reno will lease the Southside School to the University for $7,268 a year, for five years. Both Sierra Nevada Journeys and The Discovery expressed support for this project and the Reno City Council action, and Sierra Nevada Journeys will remain in the building.