Becoming an actor was Reynolds School of Journalism alumnus Alphonse Polito's career goal post-graduation. But shortly after finishing his journalism degree with a focus in advertising, he discovered that while he enjoyed being in front of the camera, he liked other aspects of filmmaking as well.
"I was really dedicated to learning as much as possible about filmmaking, and I was able to work with some really great filmmakers here in Reno," Polito said. "We would write, produce, act in and edit a bunch of short films and take away a lot of knowledge with each one produced. It was such a great opportunity to learn and fuel our creativity."
Polito worked for a local company as a producer for ten years before opening his own video production agency, Three Sticks Productions, in 2017.
"I often say that I'm an accidental business owner. My passion has always been creating films, documentaries and creative commercials. I've been fortunate to turn my passion into a career."
As the producer and director at Three Sticks Productions, Polito is involved in creative concepting, pre-production, directing, cinematography and editing. His team works with local, national and international companies, government agencies, nonprofits, political campaigns and advertising and public relations agencies.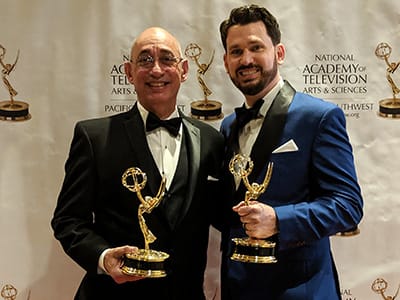 This past summer, Three Sticks Productions won an Emmy® award for best documentary for the film, "Prescription for Hope: Overcoming Nevada's Opioid Epidemic." The documentary followed the lives of several Nevadans that experienced the loss of a loved one and showed the constant battle many people face due to opioid abuse and addiction.
"It was such an honor to win an Emmy, and it was an amazing team effort," Polito said. "We have so much respect for the people in the film that let us into their lives and bravely shared their stories so that we could help inform others about this issue and create an inspiring message of hope for those in need."
With help from the Nevada Broadcasters Association, the film aired on all public television stations in Nevada. To continue the public discussion about opioid addiction, Three Sticks Productions is working on two additional documentaries, which will be released later this year.
As for students looking to work in video production, Polito recommends diving in.
"You can get started by creating your own content and by surrounding yourself with those in the industry and those that are passionate about storytelling," he said. "Take the time to grow your skills by putting in the time, and don't be afraid to make a mistake."
He also shared that part of the learning process is understanding that video production is an art form.
"The key is to understand your audience, provide valuable creative direction, build relationships and be willing to work hard. Video production requires long hours, ability to juggle many projects and meet tight deadlines."
Students interested in video production can apply for an internship at Three Sticks Productions by sending an email to info@threesticksproductions.com.