Ralph Burns takes on a number of titles, including Pyramid Lake Paiute elder, storyteller and native-language specialist. This fall, he will add University of Nevada, Reno lecturer to the list.
Christina Thomas is a recent University graduate in music and biology, mom, former Washoe County School District teacher, experienced server, performing artist and most notably, a self-titled 'language warrior'. She began as a youth Paiute language instructor in 2015, replacing Burns as a language teacher at Reed High School in Sparks, and then later took an independent study course from Burns at the University.
Often singing and dancing at events together, their mentor/mentee relationship has deepened through the years, and this year, also together, they helped create and launch the first-ever Paiute language course to be taught at the University.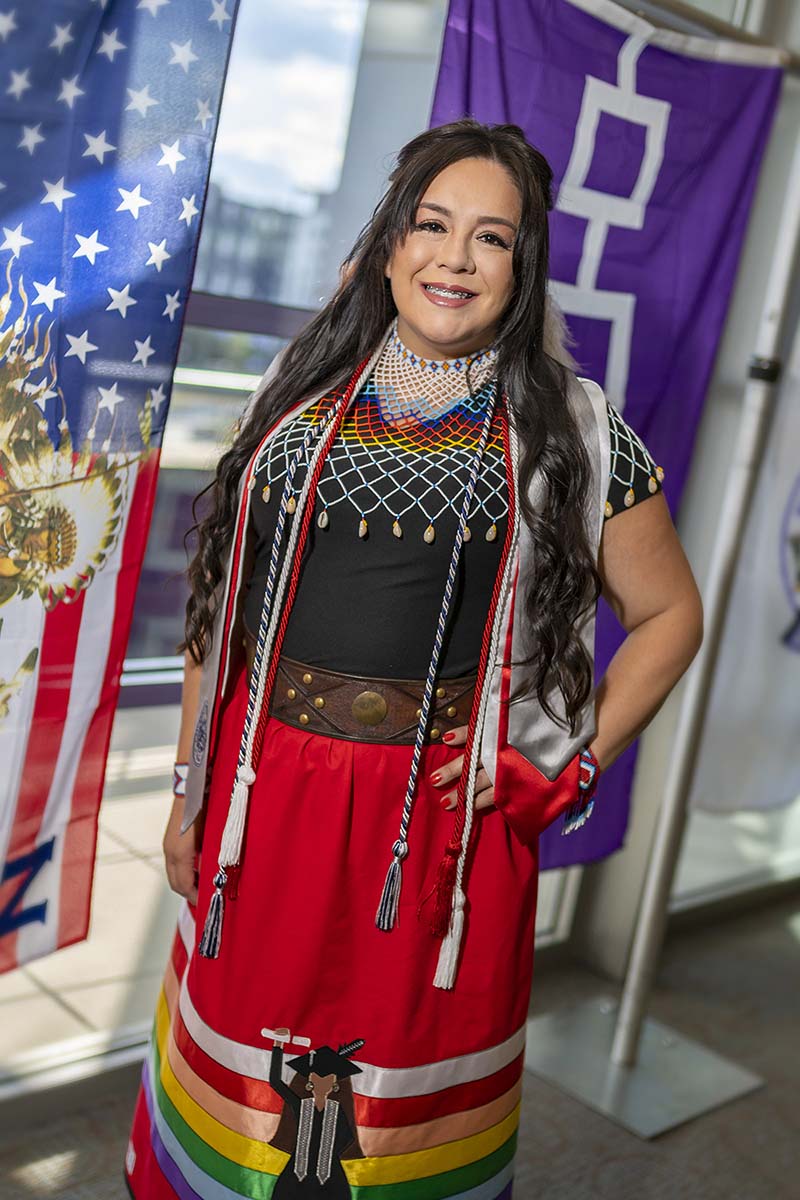 Thomas begins her doctoral program in Native American Studies at the University of California, Davis this fall, with potential plans to return to the region and continue teaching and preserving the Paiute language and culture after graduate school.
"This course continues the opportunities for language learning for students who take Paiute in high school and introduces people who might not be familiar with Nevada indigenous languages to the culture and history of the land on which the University stands," Thomas said. "I am proud to be considered a 'language warrior' and hope, through this class, others will also become language warriors along the way."
Burns currently teaches language courses at the Reno-Sparks Indian Colony and will embark on a new journey this fall, teaching college students on campus. A written form of Northern Paiute was developed by Burns and Cathrine Fowler, a linguist at the University, years prior. They also produced learning materials for Northern Paiute, which will be incorporated in the new Paiute language course.
The goal of the First Year Northern Paiute I course is to develop speaking, listening, reading and writing skills in the language, as well as to develop a deeper understanding of Numu cultural contexts.
The course is scheduled for the Fall 2019 semester from 5:30-7:20 p.m., Monday and Wednesday evenings.
"We are excited to offer Northern Paiute for the first time," World Languages and Literatures Chair Casilde Isabelli said. "Through the experiences and teaching from an elder of the Pyramid Lake Paiute Tribe, students will gain a better understanding and appreciation for the indigenous culture and history of our region."
Upon completion of this course, students will be able to:
Identify the Northern Paiute orthography and write basic sentences.
Produce basic linguistic structures of Northern Paiute, including sentence structure, agreement, basic verb tenses, and basic prepositional phrases.
Identify and describe the local Northern Paiute culture and its connection to the language, including connections to place and the Great Basin, traditional activities, kinship, and foods.
Produce basic sentences in Northern Paiute, including introductions of self and others, describing their families and relationships.
Comprehend spoken language in Northern Paiute and respond appropriately.
Read and understand short traditional narratives.
Compare U.S. and Northern Paiute cultures in regards to daily life, traditions, kinship, and foods.