The Department of Residential Life, Housing, & Food Service with the Nevada Career Studio and Nevada Dining hosted the first-ever "Closing the Deal" Interview Etiquette Dinner in recognition of their graduating seniors. This event was designed to provide seniors working in Residential Life and Housing and Nevada Dining with tips, advice and suggestions to prepare students for their upcoming roles as new professionals.
Broken down into a number of sections discussing different elements of interviews and salary negotiation, the event boasted numerous speakers, faculty and staff members, and resources to help students begin their professional journeys post-graduation.
"We're seeing a change in how interviews are done and how they're are being conducted," Jasmine Harris, operations manager for Residential Life, said. "So, I think it's important to prepare graduating seniors for those professional experiences, even if it is in a social environment. Having a dinner event was just one way to give students that experience."
Over a mocktail hour, meant to improve student's abilities to mingle and network with future employers, and a three-course meal, provided by Nevada Dining, students were taught the necessary information for their success. Information such as proper utensil placement, the dos and don'ts of interviews, as well as the correct ways to introduce and excuse yourself were all topics presented on.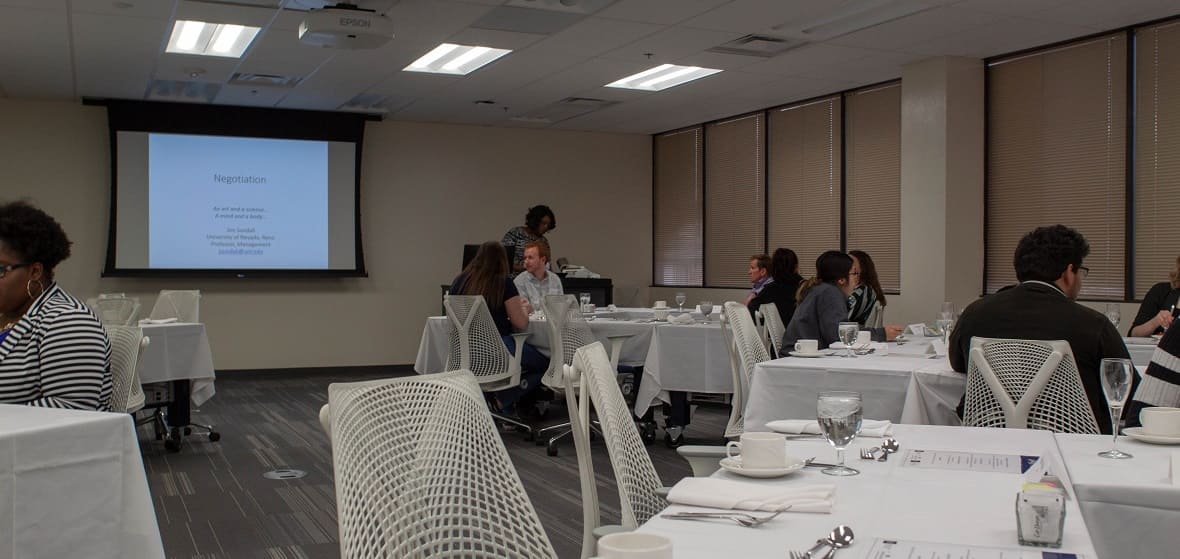 "This event prepares you for an event or interview, you may not have been expecting," graduating senior in the College of Science, Emily Salazar, said. "Learning about proper utensil placement, interview questions and other information is all really important knowledge that can aid students long-term."
"Having a meal at this event, also helps to make it less nerve-wracking," Salazar said. "Just having that comfort to get in the headspace for interviews, made this event a lot more enjoyable and casual."
During dinner, students were treated to presentations by the Nevada Career Studio, which aids students with finding jobs, preparing for interviews and drafting resumes.
"We really just want to get students prepared for what happens after graduation," Rania Plazas, coordinator of career education at the Nevada Career Studio, said. "This was the perfect opportunity to partner with Residential Life to inform students about different techniques and strategies that can lead to their success."
Following dinner, students were given the opportunity to participate in a salary negotiation exercise with College of Business professor of strategic management James Sundali.
"Ultimately, the idea for this event came from our desire and hope to prepare our seniors for moving out into the 'real-world,'" Darius Robinson, coordinator for Residential Life, said. "Negotiation skills and how to interact at a dinner, are all becoming more and more important within the interview world and we want to ensure that our seniors are prepared."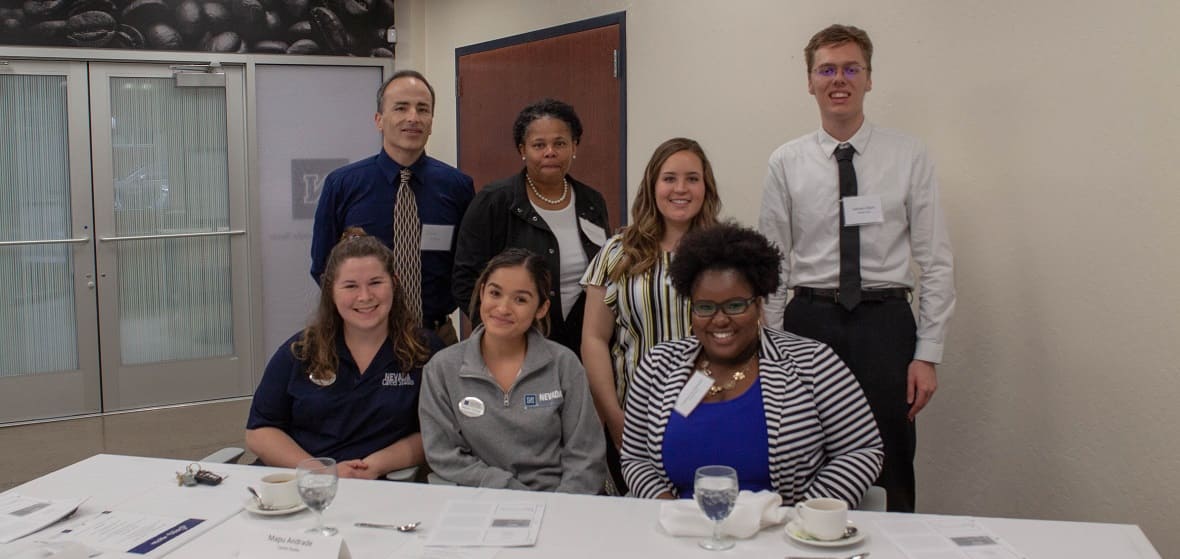 "As a student employee within student services, I remember the experiences that I had and still use them to this day," Harris said. "So, when Darius asked me to help develop this program, I really wanted to give that experience to our current student workers, especially those graduating and going on to be new professionals."
Currently, the "Closing the Deal" event is being planned on an annual basis for both spring and fall graduates within Residential Life, Housing, and Food Service. However, according to Robinson, the program could be scaled up depending on student interest.
"This was largely just a test run, right now we're are really interested in understanding how useful and sustainable this event can be" Robinson said. "After seeing today, I definitely think it can be, it's just about determining how to get students to see the importance of coming through a program like this. We're excited to get the feedback from our students and hopefully plan for next year's event."