Two students in the department of sociology at the University of Nevada, Reno are using undergraduate community research awards this semester to gain practical experience while helping the community.
Cortney Arrington, a sociology and economics major, works weekly on a survey for AmeriCorps to help the organization understand its volunteers. Heather Redman, a sociology major, is helping the City of Reno develop a study to compare neighborhoods and discover their relative sense of community. Both students are mentored by Department Chair and Professor of Sociology, Marta Elliott.
"This is a great experience for the students to learn how to do applied research," said Elliott. "Compared to basic science research - applied research skills are really good because they're linked to careers." Elliott is not only excited for her students to make an impact on their community, but also to help give these students real-world experience that they can take with them when they graduate.
As a mentor, Elliott meets with the students weekly to help them with their research projects. She has also developed important relationships with the respective agencies. "This is an example of community engagement at an undergraduate level. It builds relationships and can lead to a pipeline between liberal arts students and positions doing applied research in a variety of jobs in Northern Nevada."
The students are learning practical skills such as developing surveys and problem-solving, while being able to report meaningful data to their agencies. Arrington is using surveys to help AmeriCorps identify ways to recruit more volunteers. "You don't just start writing a survey - you have to do the research and do problem-solving step-by-step," said Arrington.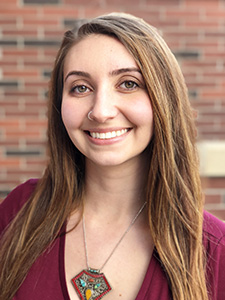 For Redman, her experience working with the City of Reno has been beneficial in building survey methods skills. "The wording of surveys is really important; I have learned a lot about that. You don't want to make people who are taking the surveys react and answer questions in a certain way," said Redman.
The City of Reno is attempting to achieve 4-STAR Community status. Redman is analyzing results of a previously dispersed survey and using those results to tailor questions in a new survey. The new survey, to be distributed in 2019, will ultimately report which communities around the Reno/Sparks area have cohesion and where improvements can be made to achieve a 4-STAR Community rating. The survey Redman is developing looks at community cohesion, civic engagement, perceived safety, public parkland use and satisfaction and senior satisfaction.
"It's really important that we make this survey so we can learn from it and not just to help us achieve STAR status," said Redman.
The most difficult part of the research project for Redman has been analyzing the results of the 2017 survey, which were based on zip codes, and now trying to section out those results based on city wards. If the results can be broken down into wards, it will give the city extra points towards reaching a Star Communities status.
"I think this opportunity is really awesome because it gives you so many connections. I've met so many people in the City of Reno from the State Demographer to council members," Redman said.
These connections are what Elliott stresses are most important to these research project opportunities. It's important to show local agencies the vast amount of talent we have on campus and to transfer "our knowledge and skills into working on real-life problems in our city and helping to solve them and work on them," Elliott said.