Six-time Primetime Emmy Award winner and Academy Award nominee Alan Alda was the keynote speaker at this year's University of Nevada, Reno's Foundation Banquet, which took place Tuesday, Oct. 3, 2017. Before the event, however, this actor-writer-director, for which he won an Emmy for each of these jobs, spoke to the Reynolds School of Journalism on campus about one of his lesser-known roles, his work as a science communication advocate.

Alda noted that while he was always interested in science, he explained how acting was what he was focused on. When forced to take a pre-med class, Alda humorously noted that on the final he "got a 10 ... out of a 100." This remark generated sympathetic laughs from the audience, the first of many throughout the 40-minute discussion.
His work in science communication was first realized on a national scale through his work on the PBS series Scientific American Frontiers, a show he hosted from 1994 to its conclusion in 2005. Alda attributed his success on this program to his unconventional interviews where he admitted to not preparing his questions in advance, something that struck a chord with the audience of journalism students who are taught the exact opposite. Another humorous remark during the discussion was when Alda recalled that scientists "were shaking him, shouting 'Alan, pay attention!'" This unconventional style contributed to the program's success because he said this allowed for more personal and intimate conversations and a certain sense of relatability to him and the scientists since most people at home weren't familiar with scientific concepts.
Another factor Alda mentioned was his work in improvisation, which he said wasn't just only useful in comedy. "Improv helps communication ... with everything," he stated. Alda actually worked with colleges and universities, most prominently Stony Brook University in New York State, to develop a series of workshops for scientists to better communicate their work with improvisation playing a major role in these workshops. One of the attendees at the discussion once attended one of the workshops and thanked Alda for his crucial role in its creation.
While the talk was focused on science communication, it didn't preclude Alda or the attendees from discussing his career in entertainment, Alda said that he was familiar with a procedure involving disconnecting and reconnecting parts of his intestine in Chile that saved his life because he had known about the procedure through his work on the legendary comedy M*A*S*H. Two student attendees praised Alda for his work in the online comedy series Horace and Pete. In another instance, Alda displayed a remarkable amount of humility for a star of Alda's caliber, jokingly asking the audience if anyone else understood the reference the student made when the student said, "In reality, you would have taken Jimmy Smits to the cleaners in an election," a reference to his role as a presidential candidate on the political drama, The West Wing.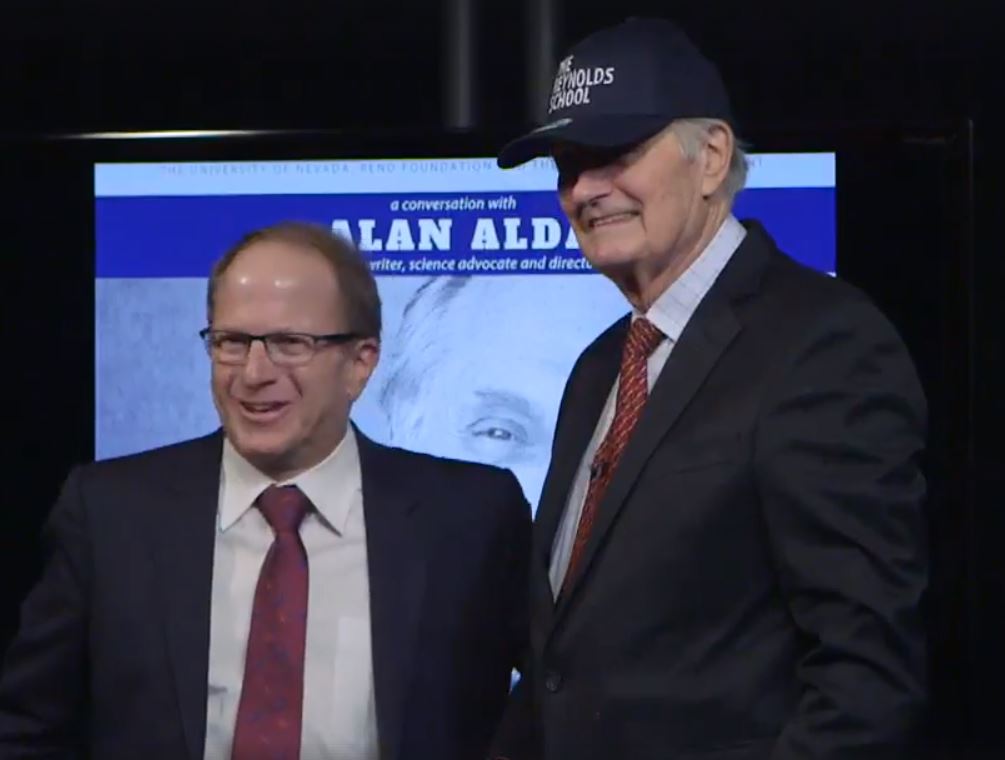 Alda's talk to the Reynolds School provided valuable insight and inspiration for all the emerging journalists. He stressed that journalists shouldn't view and report science as one objective truth, but as a journey to finding the truth, noting that scientists will sometimes reach to contradicting conclusions. He asked the students to produce works of clarity and vividness without "dumbing it down." Above all, he asked all those who attended to find commonality with interview subjects and with one another, as he stated, "The whole point of democracy is to listen to each other." Alda's discussion with the Reynolds School of Journalism was well-received and succeeded in sparking interest in science communication.