Core Humanities: Beyond the Classroom
Two student researchers reflect on a recent trip to Sigiriya in the mountains of Sri Lanka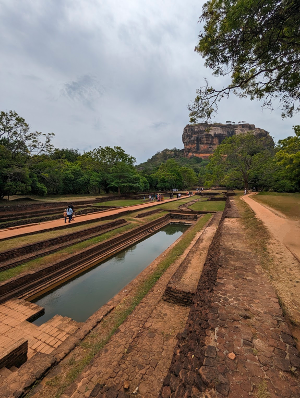 We all dragged ourselves out of bed at four in the morning, jumped on a bus that went through the mountains of Sri Lanka, and arrived at the footsteps of Sigiriya at around eight. We knew it would be hot out soon, and we were told the climb would take us at least an hour, so we started up the steps, some chiseled into granite a thousand years old, some built in the 1980's when it became a World Heritage Site and a tourist attraction, and we climbed. Below us were the ancient courtyards lined with perfectly laid brick walls, manicured lawns, and picturesque ponds; in front of us was the mirror wall, the cave frescos, and a six-hundred-foot ascent to reach King Kassapa I's throne. Fifteen-hundred years ago, tucked away in the tropical forest away from other cities and armies, King Kassapa I established the capital of his kingdom after murdering his father and exiling his brother.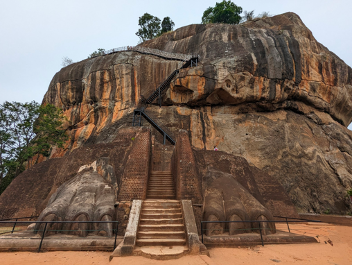 We first learned of Sigiriya over a year ago, in our Core Humanities (CH) class. As part of our Modern World History course curriculum, we read the history and stories of how this exact kingdom came to be, in a seemingly far, far away space we would likely never be able to visit. We learned about the "lion's fortress," the grandiose entrance to the towering capital with massive paws on either side and once a monstrous lion's mouth every visitor would have to pass through to enter. We also learned about the network of beautiful irrigation systems that include the surrounding gardens and bathing ponds at the top of the kingdom. We couldn't have imagined that one day we would actually have the ability to walk the grounds of this space and feel the stories we had previously read.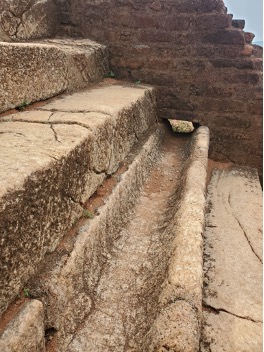 One of the things we noticed at the top was the intriguing irrigation systems around the complex. There were stairs with one step designed for carrying water to the bathing ponds and a set of drainage and other water passages all around. We sat at the main bathing pond, full of water, and reflected on the little details in the design that help us understand how people lived and we reflected on the hands that built the very kingdom we sat in. We slowly watched most tourists come to the heritage site to take a few pictures and look at the view, then turn around and begin their descent. It was during this time of reflection that we discussed how thankful we were to have previously taken our CH class as we learned about the little things like the irrigation system specifically at Sigiriya. We had no idea that taking a required class at the University of Nevada, Reno would ultimately direct us toward research opportunities that would help us travel around the world and enjoy something so unique.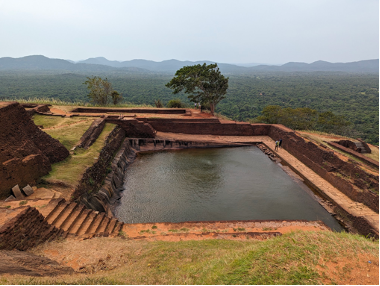 The opportunity to visit Sigiriya came from working with the Sri Lanka Wildlife Conservation Society where we and other students traveled to Sri Lanka to study different aspects of the Human-Elephant Conflict. While here, we visited Sigiriya as tourists but also had a different perspective as we were able to make connections with what we had learned about it in our previous class.
---
About the authors
Sebastian Krueger is an Environmental Science major and an undergraduate researcher.
Megan Schwartz is a Wildlife Ecology and Conservation student and undergraduate researcher.
Both students are completing their own research as a part of the University of Nevada, Reno's Sri Lanka Elephant Conservation Consortium 2023.