Pesa Natumusuano'o Year (A Good Growing Year)
Desert Farming Initiative intern Lance Owyhee shares his experiences working to advance food sovereignty
Hello, my name is Lance Owyhee. I am from the Duck Valley Indian Reservation where I am enrolled. I am from the Newe (Western Shoshone), Numu (Northern Paiute) and Diné (Navajo) people. I am a junior at the University of Nevada, Reno where I am studying Forest Ecology & Management and Wildlife Ecology & Conservation and minoring in Indigenous Studies. I am the Pack Partnership Food Sovereignty Intern at the Desert Farming Initiative (DFI) this year.
The Food Sovereignty Project at DFI began in late 2021. It was initiated by Indigenous students and supported by University of Nevada, Reno Extension.
Chauntelle Murphy, the first project intern, did initial research and helped establish the plantings we have now. I volunteered with Chauntelle in the spring of 2022 to get the plants we are interested in started. These plants include both varieties of cultural interest from the region, as well as ancient annual fruits and vegetables from the Southwest.
The regional plants I am most interested in are the elderberries, desert peach and Indian tea, because I am most familiar with them and they have shown lots of growth progress. I am interested in the other plants as well, but I still have lots of learning to do to understand them culturally.
We received the annual seeds from Native Seeds Search with assistance from Augustin Jorquez and the Center for Healthy Aging's Intergenerational Community Garden & Indigenous Food Program.
In summer, I was offered an internship by the Intertribal Agriculture Council (IAC) to start working for DFI. At the same time, I was working under Geoffrey Smith, a professor in the Anthropology Department, for six weeks in Central Oregon. There, I received more resources from the Burns Paiute Tribe and some paleoethnobotanists who were present. In the heat of summer, I was working hard to keep the plants at DFI weeded thoroughly and also track their growth.
At the end of my internship with IAC, I created a film about my experience and was also able to visit a local Natural Resources Conservation Service office to discuss work within the office, specifically the rangeland office. After my internship ended with IAC, I still was able to stay on at DFI with support from a University Foundation Pack Partnership Grant. I continued what we started and am now planning for future work along with our new hire, Tessa Smartt.
Tessa is from the McDermitt Paiute and Shoshone Tribe and a student here, working on this project with support from Extension. She has helped so much more by aiding in the plans for events, doing intensive weed management and working with me to save seeds.
The opportunity arose to expand the project in the beginning of the fall semester: I was able to get into contact with the local native community at the Reno-Sparks Indian Colony (RSIC). Stacey Burns, from RSIC's Language & Culture Program, helped us with our plans, along with providing teachings, lots of manual work and just good company. That sparked more projects and events. Our first event was a small field trip where we went out and gathered chokecherries at the end of their season, which we would use at another time.
Working on the Food Sovereignty Project has also given me a chance to let my voice be heard, as well as implement cultural practices. Other things I have done in this project include things such as:
Attending different panels to speak about my opinion on the project, including a panel on Food Security and Racial Justice hosted in September by the University's Gender, Race and Identity Program
Being interviewed by Edible Reno-Tahoe
Creating various events for students and community members
It has been a great experience so far, and there is just so much to do.
PABA TUKA (BIG EAT)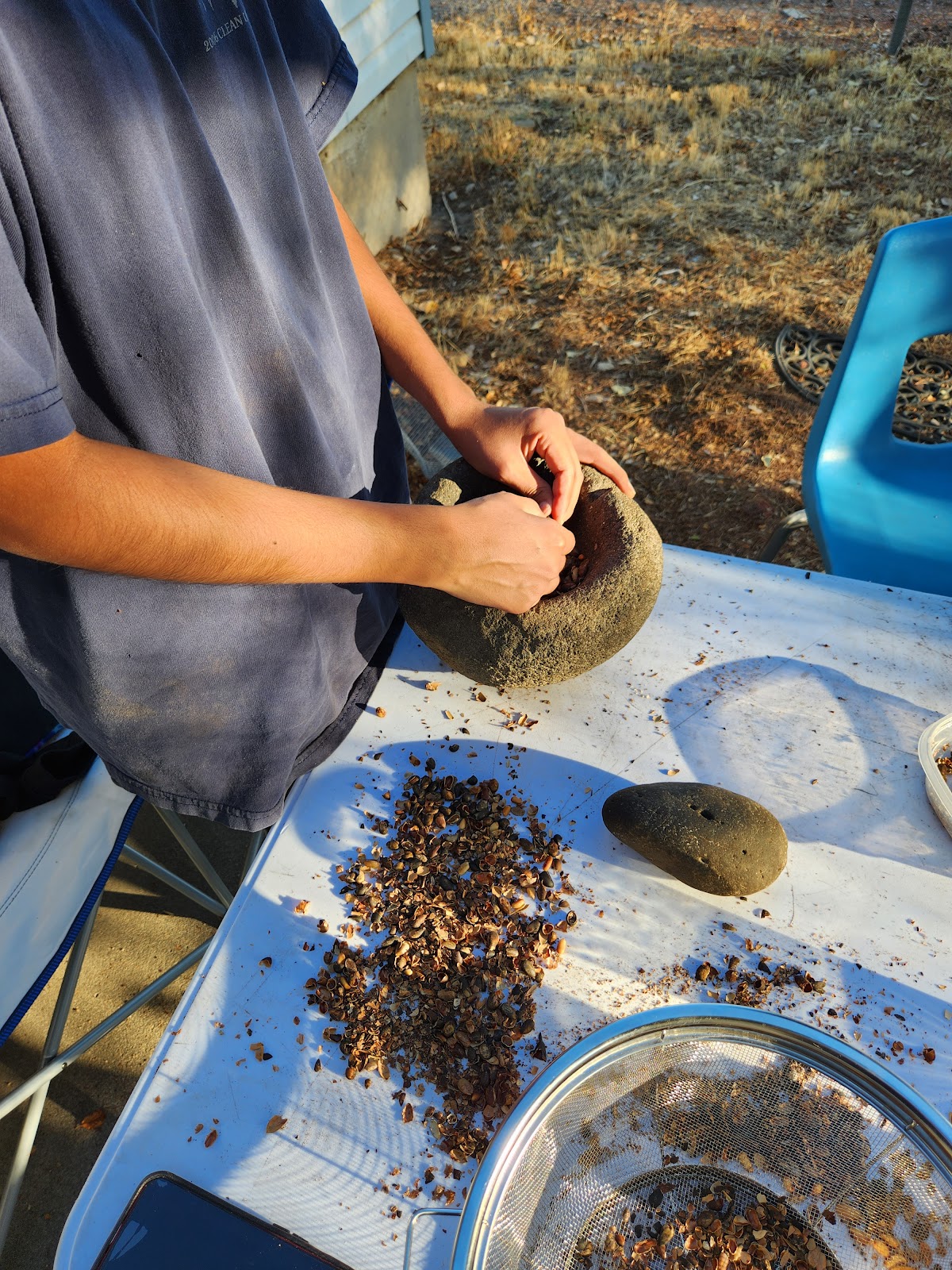 My favorite thing we have done in this project is the feast which we had on Oct. 18. We were able to invite students and those who have helped us along in the project as guests and also as participants. A crucial part of this event was to serve Indigenous foods, including from the plants we have gathered. We also offered times during this event where we invited students and people to come and learn how to prepare these foods traditionally with a modern twist.

There was chokecherry pudding, deer roast, pine nut soup, Indian tea and many other foods that were shared. It took a lot of work, especially the pine nut soup. That took an entire day to prepare for the cooking on the Sunday before the event.

Stacey Burns, along with her crew and elders, such as Gracie Dick and Dean Barlese, helped us a good amount to make sure all the food was prepared well. They also taught us the cultural significance of the traditional foods we made.

It was a busy couple of days which included drying chokecherry patties, roasting pine nuts over a fire and making fry bread for 50+ people, but among all of that work was good laughs and community. With all of that accounted for, the event ran smoothly. Guests were able to tour our planting areas, check out past accomplishments, give thanks to all those who helped prepare the food and also view my film as they all ate. We plan in the future to have more events just like this where we are able to harvest and share the foods and knowledge we have learned.
COMING SOON
We have some plans that we want to execute for the spring semester, as well as the rest of fall semester. Some events will be open to the community, and some will be kept under wraps to protect cultural areas and practices. There are some more plants we would like to work with and also figure out how they were used culturally from our elders. There is still so much more to learn and do in this project; it is crazy to see how fast and expansive it has become since the beginning of the year.
---
About the author
Lance Owyhee is from and enrolled in the Duck Valley Indian Reservation. He's from the Newe (Western Shoshone), Numu (Northern Paiute) and Diné (Navajo) people.
A junior at the University, he is studying Forest Ecology & Management, Wildlife Ecology & Conservation and Indigenous Studies.
Lance works for the College of Agriculture, Biotechnology & Natural Resources' Experiment Station unit as the Desert Farming Initiative (DFI) Pack Partnership Food Sovereignty Intern. This internship and other innovative student employment at DFI are made possible by a Pack Partnership grant from The University of Nevada, Reno Foundation.