Newsletter
Dear MBA Students, Alumni and Faculty,
We hope you all had a wonderful holiday season with family and friends and are staying warm in the snow! We are looking forward to welcoming you back for the spring 2023 semester. With a total of 167 students, the MBA program continues to be the largest on-site graduate program at UNR. We are grateful that this newsletter can focus on the accomplishments of the program.
December 2022 Graduate Spotlight
We are so excited to spotlight two recent MBA graduates and duo – Lan Le and Wen Ruan!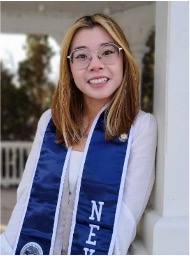 Can you please tell us a bit about yourself, your career, and why you chose to pursue an MBA?
Hello! My name is Lan and I graduated with my B.S. in Computer Science and Engineering back in 2020 but wasn't happy with only coding for the rest of my life. I wanted to do something more and thought going through the MBA program would give me more direction.
What professional goals do you have in mind now that you hold an MBA?
I am currently working at a startup fintech company and the MBA couldn't have been more helpful. There have been countless times when industry knowledge is necessary to code a script and being able to understand the different terminology has given me a leg up to complete my work. Going forward, I hope to be able to use more of what I learned and help share my industry knowledge with my peers.
What have you found most rewarding about your educational journey?
I was fortunate enough to participate in the Nevada Global Business Program to study with some students in Toronto, Canada. I had taken most of my classes through Zoom due to COVID, so being able to meet people again and build connections and friendships with some of my peers is something I cherish a lot.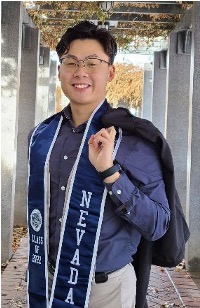 Can you please tell us a bit about yourself, your career, and why you chose to pursue an MBA?
Hi, I'm Wen. I am a graduate here at UNR for both my undergraduate and graduate studies. I have a passion for software development and all technology in general. As a software engineer, I find that while I may have strong technical skills, I lack many soft skills to push my professional career further. I decided to pursue an MBA because it allows me to learn these soft skills as well as round out my knowledge of how to manage a team and business.
What professional goals do you have in mind now that you hold an MBA?
Now that I hold an MBA, I want to take my career further by moving towards more management positions in my field. I want to lead a team to create amazing software products that will create a lasting impact on the world. An MBA opens up more opportunities for my path to grow as a professional.
What have you found most rewarding about your educational journey?
As cheesy as it may sound, I have found the connections I've made to be the most rewarding. I've learned a lot throughout my academic journey but I wouldn't have made it without those who stood beside me along the way. Networking is very important in all professional careers and being able to take advantage of the collection of individuals striving towards the same goal really makes this worth the time. Those connections are worth more than any of the degrees I hold.
Thank you for all your contributions, Wen and Lan! We wish you the best in your future endeavors!
Congratulations, MBA Class of 2022!
Our alumni family grew by 34 this past winter. Congratulations to all our UNR MBA graduates. You have done an amazing job through these challenging times. Your grit, determination, and resilience will take you far!
Welcome new MBA students!
Introducing the class profile, we are thrilled to welcome 33 new MBA students into the program. The group has an average of five years of work experience to draw on as they move through the program, and seven have already completed an advanced degree or have earned a professional certification. We are also proud to welcome five international students from Iran, Nigeria, Bangladesh, Kenya, and Zambia!
New Nevada Global Business programs!
This spring break, Nevada Global Business will host a new trip to South Korea. Students will spend seven days in Seoul and Busan, exploring Korean culture and learning about historically significant locations.
Over the summer, there will also be new trips to Istanbul, Turkey and Warsaw, Poland. Topics explored include entrepreneurship, international business, economics, and political economy. To reserve your space for any 2023 Nevada Global Business program, please add yourself to our list.
On behalf of the College of Business and MBA team, we wish you a healthy and productive spring semester!
Sincerely,
Kambiz Raffiee, PhD
Associate Dean for Graduate Programs and Research Director of MBA Programs
College of Business