The Lilley Co-Lab
Opening April 24, 2023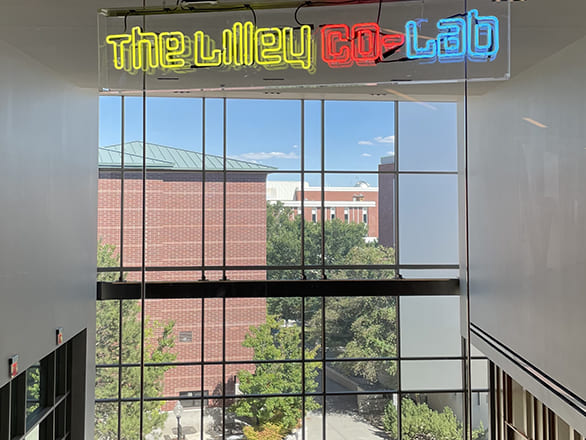 The Lilley Co-Lab is an audience-centered curatorial experiment where we encourage visitors to the Lilley Museum of Art to share their thoughts, feelings, and responses to our permanent collection. Shifting away from a traditional approach to installing a collection, this participatory exhibit allows for an open exchange of ideas that aims to enrich the museum experience for everyone. The goal is to learn from one another, revitalize the museum space, and share the Lilley Museum of Art's collection in a new, expansive way. Opens April 24, 2023.
Linda Alterwitz | Injection Site @ Front Door Gallery
March 27 – June 25, 2023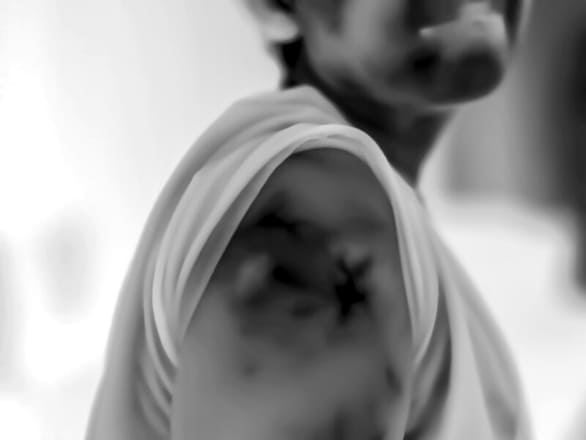 Injection Site: Making the Vaccine Visible, an ongoing series by Linda Alterwitz, invites viewers into the inner workings of the body, in a series of illustrations about how the COVID-19 vaccine reacts in peoples arms at the site of injection. In this remarkable photographic study, the artist uses a high-resolution thermal camera to document and track the body's reaction to the vaccine. The resulting photographs reveal unique immunological responses, and provide an entry point into a dialogue about public health, personal choice, and our responsibility to one another.
Oh, Joy! | The Collection of Margo Piscevich
June 5 – August 12, 2023
This exhibition traces the collecting history of local collector, Margo Piscevich, featuring remarkable works from regional, national, and international artists.
Where the Water Was by Anushka Peres @ Front Door Gallery
July 31, 2022 through September 25, 2023
This multi-media installation by artist Anushka Peres proposes a multitude of possibilities for a reimagined landscape.
Guillermo Bert: Groundwork
September 5, 2023 – January 7, 2024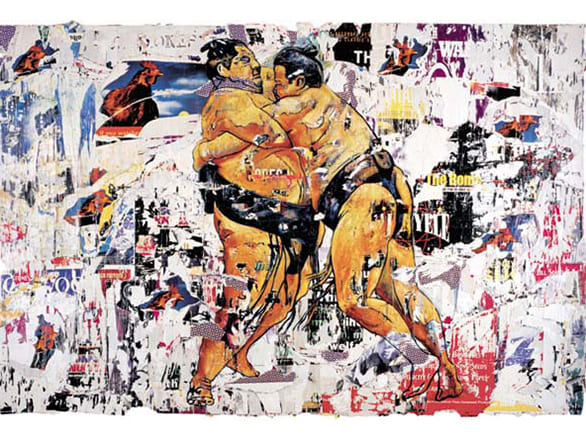 Guillermo Bert makes artworks that explore the endurance of immigrants who have left their home countries behind. Rooted in his personal story, his primary focus has been the experiences of people and families who enter the United States along the U.S. – Mexico border. His artworks draw metaphorical relationships between the journeys of migrants, harsh and empty desert landscapes, and the commodification and objectification of American values. This mid-career survey includes artworks in a variety of traditional and contemporary media that are drawn from the entirety of Bert's career, as well as new works produced exclusively for this exhibition.
In his multi-media and conceptually layered works, Bert addresses the ways in which colonization and capitalistic systems contribute to cultural displacement and the loss of Indigenous identities, traditions, and religions. In series such as Encoded Textiles and Border Zone, Bert keeps old traditions alive through new technology, enticing the viewer to actively participate in his art while simultaneously transporting them into the realities of others. Through his different series, he gives voice to people who have been marginalized, silenced, and overlooked.
Bert was born in 1959, raised in Santiago, Chile, and left his home country in the early 1980s before immigrating to Los Angeles in 1981 in search of a more open and inclusive society. Bert worked as an Art Director at the Los Angeles Times and taught art at the Art Center School of Design in Pasadena, California, before dedicating his time exclusively to his own art and design.
A companion exhibition featuring Guillermo Bert's work will be on view at Nevada Museum of Art from August 26, 2023 - January 14, 2024.
Iyana Esters @ Front Door Gallery
October 23, 2023 through January 1, 2024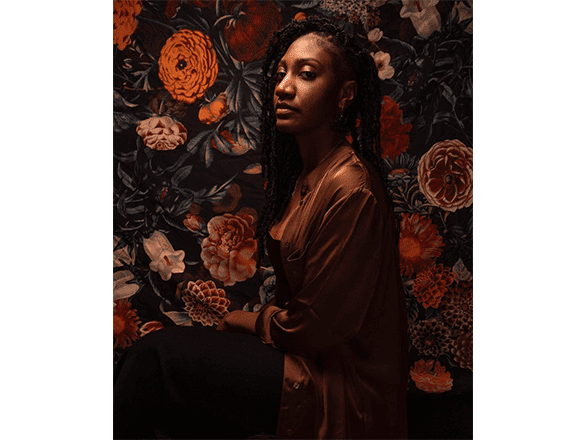 Iyana Esters is a visual storyteller from the United States. She combines art with her expertise in public health to empower Black and other marginalized communities, using photography as a lens to document the human connection and disconnect of nature and storytelling about gender, sexuality, and spirituality in Blackness. An emerging photographer, Iyana works primarily in long-form photography and documentary.
Resilience: A Sansei Sense of Legacy
September 9 through November 15, 2024
In 1942, in response to the bombing of Pearl Harbor by Japanese forces, President Franklin D. Roosevelt signed into law Executive Order 9066. The law ordered the forced imprisonment of all Japanese Americans living on the west coast of the United States, which has the second largest population of Japanese people living outside of Japan.
In the years following the order's retraction at the end of WWII, expatriate Japanese families and individuals were forced to come to terms with lost property, the shame and indignation of incarceration, and the task of re-integration into a society that had expelled them. After their release from the incarceration camps that dotted the American West and Midwest during the war, Japanese Americans used the phrase Shikata ga nai—it cannot be helped—and the word gaman—to persevere and stay silent—to speak to their resilience against the losses they incurred at the behest of Roosevelt's order.
Told from the point of view of Sansei (third generation) Japanese Americans, Resilience—A Sansei Sense of Legacy is an exhibition of eight artists whose work reflects on the effect of EO9066 as it resonated from generation to generation. While several of the artists in Resilience employ traditional Japanese methods in the construction of their work, others use iconography relating to Japanese culture as a jumping-off point for personal explorations on the subject of the incarceration camps. Each in their own way, the artists in this exhibition express moments of deeply felt pain and reluctant acceptance, emotions which were often withheld by their elders.
Co-curated by artist Jerry Takigawa and Gail Enns, Resilience was conceived to serve as a catalyst to cultivate social dialog and change around the issues of racism, hysteria and economic exploitation still alive in America today. The artists featured in Resilience were selected because of their personal connection to the subject matter, because their work is well respected within the Japanese American community as well as within the art world, and because of their activism on the subject of incarceration camps.