Jobs
The University Police Department offers many hiring incentives including a full benefits package and paid credits toward a college degree. Officers also have opportunities for special assignments, such as: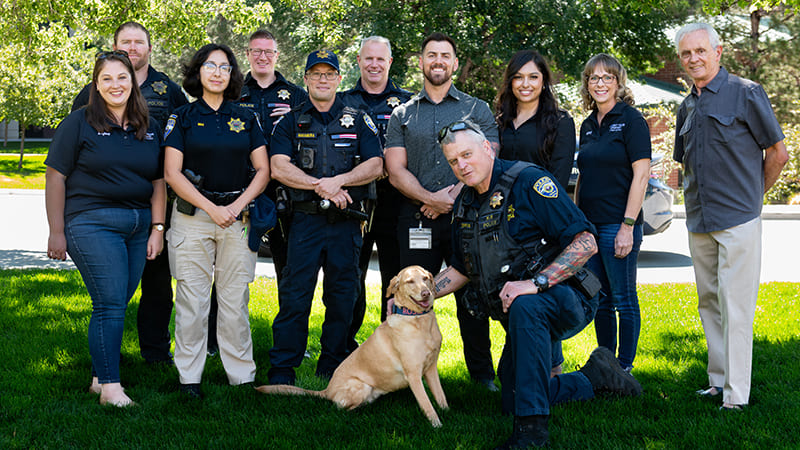 Bike Patrol
Traffic Enforcement
Sexual Assault Awareness
Reno Crisis Intervention Team
Uniform Crime Investigators
R.A.D. and Girls on Guard Instructor
Regional Street Enforcement Team
K9 Handler
Motor Unit
The University hires only U.S. citizens and aliens lawfully authorized to work in the United States.
The University of Nevada, Reno is an equal opportunity, affirmative action employer and does not discriminate on the basis of age, race, color, creed, disability, national origin, sex, religion, sexual orientation or veterans' status in any program or activity it operates.

The University participates in the 30x30 Initiative, a program dedicated to advancing women in policing by having 30% female recruits by 2030.
Currently hiring
Police Officer I and II
These full-time police officers work under general supervision. These officers are responsible for:
Conducting traffic investigations.
Conducting criminal and non-criminal investigations.
Preparing for security and law enforcement activities surrounding special events.
Preparing for appearances in court.
Performing maintenance on assigned equipment.
Officers will perform other journey-level law enforcement duties and special assignments as needed.
Police Officer I listing on Workday
Police Officer II listing on Workday
Filled positions
We are currently not hiring the following positions at this time. Please check back later for updates on future employment opportunities.
Reserve Officer
University Police Reserve Officers must complete a Reserve Academy and be sworn as law enforcement personnel. Reserve Officers work with full-time officers to provide extra security at large events such as football games and other special assignments.
Campus Security Officer
Security officers are responsible with the following:
Provide security for state buildings and grounds
Provide protective services to buildings and occupants
Enforce applicable laws, rules, regulations and policies
Apprehend offenders
Maintain security of assigned buildings or facilities and surrounding property by conducting visual surveillance through direct observation
Monitor State property, displays and individuals entering and leaving buildings and take appropriate action according to department policy
Patrol buildings and grounds checking windows, locks, doors, and security systems for damage or possible breach of security
Follow established procedures and guidelines when security or safety violations occur