NevadaToday
Welcome to the Spring 2022 semester For more than 20 months now, the sacrifices that you have all made, compassion you've shown one another and your undaunted determination have furthered our academic mission in the face of extreme challenge.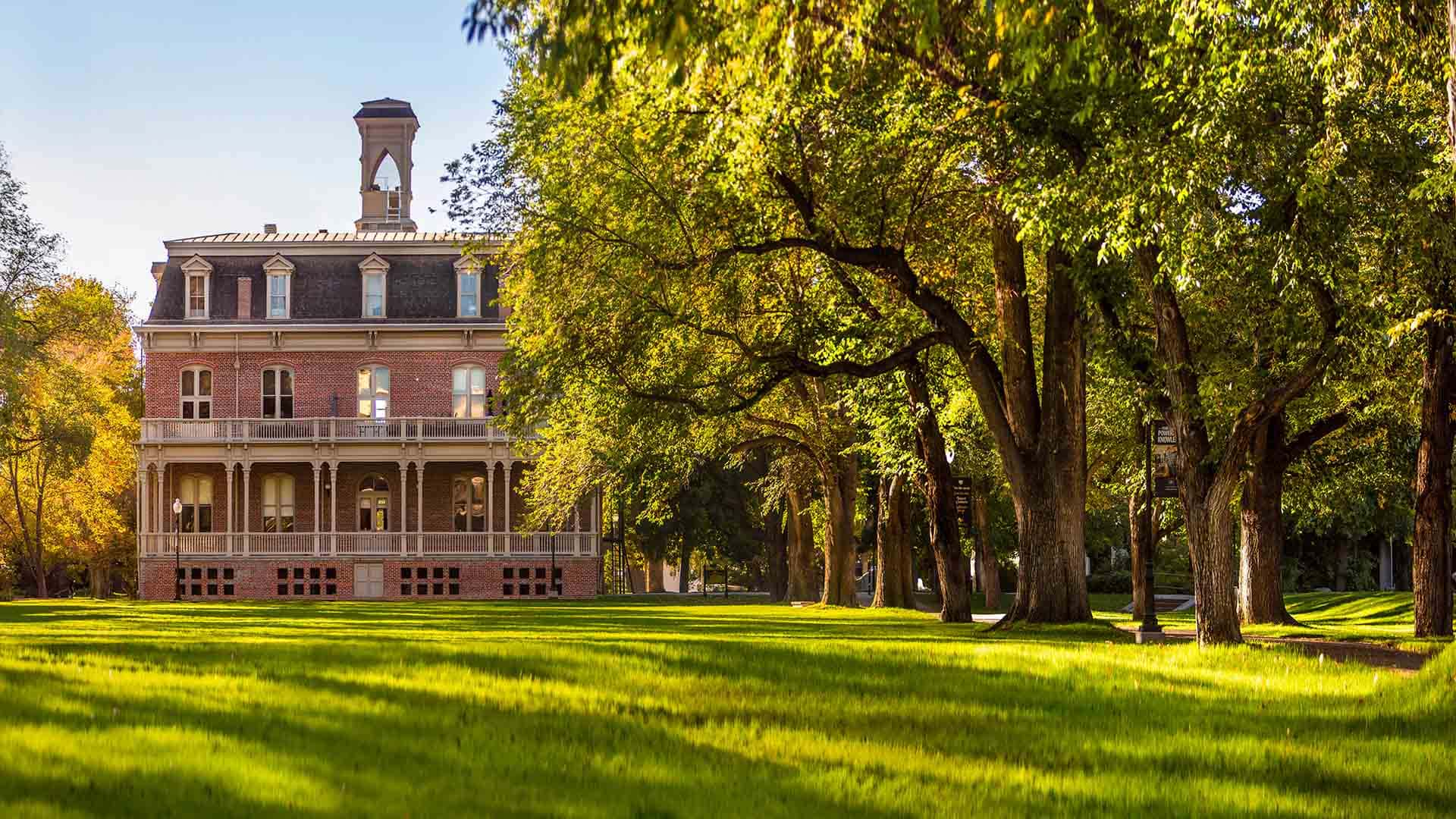 Welcome to the Spring 2022 semester
For more than 20 months now, the sacrifices that you have all made, compassion you've shown one another and your undaunted determination have furthered our academic mission in the face of extreme challenge.
January 18, 2022
Dear Wolf Pack Family,
Welcome back to the start of the spring 2022 semester! As we begin the semester with in-person instruction and in-person operations (programs and services), I hope that this message finds you and your loved ones well. For more than 20 months now, the sacrifices that you have all made, compassion you've shown one another and your undaunted determination have furthered our academic mission in the face of extreme challenge. I am grateful and proud of the resiliency shown by our Wolf Pack Family.
The life of our campus will again feature the dual paths that we have been following since last fall: ensuring the health and safety of our people while successfully providing a high-quality educational experience that furthers our institutional mission.
Plan for spring semester
Our plan for the spring semester includes in-person instruction and in-person operations while utilizing the public health measures that have proven to be effective in mitigating the spread of COVID-19 – vaccinations, testing, masking, a continued commitment to disinfecting and cleaning public spaces, improved air filtration in our buildings, as well as providing isolation rooms for students living on campus who test positive for COVID-19.
We continue to follow the latest public health mandates and requirements set forth by the State of Nevada, Washoe County, the Nevada System of Higher Education as well as recommendations from the federal level including the Centers for Disease Control (CDC).
To date, more than 18,000 of our students are fully vaccinated, as well as 98 percent of our employees. Both of these figures are much higher than the vaccination rates in Washoe County and the state of Nevada.
The vast majority of our students have been very clear in their wish to have an in-person educational experience, which we delivered successfully during the fall semester with public health measures in place to protect our Wolf Pack Family.
Associated Students of the University of Nevada President Austin Brown
The Associated Students of the University of Nevada (ASUN) President Austin Brown, recently provided the following comments that demonstrate the student body's sentiment on the importance of in-person instruction:
"After listening to thousands of students as the ASUN Student Body President, I have heard time and time again that students are beyond excited to be starting their semester physically in the classroom. Students feel the quality of their education is much more scholarly, and the interactions they get from face-to-face experiences with classmates, faculty, and hands-on opportunities cannot be matched in an online setting. While students have expressed some concerns for the return, there has been much more optimism for keeping our campus, on campus.
The mission statement of the University reads, 'the University of Nevada, Reno provides outstanding learning, discovery, and engagement programs that serve the economic, social, environmental, and cultural needs of the citizens of Nevada, the nation, and the world.' As an invested student leader, an overwhelming majority of students have expressed to me a deep concern of online learning as it jeopardizes the mission of our university and the ideals we strive to obtain.
While the future of our Wolf Pack family is uncertain, I am certain of the resiliency of our students, faculty, and staff to remain safe and in person this spring semester. Myself and the rest of the ASUN Officers are eagerly looking forward to seeing you all on campus for the first day of instruction.
Go Pack!"
President of Graduate Student Association Matthew Hawn
The following was provided by Matthew Hawn, President of the Graduate Student Association (GSA) of the University of Nevada, Reno:
"During the beginning of the Fall 2021 semester, some students were initially nervous to return to campus due to the increase of COVID cases in early August likely due to the delta variant. However, once the Fall semester began and throughout the rest of the semester, the Graduate Student Association (GSA) saw record numbers of students participating in GSA-sponsored events. These record numbers came from the sense of longing for face-to-face interaction and wanting to feel a part of the Pack community.
Regarding scholastic endeavors, Graduate Students who were hired as Teaching Assistants (TAs) for the Fall semester were especially worried about the amount of variability teaching a room of 30 – 100 students could have on their personal and household's health. However, every time I spoke with a TA after the beginning of the semester the TAs were shocked about how empathetic their students were to their instructor. Many students showed responsibility by staying home when feeling sick to ensure that their instructors and fellow students would not catch COVID. On the flip side of the educational coin, individuals who work as Research Assistants (RAs) stated that their professors went above and beyond to ensure if students in their respective labs needed to stay home due to a COVID-related concern they were afforded that opportunity. Additionally, lab partners and co-workers were informed in a timely manner if they needed to test for COVID or if it was recommended to stay home as well.
As a student leader, I have heard that students and faculty were nervous about COVID; but once the semester began, empathy and compassion were seen on both sides when it came to the student services available around the pandemic. Students want to do the right thing when it comes to COVID. The Student Health Center has been instrumental to this process and with on-campus testing sites remaining in place, students can make the right choice. Additionally, the Counseling Center has become an invaluable resource for Graduate Students who struggled with loneliness and depression during the height of the pandemic and continues to act as a support mechanism for the University.
Students want to return to campus to be a part of the Wolf Pack Community and learn what it's like to be a part of the Wolf Pack Way. With the resources provided to students through the University and the empathy that our students and faculty show, I am certain that we can return to campus in a safe and effective manner.
Go Pack!"
Reminders for spring semester
Throughout early January, the University communicated many of the aspects of our plans for in-person instruction and in-person operations. Here are a few reminders as we start the spring semester:
Isolation periods
The Centers for Disease Control (CDC) recently made changes to its recommendations for isolation for the public. We have updated our COVID-19 website with the latest information and guidance for students/class attendance as well as supervisors/employees and classroom instructors.
Campus resources
Vaccinations. The University strongly encourages all individuals who are unvaccinated to get fully vaccinated, and those who need a booster to get their booster as soon as they can. Vaccination has proven to be the most effective tool in ensuring that severe illness and hospitalization are avoided. The Student Health Center is offering free vaccinations and booster shots to all students, faculty and staff. Call (775) 784-6598 to schedule your appointment. You may also find a local provider through Immunize Nevada or the CDC's VaccineFinder tool.
Testing. The Student Health Center, through an agreement with Northshore Clinical Labs, is also offering free daily COVID-19 testing from 8 a.m. to 4 p.m., Monday through Friday, to students, faculty and staff. No appointment is necessary. You must have your NSHE ID or employee ID available and complete a registration form prior to testing. The University has plans to expand testing availability to additional campus sites at the start of the semester based on demand.
Counseling and therapy services. Counseling and therapy services are available to students, faculty and staff. Students are encouraged to reach out to Counseling Services. The Employee Assistance Program is available for employees.
Mask mandates
Indoor mask mandate still in place:
Our campus will continue to comply with the State of Nevada's mandate that requires all students, employees and members of the public to wear facial coverings indoors in public settings, including classrooms, regardless of your vaccination status.
For your protection and the protection of others, the University is strongly recommending that individuals use a surgical (or "procedure") mask or higher (N95, KN95 or KF94) rather than cloth or homemade masks. Additional information on mask types can be found on the CDC website.
On-campus housing
Negative COVID-19 tests required. A negative COVID-19 test was required before students were allowed to move into our residential communities for the spring semester. Also, residents who are not fully vaccinated will be responsible for weekly COVID-19 testing and may be excluded from campus if outbreaks occur.
Quarantine or isolation at-home. Students in on-campus housing who test positive or have a confirmed exposure are strongly encouraged and—if the university deems it necessary—may be required to quarantine or isolate at home.
Isolation wings. For students who cannot quarantine or isolate at home, we have isolation wings available in the event isolation is needed. We first established this practice during the fall semester of 2020 and continue to have it available if needed.
Employee and course management
We are prepared to manage any potential disruptions regarding in-person course delivery in a variety of ways, including guidance for students and employees, as well as policies and procedures related to classroom management when illness or exposure occurs. Our contact tracing procedures remain in effect.
Instructors shall not conduct their classes remotely unless they have received a specific public health directive to do so or have received permission from the Office of the Provost.
Monitoring public health updates
In addition, we will be monitoring very closely any public health changes. We will be prepared to proactively make any adjustments necessary to ensure the health and safety of our people. Should the Governor, Washoe County Health District, other governmental entity, Board of Regents, the Chancellor or I require that classes be moved to entirely online or another mode of delivery, there will be no refund of tuition or fees.
We are at a much different place now compared to two years ago in terms of our knowledge, understanding and strategies and tools that we can use in mitigating the spread of COVID-19. The substantial medical and public health advances, as well as the public health measures noted above on our campus over the past two years are helping us deal with the COVID-19 pandemic in a proactive manner as we begin this semester.
It has been said many times that our campus is like a shining beacon on the hill, a wonderful example to our city, northern Nevada and our state that when people from a wide range of backgrounds come together in search of a common goal, an uncommon amount of good always follows. I am eternally grateful and extremely proud of all of your actions and all of your achievements throughout this historically challenging time.
Let's continue to look out for one another, and to Protect our Pack throughout the course of what I hope is a safe, successful and enriching semester for all of you.
Go Pack!
Sincere regards,
Brian Sandoval
President