The University of Nevada, Reno's student-run club Wolf Pack Taiko was established in the spring 2022 semester by current club President Juliann Schultz and Ambassador Lisa Cervantes.
"When I enrolled at UNR as a freshman, it was in the middle of the pandemic, where all classes and clubs were over Zoom," Schultz said. "Spring of 2022 was around the time people started to interact with each other again, and with the help of my ambassador Lisa, I was able to create this club."
Taiko drumming is a traditional style of choreographed Japanese drumming that has been around since 6th century CE and was used for events like wars, ceremonies and rituals.
"The use of Taiko drums dates back 2000 years. Taiko drums have been used in everything from communication, religious rituals, court music, kabuki theatre, warfare, town festivals and most recently in kumi-daiko (ensemble style Taiko)," Treasurer Israel Cruz said.
In the Wolf Pack Taiko Club, the members focus more on the ensemble style of Taiko drumming, which can often include many different sizes and forms of drums.
"When Juliann mentioned that she would be making a club on campus where she would teach Taiko drumming to students, I got more interested in what made it special," Cervantes said. "I looked up videos of her performances and watched how amazing she was to be able to communicate this art to so many different people."
Schultz has been playing Taiko for almost a decade. She started playing in Las Vegas with Korabo Taiko, but wanted to get involved to express herself and feel more connected with her Japanese heritage.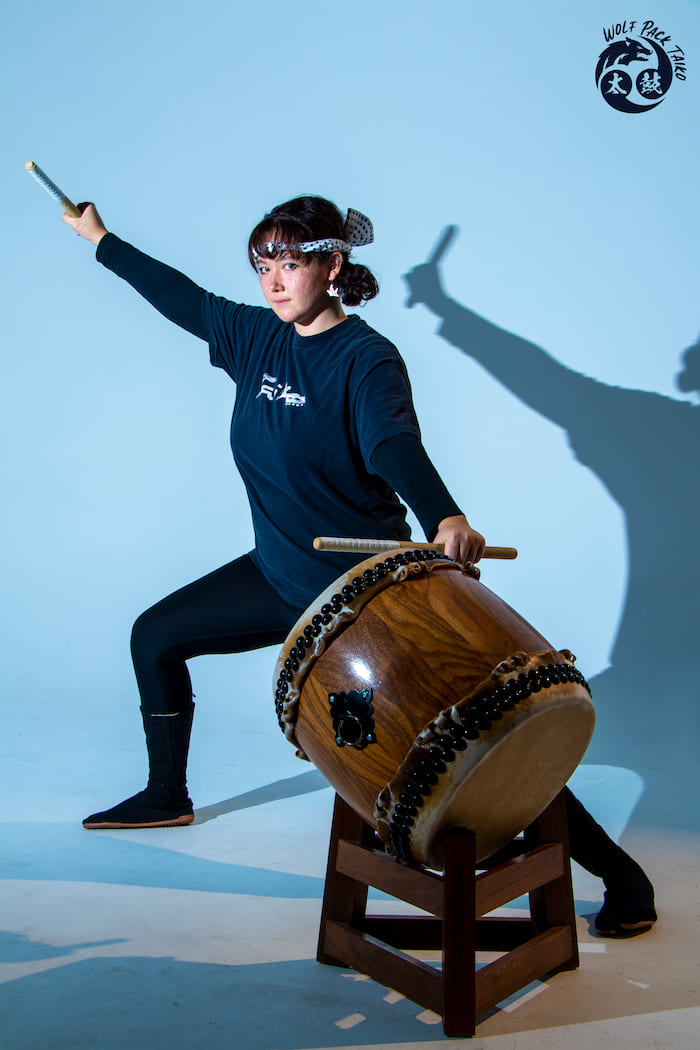 "I have been playing Taiko for about eight years now and it has been a very important part of my life. Not only have I made the best of friends and connections within Taiko, but my favorite memories involve Taiko drumming," Schultz said. "My favorite performances have been at the Cirque de Soleil, performing the halftime show of the MGM Resort NBA Summer League and performing for the grand opening of the Resorts World Las Vegas Casino."

Cruz got involved by hearing about Taiko and watching videos of it online before seeing promotional flyers for the Wolf Pack Taiko Club around the University campus.

"One day I saw a flyer for the club outside my Japanese class and from then on, I've enjoyed every second of it. Getting to feel and create such strong energy, it's hard not to get hooked, especially when you get to share that experience with such great people," Cruz said.
Modeled to sound like rumbling thunder, Taiko drumming normally reaches around 120 decibels, a sound pressure level that can be equated to that of a bulldozer or motorcycle.
"The art combines both the power of the drum and the flow of the human to make both a visually and sonically pleasing performance. Both experiencing others perform and making a performance yourself is amazing," Cruz said. "Feeling the power of the drum in your chest and seeing the smooth choreography is something you should not go without experiencing."
Taiko drumming, for these officers, goes beyond the music. For the three of them, they also found a close community of friends who all enjoy bringing music and culture to a larger community.
"I love how this club can create a close-knit community within our group and reach an even bigger community every time we perform," Cervantes said. "Whenever we go out and play, we are always greeted by our supporters, making everything we do for the University, even if we make a small difference, worthwhile."
The club encourages anyone to join and stresses that a musical background isn't necessary to enjoy and be successful in Taiko drumming performances.
"You don't need any background in music to join. A majority of all of our Taiko performers never had any kind of musical experience, and they perform amazing! Even though I've been in this club for about two years now, I already appreciate how much I've learned about this art and the culture that it creates within such a small group," Cervantes said. "For me, Taiko is an outlet for all types of people to express themselves and spread hype and happiness."