The significance of a moment
"This year, the University of Nevada, Reno was transformed with the most generous gift in our 148-year history. Located in Incline Village and just a short walk from shores of picturesque and iconic Lake Tahoe, we are deeply grateful to include the Wayne L. Prim campus at Lake Tahoe as part of the University of Nevada, Reno. The stunning location and the 50-plus year legacy of Sierra Nevada University will be preserved as the University of Nevada, Reno at Lake Tahoe. This new location will provide our students and faculty one of the most beautiful, inspiring and important learning environments in higher education today."
Those were the words of President Brian Sandoval '86 (English) at September's State of the University Address as we marked this landmark milestone and the yearlong process of making the University of Nevada, Reno at Lake Tahoe a reality.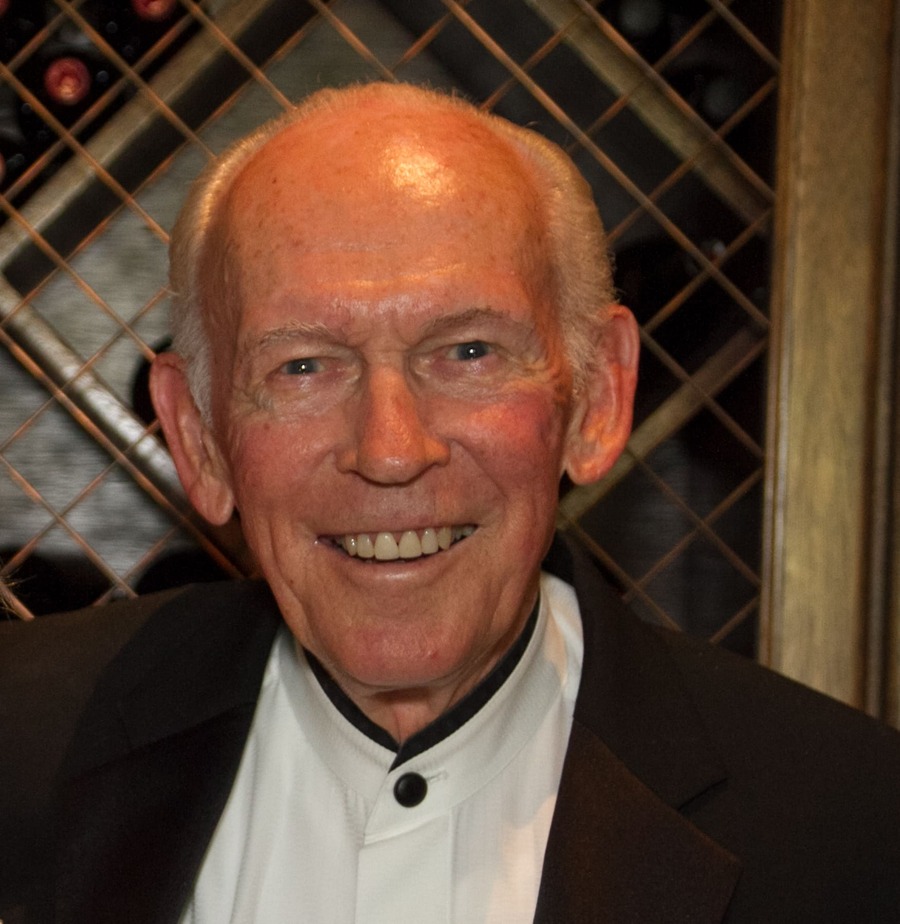 The transition officially began in July 2021, when Sierra Nevada University's Board of Trustees and the Nevada System of Higher Education Board of Regents unanimously agreed to enter into discussions regarding the transfer of SNU's academic programs and operations to the University and SNU's financial and real property assets to the University Foundation. In December 2021, another important milestone was cleared: approval by the Northwest Commission on Colleges and Universities. "This pursuit, now with the approval from NWCCU, will broaden students' study and research possibilities in beautiful Lake Tahoe and its surrounding regions," NSHE Regent Carol Del Carlo '72 (fashion trades) said. "This will offer a new and diverse perspective in growing academic faculty and student populations." The acquisition became official on July 1, 2022, following additional approvals by the U.S. Department of Education, NSHE Regents and Nevada Commission on Post-Secondary Education.
"A gift for the ages" - President Brian Sandoval '86
"This has been one of our university's most complex and game-changing accomplishments," President Sandoval added in his address. "With us today are Wayne Prim (SNU chair emeritus, longtime donor and campus namesake) and Atam Lalchandani (SNU board chair) who, along with members of the SNU board, made this historic and monumental gift a reality. July 1, 2022, marked an important milestone and transformed the University of Nevada, Reno. We are also proud and pleased to welcome the several hundred students, faculty and staff of the former Sierra Nevada University to The Wolf Pack Family."
Establishing a leadership team
Initial planning began with development of a three-to-five-year plan to ensure the transition of operations, a clear path to degree completion for current SNU students and specific long-term academic plans focused on growth in research and creative activities.

Jill Heaton, the University's senior vice provost and executive vice president and provost for SNU, and Sue Johnson, executive vice president for Finance and Administration at SNU, led the transition team who worked through a year's worth of approvals to make the transition possible.
"To research, study, live, work and play at Lake Tahoe is to do it nowhere else in the world, because there is no place in the world like Lake Tahoe." —Senior Vice Provost Jill S. Heaton
"We pledged early on that we would be transparent, we would listen and respond with open communication," Johnson said.
"Our focus has been on the success of the students, the success of the employee transition and the success of the institution," Heaton said. "We are so humbled that we were entrusted to lead through this transitional time and we are proud to continue in roles that will see all through into new opportunities. No matter the challenge or the ask, our view has always been something more than a job."
A professor of geography who joined the University in 2004, Heaton has held numerous administrative positions at the University, including geography graduate program director, geography department chair and University vice provost for faculty affairs. During the transition, she called the Tahoe location home — an experience that reminded her of the differences, and similarities, between the two institutions.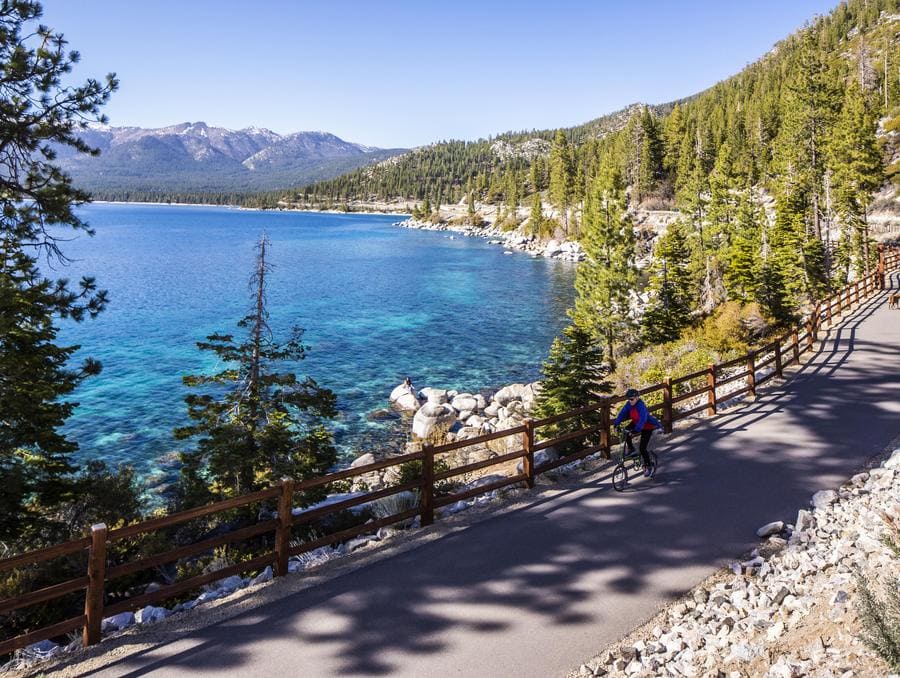 "It's a melding of SNU's culture of immersive, small, intensive, student focus, and the University of Nevada, Reno's culture. While the main campus is a lot bigger, it's also the biggest little university out there in terms of really trying to keep that personal student focus in all that we do," Heaton said. "One of the most important aspects of this experience is that both institutions stand to gain from this transition. I've learned that SNU is a very special place, and that we want a piece of their secret sauce. That's why living on the campus has been so helpful to me. If I don't know what the ingredients to their secret sauce are, we can't incorporate that into The Wolf Pack Way, and ultimately grow the Wolf Pack in a positive way."
Expanding research and creative opportunities will be at the heart of the Tahoe location. Associate Vice Provost for Research and Creative Activities Douglas Boyle '96 M.S. (hydrology/hydrogeology) will support faculty, staff and students in their efforts to communicate their work, find and secure external funding, partner with collaborators and broaden their impact.
"Many opportunities exist for the University to expand its breadth and depth of academic programs, research, scholarly, creative, entrepreneurial activities and community engagement that, with the Lake Tahoe site, will attract additional students and faculty to Nevada and beyond," Boyle, a professor of geography and former department chair, said.
Designed with students in mind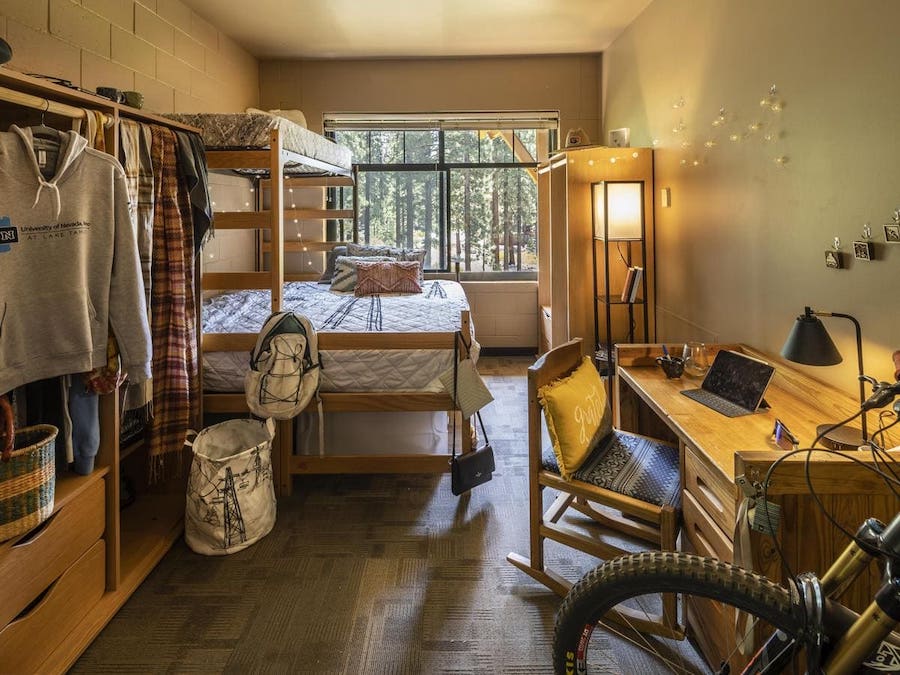 Located just one mile from the Lake's shore at an elevation of 6,700 feet, this 18-acre setting in the fragrant pines of Incline Village includes 10 classrooms, two meeting rooms, event spaces, a cafeteria and catering service, two art galleries, laboratories, office spaces, 88 dorm rooms and the Lou Sardella Student Commons Lawn — opening up opportunities for students, faculty, staff and friends to learn, teach, research and share knowledge in the High Sierra.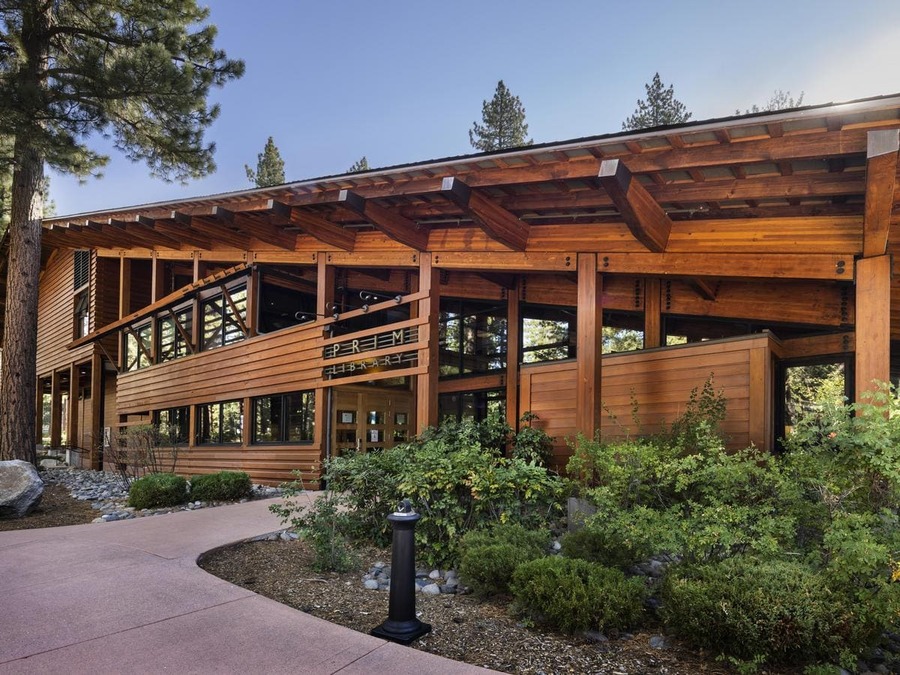 The Prim Library is a beautiful and welcoming space for all visitors, complete with lounge areas, special event spaces, the Poetry Center and a Sustainability Collection. The library — named after longtime donor Wayne L. Prim, who leads a private foundation committed to education — also offers full-text access to thousands of electronic journals from hundreds of library databases and more than 100,000 e-books across a range of disciplines. The Poetry Center, made possible through a grant awarded by the Nevada State Library and Archives and the Institute of Museum and Library Services, offers public readings, workshops and more than 3,000 volumes of contemporary American poetry.
Learning @LakeTahoe
As part of the University's first semester at the Lake, Nevada's award-winning NevadaFIT student boot camp and the Digital Wolf Pack Initiative were brought to Tahoe in late August.
The first-ever TahoeFIT program provided students the opportunity to participate in activities, projects and excursions focused on using technology while connecting them with their classmates and faculty before classes started.
"We are 'all in' with the Digital Wolf Pack Initiative at the Lake," Heaton said. "iPads, drones, advanced coding, digital arts, multimedia and more are integrated across the entire curriculum to enhance digital literacy and learning experiences."
Students received an Apple iPad Air 5, Apple Pencil and a Smart Keyboard Folio that were used in coding workshops, while faculty were trained on how digital tools can advance the learning experience by helping them design coursework that inspires learning through technology.
"I'm using digital technology in the classroom, or more specifically, in the outdoors as part of class projects, in both drawing and drones," said Christian Lanier, who has been teaching digital art at SNU since 2007. "Students have interesting things to say about digital possibilities in the art classes at the Lake — iPads and learning at Lake Tahoe are enhancing their experience. I think their work demonstrates how iPads, pedagogical experiences and beach days can all coexist."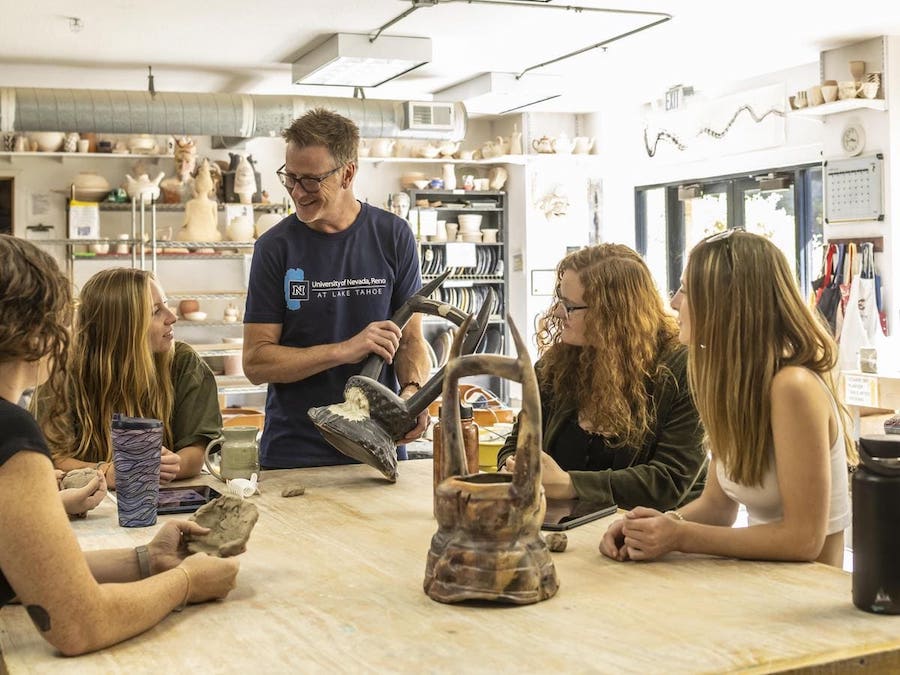 The Wayne L. Prim campus will begin offering Semester@LakeTahoe 1.0 in the 2023-24 academic year and Wintermester@LakeTahoe this fall. Through the Semester@LakeTahoe 1.0 program, main campus undergraduate students will have opportunities to live, learn and play with an immersive, experiential and transformative semester unique to the area.
In the future, Residency@LakeTahoe will provide opportunities for faculty and students to use the Tahoe location for research, scholarly, creative and entrepreneurial activities; while Summer@LakeTahoe will offer unit-sponsored programs such as conferences, meetings and retreats.
Sharing the gift — and beauty — of higher education
The University of Nevada, Reno at Lake Tahoe is not only home to classes, research and studying, but is also host to arts, culture, community conversations and a revival of mountain athletics.
Classical Tahoe: This 16-concert summer series brings world-class musicians to the shores of Tahoe — offering intimate outdoor performances, free community events and a family day that includes educational programming for children.

Master of Fine Arts programs: Masters programs in interdisciplinary arts and creative writing will continue to thrive at the Lake. Offering an alternative to traditional MFAs, the low-residency programs combine two intensive, 10-day in-person residency periods each year with full-time work at home. Both programs connect students with acclaimed authors and artists, creating a long-lasting vibrant artistic community.

Summer Art Workshops: Along with openings, artist talks and exhibits, these workshops led by nationally recognized artists are open to students, faculty, staff and community members at the Holman Art & Media Center. Artists and dates for the 2023 series, now led by University of Nevada, Reno at Lake Tahoe Fine Arts with support from Extended Studies, will be announced soon.

Talks@Tahoe: Committed to bringing the community together, the new Talks@Tahoe public speaker series offers engaging conversations on University research impacting our region, nation and world. Here, Professor Sudeep Chandra samples water. His talk was entitled "Science actions to conserve nature and our economy."

Community conversations: Lake Tahoe has long served as a stunning backdrop for both community and national conversations. Over the summer, the University of Nevada, Reno at Lake Tahoe hosted a congressional luncheon following the 2022 Tahoe Summit, the Siebens-Binz 2022 Tahoe Forum featuring Sir Richard Branson and Dr. Guy Harvey, leadership retreats, as well as numerous workshops, lectures and club meetings. Photo by Brin Reynolds '12, '15 MBA.

Back on the slopes: With some of the world's most famous and sought-after slopes in our new backyard, the University proudly welcomed the return of men's and women's Division I alpine skiing at Nevada. Pictured here is the 2022-23 Nevada Ski Team. Photo by Nevada Athletics.

Over the years, Nevada Skiing has claimed 39 All-America honors, 14 top-10 team finishes at NCAA championships, boasts seven members of the Wolf Pack Athletics Hall of Fame and produced four Olympians: Dodie Post Gann (attended 1940-43), Lane Monroe '67, Glenn Jobe '73 and Katerina Hanusova Nash '04. Pictured here are Nevada Ski Boosters Eric Anderson (attended 2008-12), Nick Cohee, Zach Fretz '12 and Gus Johnson '11. Photo by Nevada Athletics.
A nod to the past, a note of gratitude for the present, and a commitment to the future
Originally Sierra Nevada College, the Incline Village campus opened its doors in the fall of 1969 with 23 students focused on furthering the Lake's unique environmental qualities and characteristics by educating scholars to contribute to a sustainable world.
Changing with the times, Sierra Nevada College became Sierra Nevada University in 2019, a name that reflected SNU's four-year college degrees and graduate programs.
In July 2022, SNU added another milestone to its illustrious past by joining the University as the University of Nevada, Reno at Lake Tahoe. It's a milestone for both universities that will shape a stronger University, community, region, state and nation for years to come.
"Thank you to the students, faculty and staff for embarking on this journey forward as we bring the best of these two institutions together to build a location that transforms lives," said Senior Vice Provost Jill Heaton. "Know that the intimate, experiential, collaborative, small-class community will still stand. We are committed to providing you a successful academic transition, and more so, your success; your possibilities are boundless! We share your vision — sustainability, environmentally, artistically, entrepreneurially — in a place like no other!"