By: Jesse Rosenberg
University of Nevada, Reno student Sabrina Krueger won the Fall 2023 School of the Arts Sticker Contest. Selected by a panel that includes representatives from both the School of the Arts and the Nevada Museum of Art, Krueger's artwork, "Happy," has been immortalized in an equally as amiable of a medium – a sticker.
The School of the Arts Sticker Contest features submissions comprised solely of original artwork by University students from different backgrounds and disciplines.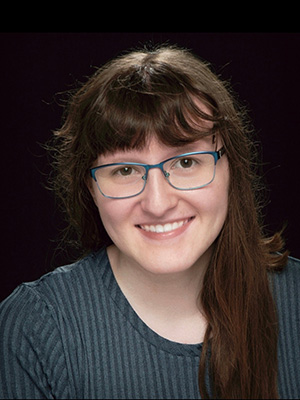 "The design was actually for a painting class… our project was to take an emotion and make it into a nonobjective painting," Krueger explained. "I chose the emotion happiness — like looking at something you love — and I also was influenced by the rhythmic beat of happy songs, and together they sort of combined to make the art you see on the sticker."

Krueger's attention to detail is more than evident when looking at her art. Almost kaleidoscope-like in its necessitation for interpretation, she says that the oval dots on the sticker – which she renames "little thumbprint guys" — are each different from one another. "I employed textural compositional tactics to make each one look like they're moving in different directions," Krueger said.
"As the Sticker Contest enters its seventh semester, I can't help but be a little bit proud of the growing selection of stickers that I see all around campus," Angelo Monroy, program coordinator for the School of the Arts, said. "Be they on water bottles, computers, instrument cases, or even lying on a table waiting to be taken, each sticker serves as a reminder of the vibrant arts community we have at the University. I hope that artists of all disciplines feel inspired to participate."
The School of the Arts is currently accepting submissions for the Spring 2024 sticker. All University of Nevada, Reno undergraduate and graduate students majoring or minoring in a School of the Arts department — visual arts, theatre and dance, and music — are eligible to participate. Submissions must be received by Friday, December 1, 2023. The winner receives a $200 commission award and of course, stickers.
The Fall 2023 stickers will be available on the University campus at the Joe Crowley Student Union front desk and the Welcome Center, and at the Mathewson-IGT Knowledge Center information kiosk. They are also available off-campus at the Sierra Arts Foundation, located at 17 South Virginia Street in downtown Reno, and Sundance Books and Music, located at 121 California Avenue in midtown Reno.