By: Karthik Kotresh
University of Nevada, Reno undergraduate student Athena Hildt won the Spring 2023 School of the Arts Sticker Contest. Hildt's winning artwork, "Daisy," was selected by a group of panelists, including representatives from the departments within the School of the Arts and the Nevada Museum of Art, to be featured on the School's spring sticker.
The School of the Arts sticker initiative features original artwork by University of Nevada, Reno students each semester, honoring and celebrating each of the different disciplines in the School.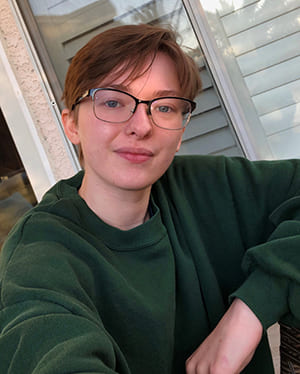 "Digital art is my favored medium and I wanted to make something representative of my style by utilizing color, line, texture and lighting in a composition. In this piece, I've used a more vibrant and cosmic style, going for a more surreal representation of growth and decay on a planetary scale. I experimented with new kinds of shading and hatching techniques in this piece," says Hildt.
Hildt is an art major with an emphasis in digital media whose work is influenced by surrealism. Their winning artwork, "Daisy," explores the interplay between growth and decay of different life forms.
"I enjoy painting natural subjects and thought the skull, flower and mushrooms would work well with each other, being vastly different forms of life. The flowers were referenced from desert daisies, while the mushrooms and smaller details were drawn from imagination," says Hildt.
"It is hard to believe that the School of the Arts Sticker Contest is now entering its sixth semester. Each winning artwork has offered us a unique and insightful glimpse into the everyday experience of students on our campus. Athena's artwork, 'Daisy,' adds to this in a beautiful and inquisitive way. It is as if each sticker is a one-of-a-kind looking glass, through which we can begin to contemplate the challenges, realities and experiences of students today," Shoshana Zeldner, program manager with the School of the Arts, said.
The School of the Arts is currently accepting submissions for the Fall 2023 sticker. All University of Nevada, Reno undergraduate and graduate students majoring or minoring in a School of the Arts department are eligible to participate. Submissions must be received by Friday, April 28, 2023. The winner receives a $200 commission award and of course, stickers. For information about how to apply, visit the School of the Arts website.
The Spring 2023 stickers will be available on the University campus at the Joe Crowley Student Union front desk and the Welcome Center, and at the Mathewson-IGT Knowledge Center information kiosk. They are also available off-campus at the Sierra Arts Foundation, located at 17 South Virginia Street in downtown Reno, and Sundance Books and Music, located at 121 California Avenue in midtown Reno.