Students, faculty, staff and friends of Orvis School of Nursing have come together to celebrate Northern Nevada Pride again this year by sponsoring the event and participating in the parade and festival. The School joined over 100 other community groups and organizations in the parade down South Virginia Street before hosting a booth at the festival in Wingfield Park alongside a range of University of Nevada, Reno schools, colleges and associations and other community groups and vendors. Orvis School of Nursing has been a longtime supporter of the event and ally of the LGBTQIA+ community and was thrilled to be able to support this community event once again.
"At Orvis School of Nursing, we have a long tradition of fostering an inclusive, welcoming, and safe environment for all. The principles of diversity, equity, inclusion, and belonging are in all aspects of our School's operation," Assistant Dean, Diversity, Equity, & Inclusion, Prof. Zhizhong "Z" Li said. "Thanks to a very engaged team at Orvis, including amazing students, faculty, and staff, we have sponsored Northern Nevada Pride since 2019 and have made it better and better each year."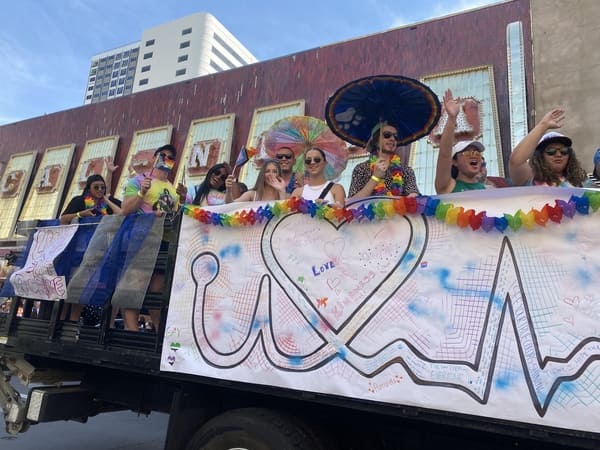 Whilst the event was a fun and joyous occasion, it was also an important opportunity for Orvis School of Nursing to show its support of the LGBTQIA+ community and advocate for health equality.
"Nursing is in a crucial position in leading the effort to address healthcare disparities. It is vital for us to be involved in events like Northern Nevada Pride to show our commitment to supporting the LGBTQIA+ community and educating the future nursing task force that will continue to fight for equity for all," Assistant Dean, Diversity, Equity, & Inclusion, Prof. Li said.
This year was the first time the School has hosted a float in the parade, decorated by the Orvis School of Nursing Student Association, having previously marched at the event. Orvis School of Nursing Association worked tirelessly to design and decorate the float in the weeks and months leading up to the event and were delighted to see the float completed and standing proudly in the parade.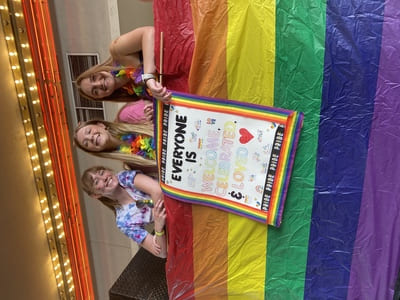 "I thought the parade and float were a huge success," Orvis School of Nursing Association Treasurer and level 3 nursing student, Nicholas Delgadillo said. "The float was amazing to build and be on! I thought it showed great teamwork between nursing students coming together to create something beautiful for the community. It was amazing to see the community come together and support each other. I hope we can continue this in the future."
Orvis School of Nursing is a proud sponsor of Northern Nevada Pride and looks forward to next year's event.